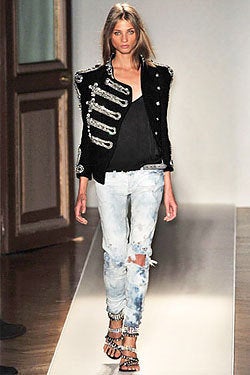 How ironic that given the current political focus on jobs, my biggest
fear is that I will no longer be able to manufacture in America. But
the problem is real and local politicians seem indifferent. I am one
of the few designers left that manufactures in NYC; 85 percent of my
garments are made just around the corner from my design room. But
ground is being lost. Businesses like Chi Chi's, the Olive Garden,
Applebee's, Fuddruckers, Hilton, Courtyard Marriot, real estate
companies and several money management funds are pushing us out:
buying our buildings, raising our rents, and even hiring thug-type
supers to make life miserable for small factory owners.

Our city officials have failed to protect the once-thriving Garment
Center. Their own 1987 Garment Center zoning laws have stood
unenforced for the past 20 years. Now they want to introduce new laws
that would protect only a meager amount of square-footage. This in no
way honors the 1987 zoning laws and in every way contributes to the
demise of the district. Token gestures are always what they appear to
be -- tokens.
The Garment Center factories allowed me, with an initial 5,000-dollar
loan, to achieve the American dream and create an international
fashion line that I am proud of. I never would have been able to make
it without them. Simple as that. My company now has 120 full-time
employees in New York City alone. This doesn't include all of the
employees in the factories and associated businesses that benefit from
my NYC manufacturing, 10 freestanding Nanette Lepore boutiques, and
numerous wholesale accounts. We manufacture 25 to 30 thousand
garments monthly in this tiny 10 block radius. And if we lose all of
this? We lose so much.
How sad it will be not to pass the lunchtime
gathering of Italian pattern cutters in front of our Garment Center
showroom buildings. What will it be like without Roger and Manny whose
local factories have been doing my fancy stitching and pleating from
the very beginning? Or the trim shops, rows and rows of inspiration?
This neighborhood has countless generational ties and family bonds
between those who have been working together for years. Why does NYC
want to give this up? For chain restaurants? My assistant, Erica
Wolf, is incredibly passionate about this cause. She can blurt out
every frightening statistic detailing our district's shrinking
geography. The Garment Center is a New York institution. Yet
politicians seem willing to turn their backs on institutions like
ours--those that make New York unique. Why can't we protect and
preserve?

Without the small factories and personal relationships, the types that
nurtured me as a newcomer, our small up-and-coming New York designers
will not be able to survive. There's a big picture here. Our local and
state officials need to demonstrate some compassion and foresight for
this mix of artists, designers, factories and new talent. This is the
stuff that makes NYC such a vital, magnetic city. If "the bottom
line"
drives all the characters out of NYC, there will be no character left!