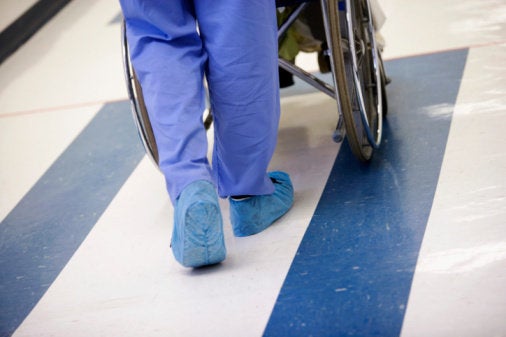 Balls bounce. Kids bounce on trampolines and lately a lot of checks bounce. But, watch out, for there is a new phenomenon that has the keen interest of both the government and hospitals. It is patients, that's right, real people, who bounce back. This refers to patients who are discharged from an acute care hospital and are readmitted within 30 days.
Hospitals have a real "dog in this fight," while the patient may be the proverbial innocent bystander. Patient re-admissions or bounce back is a serious financial and quality issue. A 2009 study published in the New England Journal of Medicine analyzed almost 12 million Medicare beneficiaries and found that approximately one-fifth were readmitted within 30 days of discharge and an even more alarming 34 percent were admitted in 90 days. Wait, it gets worse. If we look a year out from discharge they reported 67.1 percent who had been discharged for a medical condition had been readmitted or had died.
This revolving door is expensive and cost Medicare $17.4 billion dollars in 2004. Yes, billion with a "b." Not just round off money anymore. As a result, Medicare has already started to collect data on all hospitals and will keep a three-year running average of their readmission rates. Those hospitals having high rates will be financially penalized. Since there is money involved, companies have already sprung up to assist hospitals in lowering their readmission rates. Some studies calculate 75 percent of re-admissions are preventable. If these can be avoided, everyone would be a winner, which is if, as a result, the quality of patient care improves.
Like most things in life, communication, or the lack thereof, appears to be the major factor for patient bounce back. One study interviewed acute care hospitals and the Skilled Nursing Facilities (SNFs) where they sent patients. Each blamed the other for not providing adequate information. Complete lists of medications were missing. Follow-up appointments were never made or communicated. Wound care or other instructions were confusing or never received. There was no official hand-off from one physician to another.
Certain patients are at a particularly high risk to end up back in the hospital within 30 days. You are more likely to end up in the hospital if you:
Are discharged to a Skilled Nursing Facility (SNF)
The data suggests that the first three have less access to follow-up and primary care. Discharge to a Skilled Nursing Facility -- what used to be called a nursing home -- is particularly worrisome. Medicare spent $21 billion dollars on Skilled Nursing Facilities, approximately one half of all of the dollars spent on post-acute care ( SNF, home health, rehabilitation facilities, skilled nursing facilities and long-term care).
A study in the Journal of the American Geriatric Society noted a "greater risk of multiple complicated transitions (bounce back) in patients initially discharged to skilled nursing facilities" and "a lower risk of multiple complicated transitions for patients initially discharged to rehabilitation facilities." Why is this important? Both Medicare and private insurance companies are pushing very hard to admit patients who need rehabilitation services after a stroke, hip fracture or joint replacement to a Skilled Nursing Facility rather than an Inpatient Rehabilitation Facility (IRF). It may appear to be less expensive, but is it really, if you consider the bounce back factor? The bounce back rate for a joint replacement going to a SNF is 14.3 percent while it is only 2-3 percent if you go to an IRF. More striking is the fact that if you go to an IRF after a stroke, as opposed to a SNF, you are three times more likely to go home.
If you find yourself or a loved one in a hospital, start to ask questions. Find the discharge planner. They will be looking for you as their goal is to get you out as quickly as possible. Ask them (and yourself):
Am I in a high-risk group for re-admission? (In addition to the above categories, heart disease, infection and lung disease put you in a high-risk group.)
Am I able to participate in the decision of where I will be going after the acute care hospital? What are my other options besides a Skilled Nursing Facility?
Did I receive all of my prescriptions and in the event I don't understand them, who will help me? (Hospitals frequently make substitutions while you are in the hospital and the prescriptions may not match what you have at home.)
Do I have all my follow-up appointments scheduled at the time of discharge? (Insist on an actual appointment, not just a piece of paper that tells you to call a doctor.)
If I do not feel like I am ready to leave and an extra day would make a big difference, how can you make this happen?
Who will be calling me at home to see how I am doing and whether I have what I need? (Think about it. Your veterinarian and dentist regularly call you at home after a visit. If the veterinarian can call about your pet, then the doctor and hospital should call to check on you. This single step may be the most important one in preventing readmissions. This is the critical follow up necessary to make sure you have what you need to continue to improve at home.)
The hospital doesn't want you back anymore than you want to go back. Ask the right questions and you can help avoid the hard landing of a bounce back.