In an age of reality TV and viral videos, star-making stage turns are few and far between. When Hugh Jackman headlined in the Broadway production of The Boy From Oz in 2003, he made such a splash portraying beloved Australian performer Peter Allen, the musical remained a sell-out during its year-long run and earned Jackman every theatre award of the season, including the Tony. And while most reviews praised Jackman's performance, they also admitted the show was a star vehicle, and not much more.
For this Chicago premiere, Pride Films and Plays' production doesn't have the resources for a Jackman-like personality. And it wouldn't be fair to the very game and appealing Chris Logan to compete with such wattage. That said, for all the charms this production offers -- and there are many -- it's, ultimately, a slight show that glosses over the peaks and valleys of Allan's life to favor the more splashy moments, including Allen's relationships with a lushy Judy Garland and a pre "Liza with a Z!" Liza.
And as those two legends, Michelle Lauto as Liza and Nancy Hays as Judy each give compelling approximations, without veering into camp or caricature. And Kudos to costume designer John Nasca for sourcing the perfect looks to accompany these performances.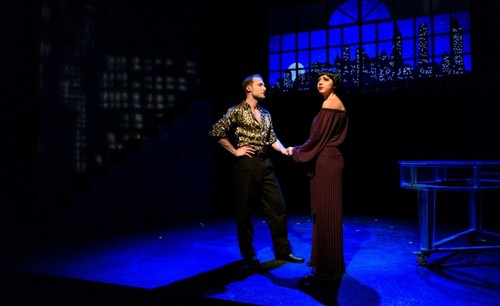 Chris Logan and Michelle Lauto as Peter Allen and Liza Minnelli in Pride Films and Plays' "The Boy From Oz"
But it's not until the second act, when Allen embraces his sexuality and discovers his sound (excellent music direction by Robert Ollis, executed by a tight six-piece band), that the show finds its footing. And as Allen finds love, the show's once-narrow center is filled with heart (Luke Meierdiercks makes for a charming romantic counterpart to Logan's Allen).
While Allen may have passed way too early, his legacy lives on through his music, which this show unabashedly casts a spotlight on -- even if it means the story gets sidelined to the wings.
Physically, the show impresses, using the compact Stage 773 space to full advantage (scenic design by Katie-Bell Springmann). A nimble ensemble executes Cameron Turner's zippy choreography -- which covers bee-bop, tap, kick lines, Fosse and conga -- with boundless energy.
Popular in the Community