Most 14 year old boys find themselves interested just in sports, school dances and making it through high school. Shiva Ayyadurai was no ordinary 14 year old.
While his peers were busy just with the traditional pursuits of adolescences, Shiva was inventing email. This did not mean he was a "nerd", who sat drinking Red Bull and programming all day.
He was more of the American kid --- the one you'd want to bring your mom home to. He excelled in baseball and soccer, had a paper route, made extra cash running a landscaping business, and did love the girl next door.
"It's been an interesting journey, as I look back on it. It's a story of what can take place anywhere in the world," he explained to Deepak Chopra. "Be it in any inner city or in any village, as long as we provide the right conditions."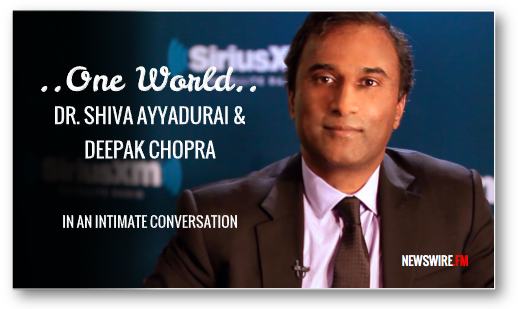 Shiva is clear that his success was contingent on a number of factors including his very supportive parents; teachers who stepped up to the plate and changed administrative rules to accommodate his talents; mentors who allowed him to excel well beyond his age, by enabling an environment of freedom and respect, that allowed him to create a computer program that fully automated the interoffice mail system --- the system he called "email" --- the system we all know and use today.

His creation, though, was not without controversy as his innovation was heatedly debated by academics, huge companies and the media. Shiva sites his political awareness as having been a key factor in ensuring that he was able to survive being raked through the mud by various media outlets as well as the support of Noam Chomsky whom had been a professor of Shiva's during his time as an undergraduate student at MIT. Chomsky is famously quoted as calling the negative attention Shiva was receiving "childish tantrums" by industry insiders.

A brilliant mind from a young age, Shiva Ayyadurai's story highlights the fact that so often society assumes that knowledge is owned and monopolized by the powerful few. Knowledge must be fostered at every age, in every corner of the globe as intelligence is not solely the property of the rich, the powerful or the well connected.
It is a reminder that could help us expand the lens with which we view the world and make room for the next great innovation regardless of from where it may come. The invention of email by a 14-year-old boy reminds us of a larger truth: Innovation Anytime, Anyplace by Anybody --- the motto of Innovations Corps, a new initiative, which aims to unleash innovation among youth, to replicate more "Shivas".
This is a blog series produced in partnership with One World, a video series with Deepak Chopra and NEWSWIRE.FM. To view the full video and subscribe to all the episodes click here:
Popular in the Community