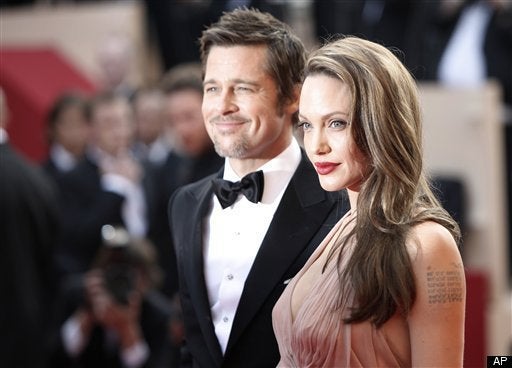 Us Weekly has screamed it on covers and the New York Post did the same on Sunday (Brangelina's SEXY SECRETS), but are Brad and Angelina really fighting constantly and breaking up in the near future as an upcoming book claims? Reading the details, I'm not so sure.
Author and reporter Ian Halperin supposedly spent five years piecing together Brangelina: The Untold Story of Brad Pitt and Angelina Jolie and spoke with 900 sources. He was most recently seen doing the media circuit to talk about Michael Jackson, the subject of his last book.
Halperin spoke with Sunday's NY Post to dish up some of "his most sensational findings" about Brad and Angelina. Reading the article, I find much of it hard to believe.
To be clear, I haven't read the book. I've never met Halperin. I've also never met Brad Pitt and I've spent just 20 minutes in a hotel room with Angelina and about five others during a junket, during which she avoided talk of her personal life.
The Post's Halperin-Brangelina feature opens with an anecdote about then-Mrs. Pitt Jennifer Aniston meeting Jolie on the set of Friends shortly before Mr. and Mrs. Smith began filming. Despite the 900 sources, this insider-y sounding anecdote comes uncredited from Aniston's 2005 interview with Vanity Fair's Leslie Bennetts.
It was 2004, just weeks before shooting was to begin on the action flick "Mr. and Mrs. Smith," when Angelina Jolie happened to visit the set of the hit show "Friends."

"Brad is so excited to be working with you," Jennifer Aniston told her husband's new co-star. "I hope you guys have a really good time."
Aniston has met Jolie only once, when she took a passing opportunity to say hello. "It was on the lot of Friends -- I pulled over and introduced myself," Aniston recalls. "I said, 'Brad is so excited about working with you. I hope you guys have a really good time.'"
Moving on to what is either some poorly fact-checked chronology or just an error, the next NY Post paragraph reads:
Less than a year later, Brad Pitt and Jolie would pose for W magazine in a spread called "Domestic Bliss." Real-life romance soon followed, as modern Hollywood's most famous love triangle played out in the tabloids. Eventually, Pitt would leave Aniston and take up with Jolie.
The W spread came out in June 2005. Pitt and Aniston officially split 5 months earlier.
"Brad had never had such incredible sex," Halperin says. "My sources say that they sometimes spent 18 to 20 hours a day in bed. But sex eventually wears off."
How likely is this? The incredible sex, who's to argue? But 18-20 hours in bed a day having it? I'm not sure. When Brad and Angelina met in 2004 she was a single mom to son Maddox, and she adopted Zahara in July 2005. Did she spend days on end in bed with her boyfriend while her toddler son and newly-adopted daughter were elsewhere? It seems unlikely.
Next is the part that is the most egregiously wrong, and alone casts everything else Halperin writes about Pitt and Jolie (as reported by the NY Post anyway) into doubt:
A woman who worked with Pitt while he was filming "Troy" told Halperin: "They were definitely in love, but that's where it gets tricky. If you want to know if they're still together, the answer depends on when you ask the question.

"I've heard that they've broken up so many times it would make your head spin.

"There are apparently screaming matches, usually with her doing the screaming. Nobody really witnesses that part of it -- they just see him leaving in a huff. But then he ends up coming back again, and nobody knows what happened to bring him back."
Troy came out in the summer of 2004 and was filmed in 2003, before Brad had ever met Angelina.
An unnamed woman who worked on that film is telling second hand stories about Brad and Angelina's breakups and screaming matches, when there is zero evidence she had ever met Angelina, much less seen Brad and Angelina as a couple.
And there are things like this, exaggerations in the least:
Halperin claims that Pitt's biggest problem with Jolie is her controlling nature. "She won't let [Pitt] out of the house alone," he said.
She supposedly won't let him out alone, yet there are plenty of paparazzi photos of Pitt alone on his motorcycle cruising LA., like here and at dinner with friends, like here.
Maybe Brangelina are fighting constantly, with Jolie a temperamental control freak and Pitt a pothead cheater, and maybe they'll soon split up. But from what I've read of this book, I think it's just as likely they won't.
Popular in the Community