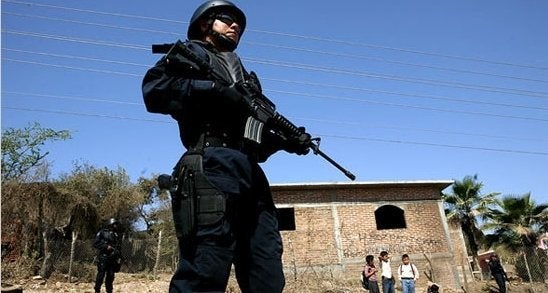 I would like to mention a new feature of the Brady Campaign Blog, found at www.bradycampaign.org/blog. It is called the Brady NewsWatch, and it will provide a sampling of key events in the news relating to guns and gun violence prevention. I encourage readers to check the site often, and to make it a part of their regular news diet. Here are a few examples that have appeared in recent days, including news of Sen. Kennedy's surgery this morning:
Senator Kennedy In Our Thoughts, Prayers

Everyone in the Brady community across the country has Sen. Kennedy in their thoughts and prayers this morning:

Senator Edward M. Kennedy is undergoing surgery for his malignant brain tumor at Duke University this morning, his office announced today.

The surgery was to begin about 9 a.m. and will last approximately six hours.

In a statement released shortly before 6:30 a.m., Kennedy said he would be operated on by Dr. Allan Friedman at the Duke University Medical Center and expects to recuperate there for about a week.

In the weeks and months after the surgery, Kennedy will begin a regimen of radiation and chemotherapy at Massachusetts General Hospital in Boston, according to the statement.

Kennedy sailed in Hyannis Port Sunday morning, then flew to North Carolina with his wife, Victoria Reggie Kennedy, Sunday afternoon. He was admitted to the hospital after his arrival.

The surgery follows a meeting at Massachusetts General Hospital on Friday, during which cancer experts from around the country discussed his course of treatment. At that meeting, Kennedy's own doctors were joined by doctors from the National Institutes of Health and the National Cancer Institute, as well as Friedman himself, according to a Kennedy intimate. At the end of the meeting, there was near unanimous agreement that he would have surgery at Duke, the confidant said.

[more]
We remember what Sarah
just days ago, "I know that Teddy will win this fight, as he has won so many in the past."
7-Year Old FL Girl Shoots Mom With Unlocked Handgun

According to reports, a handgun in the home recently bought for self-defense was left loaded, unlocked and in reach of a child who then shot her mother with it:

It was just last week when Sharda Brijmohan was napping in her bed.

She said she never could have imagined that her first grade daughter would find a gun in a nightstand and shoot her.

"She probably, I don't know, in her little mind thought it was not loaded and she took it out and you know, it went off," Brijmohan said.

Two shots, one in her arm, another in her chest. Her voice was weakened by the injuries.

Last Friday her home was a crime scene as the Palm Beach County Sheriff's Office investigated how a gun made it into the hands of a 7 year old girl.

"It was an unfortunate accident," said Brijmohan.

Brijmohan says the family had purchased the gun about six months ago.

"My husband got it as a protection because as of late there's a lot of break-ins in the neighborhood," she said.

Brijmohan said it's normally kept in a safe, but the night before, her husband had gotten it out after hearing a noise.

"He just honestly forgot to put it in. That's it. Put it back in the lock box," she said.

The next day Bridjmohan dozed off. Her daughter found the loaded 9mm in a nightstand drawer and fired.

[more]
The
of guns in the home are well-documented, particularly that a firearm at home is 22 times more likely to be used against a resident than in self-defense. Laws that require guns at home to kept with trigger locks, out of the reach of children, locked away and unloaded, are all important measures we can take to help keep children and families safe.
Licensed FL Gun Dealer Pleads Guilty To Facilitating Straw Purchases For Felon

An

article

in today's Florida Sun-Sentinel reports a Federally licensed gun dealer in Pembroke, Florida is likely to be sentenced to seven years in prison for helping a felon structure straw purchases of firearms from the dealer's pawnshop:

... From late 2007 through early 2008 [licensed gun dealer Victor] Needleman sold groups of pistols to a man who admitted to having a felony conviction, making him ineligible to own or purchase weapons, he told U.S. District Judge William P. Dimitrouleas in open court. To get around that, Needleman helped the customer use someone with a clean record, called a straw buyer, to purchase the weapon on his behalf.
Needleman gave instructions on how to avoid the reporting requirements, and advised the customer to bring his wife to the shop and let her go through the background checks. He also changed dates on federal firearms records, to help the customer avoid a mandatory three-day waiting period for purchases. The weapons were to be used by rival drug gangs involved in deadly shootouts in Guatemala, records show....
The Brady Center has exposed similar corrupt behavior from other licensed gun dealers in recent years, including Frank D'Andrea of Bridgeport Connecticut (sentenced to Federal prison), former NRA Board member Sanford Abrams of Baltimore, Maryland (who received a five-year suspended sentence, plus a year of probation), and Anthony Cucchiara in San Leandro, California (cited for "thousands of violations of Federal law").
Stories like these provide important reminders that, as ATF has found, about 1.2% of Federally licensed gun dealers account for almost 60% of crime guns in America.
Popular in the Community