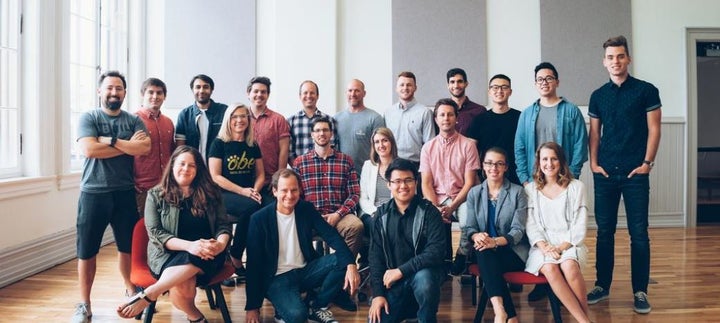 The Brandery (http://brandery.org/) the No.1 brand and mark-tech accelerator in the U.S., has accepted its latest batch.
The class included companies developing products ranging from an Artificial Intelligence-powered digital marketing consultant for small businesses, a short link that retargets anyone that clicks on them, to web-distributed consumer products like apparel, pet care and personalized soap bars, protein powder and grooming products. The Cincinnati, Ohio-based accelerator operates a four-month program focused on mark-tech, consumer marketing and branding. Of the 77 startups that Brandery launched since 2010, several have gone on to raise $130 million in aggregate. Each company in the Brandery class receives $50,000 in seed funding and will be paired with world-class creative agencies and access Procter & Gamble, Kroger, WPP and others.
Martin (https://www.martin.ai/) is an A.I. digital marketing consultant. Small business owners are worried about falling behind in digital marketing. They know they should be doing more, but they don't have the capacity. Martin is their in-house digital marketing consultant - business owners can chat to Martin via Facebook Messenger, and Martin will simplify the complex digital marketing landscape, guiding them through their media mix and strategy. Currently, Martin saves users time by finding relevant and interesting articles that engage their audience and grow their following.
Retarget Links (https://retargetlinks.com) invented and patented "link" retargeting an ad-targeting technology that allows marketers to display banner ads to anyone clicking on links shortened with their system. Large advertisers use it to build audiences reacting to specific content: "Pantente Curl Perfection" ads will be shown to consumers clicking on "curly hair" content, for example. Smaller advertisers use it to show banner ads to anyone in email lists, social media audiences and PPC campaigns.
Gainful (https://GoGainful.com) makes personalized protein powder, delivered monthly to your doorstep. Customers will fill out an online consultation to tailor a protein powder blend to their body type and fitness goals. Every subscription includes free access to their very own Registered Dietitian Nutritionist.
Obe Pet Products (https://ObeDog.com) is a pet health and wellness data analytics platform that provides unprecedented access and insights for pet owners and the pet industry. Obe's flagship product is ProBowl, a dishwasher safe bowl combined with a smart base that has your pet food automatically delivered, so you won't run out, personalizes meal portions and takes care of day to day logistics hassle.
Jumper Threads (https://jumperthreads.com) is a branded designer and manufacturer of everyday basic apparel that incorporates premium textiles, smart designs, breathability, and stretch into all its pieces.
Tame The Beast (https://getbeast.com) creates men's grooming products with arousing scents and energizing properties. All formulas are 100% made in the USA.
Soapy Soap Co. (https://soapysoapcompany.com) produces a full line of body care products at their facility in Bloomington, IN, using only the highest-quality, meticulously researched plant-based ingredients. They are the 1st online soap-making studio allowing visitors to customize their bar soaps.
The companies will be presenting at Brandery Demo Day on October 10th, at a private event for investors and potential partners.
Popular in the Community