How I would manage to go to the Women's March on Washington, January 21, 2017, was not clear. Yet I was drawn as intensely as Richard Dreyfuss was pulled to Devil's Tower (Close Encounter of the Third Kind) to meet-up with kindred spirits.
I admitted my brain's insistence leading me to Washington D.C., and also a lack of vision about what I could accomplish – me, 1980s second-wave feminist – one of thousands, marching to the White House. The trip would be emotionally difficult because my disabled daughter, 48, was soon to be placed in a bleak nursing home, probably for the rest of her life which could be many years. I needed to be there to help prepare and comfort her, knowing it would be beyond grievous and gut-wrenching. There was no choice; her husband, her caregiver, was "burned out".
Sue had always been compassionate – e.g., volunteering to go to Haiti to help the Red Cross after an earthquake; trying to figure out how to provide medical insurance for 40 female contract employees in her transcription business; or simply, carrying my overstuffed duffel (Ze Monkey) on her back on our journey through France, just after she was diagnosed with an incurable neuro-muscular disease.
Ironically, her husband's politics aligned with the political party whose campaign threatened to repeal our country's healthcare laws, risking coverage of millions, including hers - Medicaid. Other POTUS pledges were equally chilling: mass deportation, immigration bans, denial of refugees to the U.S., putting clamps on free speech and the press. When KKK and white male supremacy leaders openly bragged about our new president-elect, it – all that and more, including his verbal abuse of women and appearing to mock a disabled man – mounted into a daily horror show. The unspeakable was happening, fast. January was a month in which I was conflicted about Everything.
A dread of powerlessness filled me with the need to protest in a big way, to join a band of caring women who would infuse me with strength and direction. I needed to do something but wasn't sure how much difference one person, just me, could make.
I could have attended "The March" in Denver where I live, but preferred D.C., to stand in solidarity with women confronting the president at his new home on Day One. I craved the energy of this mass, so I committed: I would fly to the nation's capital with a multitude of kindred spirits.
When I arrived, dozens in the airport baggage area surprised me, wearing pink protest hats, whooping it up. I spotted one in a wheelchair. "You're going to The March?"
"I'm protesting healthcare cuts," she said, holding her sign: MEDICAID IS NOT A BAND-AID. "I can't exist without it." I thought of Sue who also fought disability like a warrior.
January 21st — I emerge from the Metro to a band playing upbeat tunes. One is "I Am Woman". It brings back Helen Reddy's popularity from the '70s, women resonating to her theme song, singing loudly at bars and parties. On this day of The March there is a party atmosphere in the air – a palpable excitement. I am surrounded by women of all races, religions, ages, issues…. and a surprising number of men. Signs are everywhere.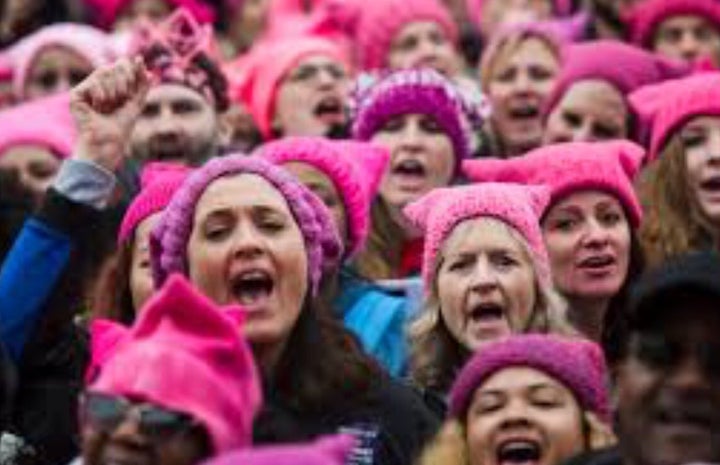 As we progress toward the stage area, our singing voices are strong:
I am woman, hear me roar... in numbers too big to ignore...
Upon arriving at 4th Avenue and Independence I'm stunned to see tens of thousands packed in rows. The march to the White House will not begin for hours. Mid-morning, a rapt hush gives attention to a diverse array of speakers.
I notice a black man (pink hat) in an electric wheelchair who has made it to the front row. His sign proclaims: THE WHITE HOUSE IS OUR HOUSE. I remember something Sue had written in a high school history paper, exactly what Michelle Obama recently said: "The White House, the people's house, was built by slaves."
Each guest is wildly applauded for her/his speech, but one is preeminent – that of movie star Scarlett Johannsen who gives moving testimonial about Planned Parenthood, its help to her as a teen, providing critical medical assistance.
Bravo! Snacks are being passed around. An elderly woman I've been admiring takes some candies. Jo, 83, appears hearty in red walking shoes and lipstick. "I brought my daughter..." - I am strong - Strong... "my granddaughter.." I am invincible - Invincible... "and my great-granddaughter!"... I AM WO-MAN!
I am in the company of an estimated 500,000 marchers, a mix of six generations, one of whom is Marsha, in crutches. Not on crutches but in them. Metal braces all the way up her legs. She carries a cane in one hand and a sign in the other: WOMEN'S RIGHTS ARE HUMAN RIGHTS. Marsha arrived from Massachusetts on a bus.
Many of these marchers have grey or white hair. One with pink hair is in a wheelchair being pushed by her son. They'd driven from Maine in a van – the van she's lived in for three years.
Even when mashed body-to-body, we are polite and jolly. The marchers lean into one another for mutual support. When one becomes ill we suck in even tighter, as medics (wearing pussy hats) carry her out on a gurney.
I am feeling empowered. The synergy and energy of the crowd carries me.
You can bend but never break me 'Cause it only serves to make me More determined to achieve my final goal
Women, more often than men, suffer society's marginalization, spiraling from divorce, widowhood, abandonment. The disabled often feel invisible, vulnerable, and worry about falling through cracks in the health insurance industry. Other countries, far less prosperous, protect their aged, disadvantaged, or ill citizens...why not America?
By 2:00 the masses are anxious, cheering "MARCH-MARCH-MARCH!" We're charging to the White House on what is likely the largest single-day protest in U.S. history. Someone reads on her phone that millions, worldwide, are marching in solidarity. I hope Sue is watching on TV.
Hats, coats, scarves, and goofy costumes form a mighty river of pink. On Pennsylvania Avenue we finally arrive as close to the White House as possible, up to barriers, chanting as one: "WHOSE HOUSE? OUR HOUSE!"
My daughter – a woman who selflessly supported others – is the person I am marching for. She is the bravest woman in my town, Denver, marching in spirit. These new sisters of mine are the bravest in Washington D.C. The event is joyful and strong, as if we've joined arms, lifting each other up, energizing the whole. We are all carrying Ze Monkey.
Over months I realize how The March changed me. I recognize how powerless I am not. There is renewed insistence in my brain, a sign that calls for ACTION. Along with countless activists, I'm a vital part of shared power which grows and strengthens as it's shared.
Teresa Shook, the courageous leader who initiated The March, said, "One person can make a difference, but all must work together."
Since January 21st people ask: What was the Women's March really about? My answer: "Humanism."
I'm committed like a warrior, speaking out, loudly, writing/calling the Senate/Congress, joining citizen forces to combat injustices. For Sue – a human who cannot walk or raise voice in protest – I continue to march, in her honor.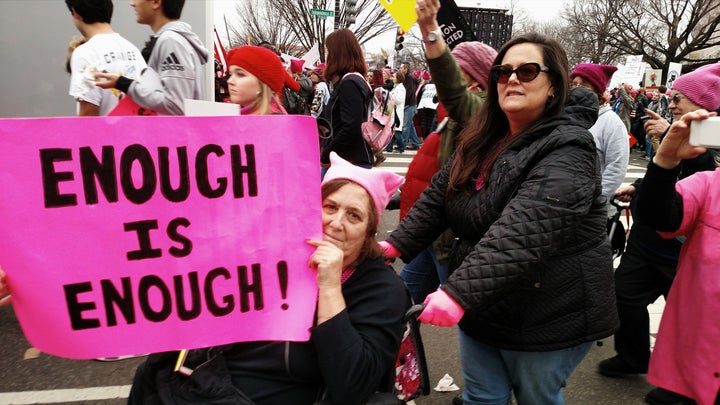 Related
Popular in the Community