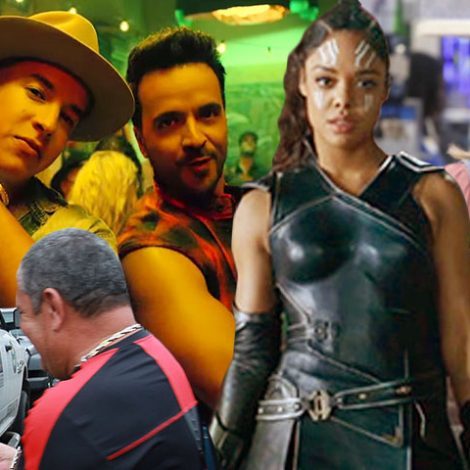 Here's a list of the top 5 highest moments of 2017, authored in partnership with mitú's editorial staff.
1. Latinas Got Sh*t Done!
We started the year right with the Women's March, co-chaired by Carmen Perez and organized by Paola Mendoza. Both Latinas rallied behind the country's largest single-day protest in history and it was epic!
Another prominent Latina that stood out for her work in education and science was Dr. Kellie Ann Jurado, who was awarded a fellowship by L'Oreal for her research on Zika and reproductive health.
The MacArthur "Genius" Award went to Cristina Jimenez Moreta, a rights activist from New York who was the only Latina in 2017 to win this prestigious award for her work in the non-profit United We Dream, which fights for access to health care, and education for undocumented immigrants in the U.S.
And one of my favorite Latinas of 2017 was San Juan Puerto Rico's Mayor Carmen Yulin Cruz, who faced three devastating hurricanes, a president who lacked empathy and a federal administration that was slow to provide aid. But Mayor Yulin Cruz, was a force to be reckoned with, and in the face of all of that, she literally waded through floodwaters to help Puerto Ricans in need and continues to work tirelessly to rebuild the island for her people. Si se puede!
2. We Brought the Jams to the Pop Scene! Cardi B and Daddy Yankee Stormed the Billboard Charts
From emerging hip-hop artists like Cardi B topping the U.S. Billboard Hot 100 chart at No. 1 to Luis Fonsi and Daddy Yankee's most streamed song in history, "Despacito," the dominance of Latin Trap in 2017 was undeniable. People all over the world have been listening to Fonsi's and Yankee's hit "Despacito." The song racked up more than 4.6 billion views on YouTube since it was released, luring mainstream artists to now want to be part of the Latino music movement.
The emergence of Latin Trap arrives at a time when Latino artists like J Balvin, Maluma, and Nicky Jam continue to collaborate with popular American artists. But while Latin Trap continues to be regarded as "subculture," it has recently gotten the support of artists like Pharrell, Nicki Minaj, Beyonce and others who, like the rest of the industry, understand that this new genre has the potential to become a major force in the music industry for years to come. Expect to hear and dance to many more No.1 hits by Latin artists in 2018, especially from female performers ☺
3. Hollywood Got a Hint of Color
While Latino representation in TV and movies is still severely lacking, in 2017 we made some strides in terms of raising our visibility within mainstream entertainment. Tessa Thompson (of Mexican and Panamanian descent) came crashing into the superhero genre, playing the impenetrable Valkyrie in "Thor: Ragnarok," thanks to Marvel's exec Victoria Alonso who knows representation matters and fought for it.
John Leguizamo also brought more color and Latin history to the Broadway stage with his one-man show, "Latin History for Morons" and SNL welcomed young comic Julio Torres to their writing staff.
Pixar struck big with "Coco," it's tribute to one of the most beloved Mexican holidays, "Day of the Dead," featuring a predominantly Latino cast. The film warmed the hearts of millions of fans around the world and earned close to $500 million in box office sales.
Shows like "Riverdale," "One Day at a Time," "Jane The Virgin," "Superstore," "Orange is the New Black" and others featured Latino actors and storylines that not only highlight our stories, but finally acknowledge us. We are a big part of America, so there's no reason we shouldn't be present in pop culture. We're not where we should be, but these examples are a step in the right direction.
4. Latinos Owned the World Series
The Astros' collection of Latin peloteros (ball players), Jose Altuve, Carlos Correa, Yuli Gurriel, George Springer, Marwin Gonzalez and others were instrumental in helping Houston win its first World Series title. The Astros hit a whopping 15 home runs during the seven-game series and 12 of them were hit by Latino players.
Pro's from both teams were looking to bring a little joy to areas and communities that suffered from natural disasters and other humanitarian crises. The Astros wanted to win for those affected by Hurricane Harvey while boricua peloteros Carlos Correa and Enrique "Kike" Hernández were looking to score a win for Puerto Rico, which continues to suffer after being leveled by Hurricane Maria. Jose Altuve and Marwin Gonzalez of Venezuela, hoped to give their paisanos something to celebrate, even if it was just a World Series victory in the middle of a major economic crisis.
5. When In Crisis, We Came Through For Each Other
Mexico was also hit with a massive earthquake, 32 years to the day of a previously devastating earthquake. A massive earthquake hit Mexico City and brought down buildings, killing 370 people and injuring thousands.
This sense of helping each other out and coming together was a common theme throughout the year.
Though many Latinos may be feeling ignored, unseen, and disrespected by a country that they've literally helped build with their own hands, we continue to find ways of helping one another, lifting each other up and showing the resilience our cultures have in overcoming anything that gets in our way.
2018, we are ready for you!
REAL LIFE. REAL NEWS. REAL VOICES.
Help us tell more of the stories that matter from voices that too often remain unheard.
This post was published on the now-closed HuffPost Contributor platform. Contributors control their own work and posted freely to our site. If you need to flag this entry as abusive,
send us an email
.