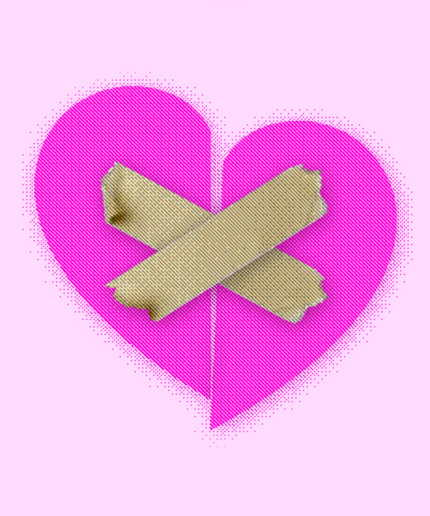 In many ways, the end of 2006 was one of the darkest times of my life. I was living with near-strangers in New York City, away from college for my first big internship, when my boyfriend of four years — the one I'd met through a church group, the one I'd been dating since I was 16 — called to tell me, in a rush and with a matter-of-fact tone, that he and a girl he'd met on a Catholic retreat had "ended up making out" and that he thought we should "see other people." I still remember my visceral reaction to these words, as I sat stock-still in my Upper East Side bedroom: nausea filling my torso from bottom to top. Icy brushstrokes across my nose, cheeks, chin. That sudden certainty that things were different, and worse, forever.
And the pain just kept coming, for months afterward: I'd be fine, hustling through my magazine internship, and then I'd think of him — no, of it: the betrayal, a hard punch to the gut. I couldn't believe someone I'd trusted so fully could hurt me so much. It sounds histrionic now, but I felt lonely, far from my close friends, exhausted from behaving normally, and, as a privileged, sheltered 20-year-old, fairly unprepared for a huge upset in my life plan.
Because we were going to get married. We had it all figured out: He'd go to med school, after acing the MCAT I'd spent hours helping him study for. He'd get into his dream programs, thanks to all my help editing those application essays. We'd move to Chicago, a big city just 90 minutes away from our parents — after countless hours and evenings and trips spent together, his family, after all, felt like my family, too. I'd find work at a local publication. We'd have a big Catholic wedding (I was Lutheran, but fully prepared to convert) and a small, manageable number of children. We'd been talking about it since we fell in love in high school. We were set.
And then the whole future splintered and collapsed. He got what he wanted, as far as I know: Occasional Google-stalking reveals he's a doctor in the Midwest, married to the very same good Catholic girl he'd told me about that night, rugrats presumably scrambling around his feet. I don't know firsthand, because we haven't spoken in 10 years. But I suppose I'm glad his future chugged on, unabated.
I remember another night in late 2006, less ostensibly standout but every bit as important to me. It was an unusually warm November night, and after finishing a day of interning in Times Square, I'd walked over to Bryant Park. I sat at a small green table and watched the earth dim through cracks in the spindly trees, as buildings turned gold in the dusky light and New Yorkers streamed by, full of competence and purpose. And then I heard it, as clearly as if someone had whispered it in my ear: "Now you can do whatever you want."
It hadn't occurred to me before, which sounds almost laughable now, so foreign when the past 10 years have been brimming with personal ambition and creative accomplishments and big decisions balanced on my will alone. But this was new. My ex was controlling, even gaslighting and manipulative at times, tossing his head and accusing me of being a wild, untamed, shitty girlfriend when I wanted to do things he didn't like: travel with friends he didn't approve of, party with my sister in Madison, apply to only secular colleges, spend a summer studying abroad, far away from his clutches. I'd accepted his plans for us, convincing myself his dreams were mine, too. And then, suddenly, a blank space opened up where the splintering, collapsing future had once been. A vacuum. The breakup was like me newly coming face-to-face with myself and realizing, Oh, hello. You have dreams and ideas and talent and value yourself, too. Let's do this.
And why shouldn't we celebrate the negative spaces (relationships ending, jobs coming to a close, not getting something you desperately wanted) the same way we mark the seemingly positive ones?
Normally, we only celebrate what lasted, but in my case — and likely many others — the breakup was when my whole world opened up. I think of it every year, when New York tips over into fall. And why shouldn't we celebrate the negative spaces (relationships ending, jobs coming to a close, not getting something you desperately wanted) the same way we mark the seemingly positive ones?
Humans tend to have emotional relationships with the calendar, according to researcher John Sharp, MD; anyone who, for example, thinks about a loved one on the anniversary of her death or inevitably feels a plucky back-to-school pull come September knows this to be true. For me, the fall is always when I think back to late 2006. I remember the jagged pain, but I can't pull it up anymore; it feels faraway and filmy, a fact I trust but can't verify. But that expansiveness, the sudden realization that I could do whatever the fuck I wanted with the rest of my life — that sense of awe and space and wonder — never stops refreshing.
This year marked a decade since the breakup that changed everything, and all I can say is: Happy anniversary to me.
REAL LIFE. REAL NEWS. REAL VOICES.
Help us tell more of the stories that matter from voices that too often remain unheard.
BEFORE YOU GO
PHOTO GALLERY
The Pros And Cons Of Being Single, In Comic Form