"Get the purple wig. Wear those heels to treatment. Now is not the time for restraint, now is the time to savor every drop of life you've been given."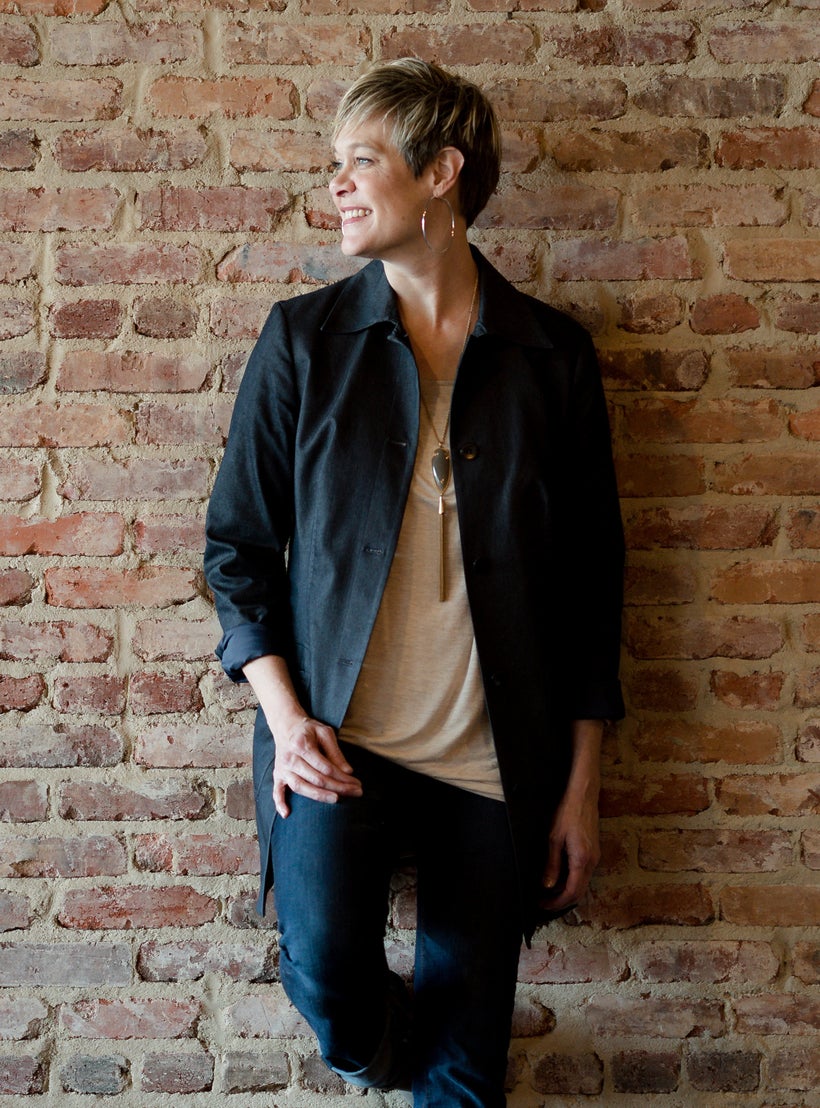 Breast cancer awareness month is upon us. It's a time when a lot of people come together to do a lot of good - raising funds for breast cancer research, tackling topics that are not addressed enough and making their voices heard. While we are happy that there is an entire month dedicated to breast cancer "awareness", there are many who are in the trenches 2/47 x 365. There are those, for whom the "battle" will never end, who are "dying for a cure"; and there are those, like Heidi Floyd, a two-time survivor, whose life was changed forever, not by a one-time, but a two-time diagnosis. Here's her story.
HF: I'm an enthusiastic optimist.
MK: What were your plans before you were diagnosed with breast cancer?
HF: In retrospect, they were so simple: I wanted to be a happy wife, a good mommy, a valued employee. I didn't want to have dirty dishes in the sink. I wanted to make the bed every morning and take my kids to Disney World.
MK: Do you ever wish you could go back to life as it was before breast cancer?
HF: I don't ever wish that. I've been given these experiences, so that I can find something that can be used to help others. After my second diagnosis, I thought "I'd better hurry up and do what I think God's telling me to do" to help the cancer community.
MK: How has this experience awakened you to yourself and your purpose?
There are thousands who will be impacted by cancer. When I was first diagnosed, it felt as if I were the only one in my kind of situation (pregnant, in my 30s with advanced stage breast cancer). If I can share my experiences, it will help others. Getting information out to the world is my purpose.
MK: Tell me about your breast cancer advocacy work.
HF: It has evolved over time. At first, I made gift bags for other patients. I also began sharing my story. I've now been a keynote speaker and have addressed groups like Google and the U.S. Congress and Senate members. I help corporations find creative ways to help their employees, partners and customers through a difficult medical diagnosis. When we collaborate, we find ways to help beyond just writing a check. I'm also a part of the Pink Power Mom Network – a group of women who devote themselves to worldwide social needs of patients and caregivers.
MK: What word do you wish you could take out of the breast cancer vocabulary?
HF: Two, actually – Survivor and Fight. My mom died when she was just 42 from this disease. Her metastatic breast cancer riddled her body…she did not die because she didn't fight hard enough. It was not her fault, nor is it the fault of anyone who dies from cancer. I've lost more friends than I can count from mets, and they all wanted to survive and tried to fight. You can't beat this thing through force of will.
MK: If there was one thing you could change about breast cancer what would that be?
a. Once you are done with chemo, you are good to go. Truly, that is just the beginning. Many of us have side effects, treatment, and myriad issues for the rest of our lives.
b. If you have insurance, you have no financial concerns. When families, companies and communities connect with me for help, the most pressing concern is financial. There are myriad who will never be able to pay off the debts they were given due to cancer FOR THE REST OF THEIR LIVES– it's not just the hospital bills, but the additional costs that no one tells you about. Insurance doesn't cover everything! If you have a deductible that costs more than a car payment, that's a crisis.
MK: Has cancer changed how you see adversity?
It taught me to open my eyes and close my mouth. I have been given an abbreviated life span, and that changes everything. Do what you can, with all you have. Daily, I look for something good, and ask my kiddos to do the same. I try not to engage in anything that won't be helpful – political sparing on social media, whining about first world issues, all of that is a waste of precious moments. We, in the cancer community, don't have time for stupid.
MK: What makes you happy?
HF: My family and my calling.
MK: What one word defines you?
MK: What would you tell a newly diagnosed woman?
HF: Connect and ask. Ask for everything; don't be hesitant and don't delay. Ask your doctor for details, ask your nurse to explain, ask your husband to open your doors, ask the kiddos to read to you. Connect on line, because there are so many of us out there who can help in ways you can't imagine. If you don't have the resources to get online from home, tell everyone. You will be scared, but take it in small bites. If someone offers to help, let them – give them a list of things you need. Register at places like Target for items you use and have someone else do the shopping. If you want to eat pie for breakfast, do it. Get the purple wig. Wear those heels to treatment. Now is not the time for restraint, now is the time to savor every drop of life you've been given.
REAL LIFE. REAL NEWS. REAL VOICES.
Help us tell more of the stories that matter from voices that too often remain unheard.
This post was published on the now-closed HuffPost Contributor platform. Contributors control their own work and posted freely to our site. If you need to flag this entry as abusive,
send us an email
.