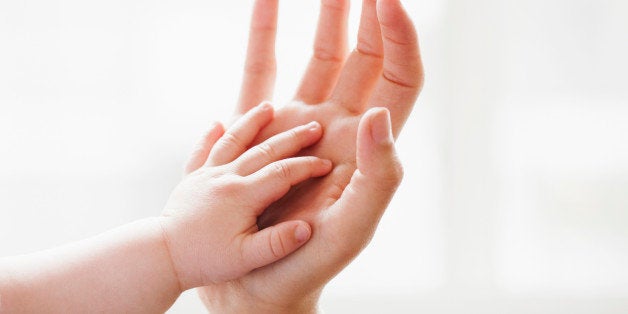 Mother and daughter. This is a very specific, very important, and sometimes very stressful relationship. If I think about all the tense moments my mother and I have had, well, there's too many to count (many of them in my dramatic teenage years). But there are also times of extreme love. When I don't need my mother to dote over me to know that she cares about me, that my sister and I are, for her, above all else. I am lucky to have her and humbling reminders of that hit me every week, every day, sometimes every hour. One of these moments was speaking with TV writer and breast cancer awareness advocate, Jessica Queller.
Jessica is one of the extraordinary people being honored at the Get in Touch Foundation's Pretty in Pink event this Thursday in Los Angeles. Jessica lost her mother to breast cancer 12 years ago. For Jessica, the death of her mother cut her life in half. Shortly after, she got tested for the BRCA gene -- a gene that gives you a high likelihood of developing breast cancer. "When I tested positive, it was a continuation of the trauma of my mother's death," Jessica remembers. This test was something that only recently has been widely known. When Jessica took it, it was not common knowledge. After seeing her mother go through a battle with cancer, she knew how serious the threat to her life was. Jessica opted for a double mastectomy with reconstruction. "It went from shock to research to deciding I did not want cancer."
Jessica's friend approached her to write an op-ed piece in the New York Times about her experience losing her mother and testing positive. Her piece is beautifully written and informative, I would encourage anyone to read it here. This op-ed was the beginning of something new for Jessica -- her life as an advocate. "Once you come out in the public you can't take it back." The ball started rolling. She was interviewed, gave speaking engagements, and dedicated the time she was not busy writing on shows such as Gilmore Girls and Gossip Girl to raising awareness.
There was one more big hurdle for Jessica -- children. This is where I noticed my face moved a little closer to the phone. My ears perked up. My interest peaked. In speaking to Jessica, I heard a confident, educated voice. A kind person on the other end of the line. But this is also a woman who is living with, as she put it in her NY Times piece, "dark knowledge" of her situation. The BRCA gene gives not only a predisposition to breast cancer, but to ovarian cancer as well. Jessica knew that she would have to have her ovaries removed by her early 40s. Being 24, my mind started running a mile a minute. What about dating? How do you plan that? What can one do when there is a time cap on your child bearing years? But Jessica answered all my questions -- she went to the sperm bank and had a daughter. You must live the life you want to live.
For Jessica, her mother's death will always be the turning point in her life. But the knowledge of her likelihood to develop breast or ovarian cancer does not rule her, you can just tell. I sensed no overwhelming fear in her voice, no lack of self-awareness. She wrote a book documenting the tragedy of losing her mother and the events thereafter called Pretty Is What Changes. "This story is helpful to give people [a sense of] emotional acceptance." Jessica noted that now all of the clinical information is out there. It's at the tips of our fingers, right in front of you on this screen. So, if you're curious, go look. Find out something new, something that can answer your questions if you have them. "From the beginning I felt really strongly that knowledge is power," Jessica told me. She credits the remarkability of modern science and medicine. It gives us choices that past generations did not have.
When I think about my mother, and her mother, and her mother before that, it is one long line on information. Of tradition and knowledge being passed down. There's something quite incredible about what we can learn from our mother. Speaking with Jessica made me think about this. Although her mother did not benefit from testing for the BRCA gene, Jessica herself is empowered by the memory of her mother to protect her own life, and therefore, her daughter's life as well. The cycle continues, but as women we carry the responsibility of knowledge. To pass it down, to educate our daughters and look out for their well-being. The Get in Touch Foundation tells us to understand our bodies, to get familiar with who and what we are, so that if something is ever wrong, we know. This understanding that Get in Touch advocates for is exactly what Jessica is all about and what we should all try to enact. Jessica's advice? "Don't be afraid to seek the knowledge that could help save your life, and don't be afraid to empower yourself with that knowledge."
For more information on Jessica and her work, visit her website http://www.jessicaqueller.com
For more information on the Get in Touch Foundation and their event in Los Angeles on Thursday, March 12, visit here.
Calling all HuffPost superfans!
Sign up for membership to become a founding member and help shape HuffPost's next chapter