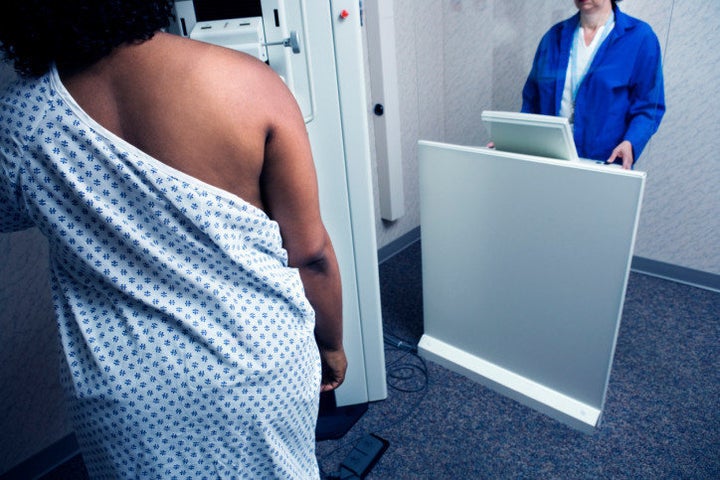 In 1984, the American Cancer Society (ACS), the world's largest nonprofit organization, inaugurated the October National Breast Cancer Awareness Month (NBCAM), with its flagship National Mammography Day. The NBCAM was conceived and funded by the Imperial Chemical Industries, a leading international manufacturer of petrochemicals, and its U.S. subsidiary Zeneca Pharmaceuticals. Zeneca is the sole manufacturer of Tamoxifen, which has been widely used for treating breast cancer.
The NBCAM has assured women that "early (mammography) detection results in a cure nearly 100 percent of the time." More specifically, the NBCAM is directed to claims for reducing the incidence and mortality of breast cancer through early detection by annual mammography starting at age 40. Moreover, mammograms can miss cancers in premenopausal women due to the density of their breasts, and also fail to detect cancers smaller than half an inch.
Still denied by the ACS is clear evidence that premenopausal mammography poses significant risks of breast cancer. The routine practice of taking two films annually for each breast results in approximately 0.5 rad (radiation absorbed dose) exposure. This is about 500 times the dose from a single chest X-ray and is broadly focused on the entire chest rather than narrowly on the breast. This is also 25 times higher than is allowed by the Environmental Protection Agency for whole-body radiation from local nuclear industries (0.02 rad). Moreover, the breast is the most sensitive organ to ionizing radiation.
As warned by the prestigious National Academy of Sciences in 1972 but still ignored by the ACS, the premenopausal breast is highly sensitive to the risks of cancer from mammography, as each rad exposure increases the risks of breast cancer by 1 percent. This results in a cumulative 10 percent increased risk for each breast following a decade of routine screening. This can also accounts for the 19-percent increased incidence of breast cancer since 1975. Not surprisingly, the prestigious U.S. Preventive Task Force, supported by the National Breast Cancer Coalition, warned last year against routine premenopausal mammography. Also, not surprisingly, routine premenopausal mammography is practiced by no nation other than the U.S.
Risks of premenopausal mammography are some four-fold greater for the 2 percent of women who are carriers of the A-T gene (ataxia telangiectasia) and are highly sensitive to the carcinogenic effects of radiation. By some estimates, this accounts for up to 20 percent of all breast cancers diagnosed annually. Compounding these problems, missed cancers are common in premenopausal women due to the density of their breasts.
That most breast cancers are first recognized by women was admitted by the ACS in 1985. "We must keep in mind that at least 90 percent of the women who develop breast cancer discover the tumors themselves." Furthermore, an analysis of several 1993 studies showed that women who regularly performed breast self-examination (BSE) detected their cancers much earlier than women failing to examine themselves. The effectiveness of BSE, however, depends on training by skilled professionals, enhanced by an annual clinical breast examination. Nevertheless, in spite of such evidence, the ACS dismisses BSE, and claims that "no studies have clearly shown [its] benefit."
As reported in our 1999 publication in the International Journal of Health Services, an article in a leading Massachusetts newspaper featured a photograph of two women in their twenties. The article promised that early detection by mammography results in a cure "nearly 100 percent of the time." Questioned by journalist Kate Dempsey, an ACS communications director responded: "The ad isn't based on a study. When you make an advertisement, you just say what you can to get women in the door. You exaggerate a point -- Mammography today is a lucrative [and] highly competitive business."
If all 20 million U.S. premenopausal women submitted to annual mammograms, the minimal annual costs would be $2.5 billion. Such costs would be increased some fourfold if the industry, supported by radiologists, succeeds in its efforts to replace film machines, costing about $100,000, with high-tech digital machines, costing over $400,000, even in the absence of any evidence for their improved effectiveness.
With this background, it is hardly surprising that the National Breast Cancer Awareness Month neglects to inform women how they can reduce their risks of breast cancer. In fact, we know a great deal about its avoidable causes which remain ignored by the ACS. These include:
Prolonged use of the Pill, and estrogen replacement therapy.
Prolonged consumption of milk from cows injected with a genetically engineered growth hormone to increase milk production. This milk is contaminated with high levels of a natural growth factor, which increases risks of breast cancer by up to seven-fold.
High consumption of meat, as it is contaminated with potent natural or synthetic estrogens. These are routinely implanted in cattle before entry into feedlots, about 100 days prior to slaughter, to increase muscle mass and profits for the meat industry.
Prolonged exposure to a wide range of hormonal ingredients in conventional cosmetics and personal care products.
Living near hazardous waste sites, petrochemical plants, power lines, and nuclear plants.
The enthusiastic and continuing support of premenopausal mammography by the ACS is hardly surprising in view of its major conflicts of interest that still remain unrecognized. Five radiologists have served as ACS presidents. In its every move, the ACS promotes the interests of the major manufacturers of mammogram machines and films, including Siemens, DuPont, General Electric, Eastman Kodak and Piker. The mammography industry also conducts research for the ACS, serves on its advisory boards, and donates considerable funds. DuPont is also a substantial backer of the ACS Breast Health Awareness Program. It sponsors television shows touting mammography; produces advertising, promotional materials and literature for hospitals and doctor; and lobbies Congress for legislation promoting the availability of mammography. The ACS has been and remains strongly linked with the mammography industry, while ignoring or criticizing the value of breast self-examination, even following training by a qualified nurse or clinician.
The ACS conflicts of interest extend well beyond the mammography industry. The ACS has received contributions in excess of $100,000 from a wide range of "Excalibur (industry) Donors," who manufacture carcinogenic products. These include petrochemical companies (DuPont, BP and Pennzoil), Big Pharma (AstraZenceca, Bristol Myers Squibb, GlaxoSmithKline, Merck & Company and Novartis), and cosmetic companies (Christian Dior, Avon, Revlon and Elizabeth Arden).

Samuel S. Epstein, M.D. is professor emeritus of Environmental and Occupational Medicine at the University of Illinois at Chicago School of Public Health; Chairman of the Cancer Prevention Coalition; and a former President of the Rachel Carson Trust. His awards include the 1998 Right Livelihood Award and the 2005 Albert Schweitzer Golden Grand Medal for International Contributions to Cancer Prevention. Dr. Epstein has authored 270 scientific articles and 20 books on cancer prevention, including the groundbreaking "The Politics of Cancer" (1979), and most recently "Toxic Beauty" (2009, Benbella Books: www.benbellabooks.com) about carcinogens, besides other toxic ingredients, in cosmetics and personal care products. Email: epstein@uic.edu. Web: www.preventcancer.com.
Rosalie Bertell, Ph.D. is an expert in Radiation Epidemiology. She is the past president of International Institute of Concern for Public Health, a member of the Board of Regents of the International Physicians for Humanitarian Medicine, and a member of the European Committee on Radiation Risk and the Cancer Prevention Coalition. Dr. Bertell is a recipient of many awards, including the United Nations Environment Program, Global Five Hundred Award and the Right Livelihood Award. She is author of five books and has published more than 100 professional papers and articles. Email: rosaliebertell@greynun.org. Web: www.iicph.org.