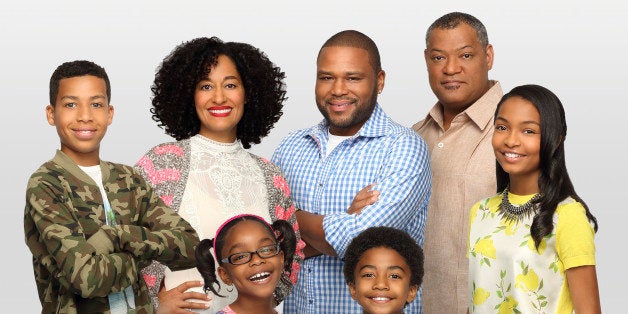 In its first season, Black-ish repeatedly showed why it continues to be lauded as one of the best new comedies on television, and now in its second season, why you should be watching. The brilliant way its writers target heavy topics was dialed back a bit last night and expertly provided commentary on the current state of police brutality and racial disparity in our country. It was poignant while still blending the laughs, and covered points on race and the black family in ways that other current shows haven't been able to approach. One of the strengths of this show is the ensemble cast, from the strong work of Tracee Ellis Ross, who plays the optimistic liberal anesthesiologist mother, Rainbow, down to the kids, with the standout Marsai Martin, who plays the youngest daughter Diane, a precocious fraternal twin with a diabolical edge, to such hilarity!
The first five minutes of the episode were so loaded with social commentary that were entertaining, but also powerful elements of what this show truly represents for television today and black representation in Hollywood in a time when the industry has been heavily criticized for being extremely whitewashed. Black-ish has been able to stand out and reach broad audiences. They packed a lot into this episode, probably their, well, blackest yet - prolific author and columnist, Ta-Nehisi Coates; the disheartening litany of current police brutality; a critique of Spike Lee's most recent movie Chi-Raq from Jenifer Lewis's character, the lovably irascible grandmother Ruby; even a mention of influential writer and activist James Baldwin. I suppose Don Lemon was spared a jab or two for his real-life insensitive reporting of community reactions in Ferguson, Baltimore, and elsewhere given his appearance was a guest spot on the episode's unfolding CNN broadcast.
Blending such sensitive topics for wide consumption is no easy task, but this episode highlights the diversity and depth of the characters in this black family quite expertly. The varied perspectives are used so well for the landing of their best comedic moments, but in last night's episode "Hope" they deftly illuminated a broad range of emotions that reflect the current frustrations of our nation as it pertains to police violence against people of color, and it shouldn't be just the black lives with which this episode resonates.
That has always been the strength of this brilliant show, a welcome and strong addition to ABC's Wednesday comedy lineup, particularly with Modern Family's comedic charm losing a little steam and showing it's age in its long and successful run. At moments the episode was a little heavy handed, but I'm impressed how they were able to incorporate statistics on police violence and honor the lives lost, with mentions of Sandra Bland, Freddie Gray, and Eric Garner in a way that helped make this special episode more than a public service announcement, while not so overwhelming that the weighty subject matter couldn't recover with an appropriate dose of well-timed humor.
This dramatized version of real events may not be what you would expect from a comedy, but this is what good television can and should do. It is a show I respect. It is one of my favorite new shows from last season. It is very smart, and there are details that really stand out, even the image of a Prop 8 protest in the episode's ending montage shows that this is a black show that is reaching out to an audience that is even broader than what the title suggests, because this show is extremely relatable to more than just African Americans. I'm proud of what it has done for TV, and it's quality work like this that can inspire hope in all of us.
Calling all HuffPost superfans!
Sign up for membership to become a founding member and help shape HuffPost's next chapter