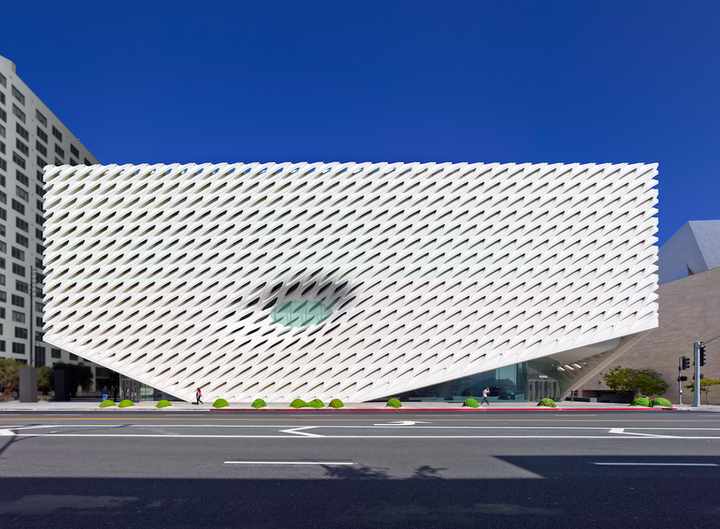 On Grand Avenue in downtown Los Angeles, sits a hulking, breathing organism, just born, yet already an enormous beast. The texture of porous honeycomb, or perhaps gefilte fish, it's The Broad, the baby of billionaire philanthropists Eli and Edith Broad, housing some 2,000 works of contemporary art. 
"Collecting has become not only a passion but an addiction," Eli Broad said before a crowd gathered for the Sept. 16 press preview. He and Edith have been collecting for over 70 years now, amassing an astounding number of all-star works from (mostly) American contemporary artists.
And thankfully, Broad likes to share. "I didn't want to prevent anyone from coming because of museum price," he explained. And so, he made the museum free. 
A private collection open to the public at no cost. The juxtaposition of private and public is the central paradox of the new museum, a diploid condition mirrored by the "vault and veil" design of the architecture. (The vault refers to the building's central storage area; the veil, the undulating, coral-like substance surrounding it.)
It's almost as if the building itself is cognizant of its dissonant status, at once a radically accessible and game-changing landmark for Los Angeles culture, and also a too-traditional tribute to an influential, yet sometimes unimaginative, contemporary art elite.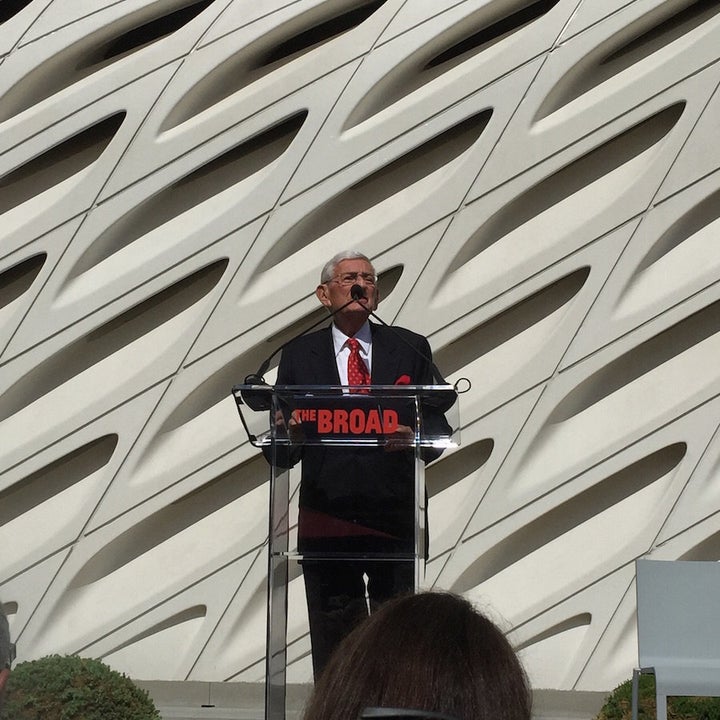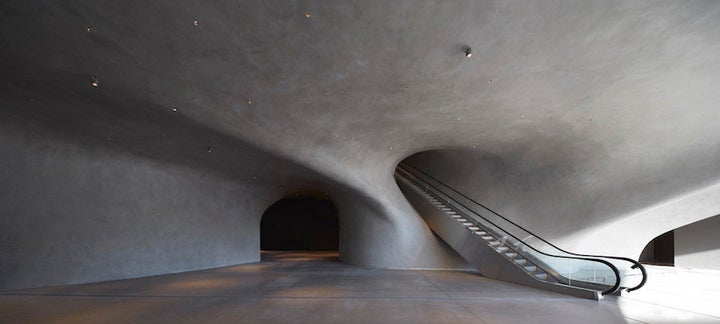 The museum lobby is a concrete cavern that billows and heaves, building anticipation with its disorienting shadows. Bobbing amidst the crowd, it felt like being in an amusement park, an over the top, immersive experience more than a contemplative cathedral.
In a matter of seconds a line formed for Yayoi Kusama's "Infinity Mirrored Room," a selfie-happy installation in which each viewer gets a brief 45 seconds alone in Kusama's enclosed wonderland of black mirrors and LED lights, which transforms the finite space into a never-ending funhouse of glimmering perspectives. 
Past Kusama, the cave opens up into a sunlit mecca of blue chip players. A playful and grotesque Takashi Murakami mural stretches across multiple walls, cradling the artist's pastel sculptures of doe-eyed mushrooms and a pop-ified Mickey Mouse. The amusement park vibes are getting stronger.
In the room adjacent, the late Chris Burden's "Bateau de Guerre," a whirring, flying boat made from 172 metal gasoline cans, 18 plastic torpedoes, five plastic castle towers -- the list goes on. It buzzes like a defunct children's toy that's gained some divine force.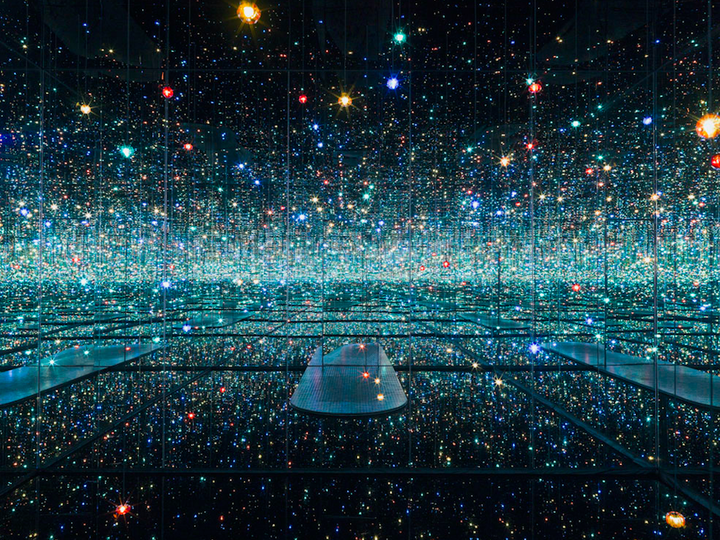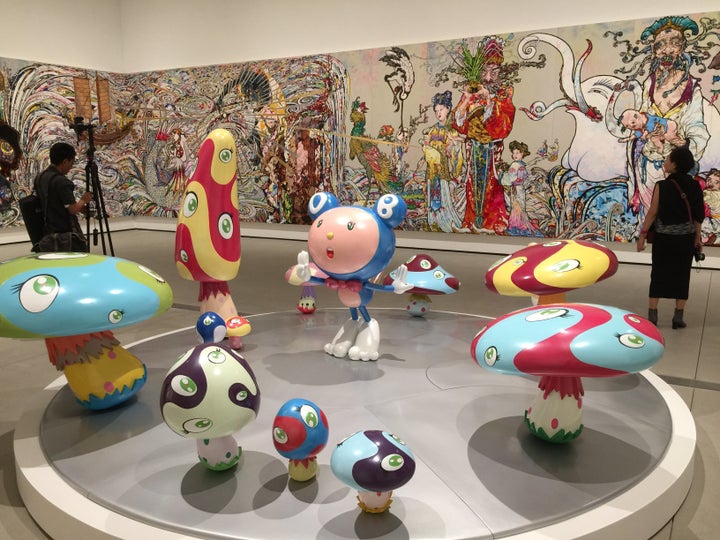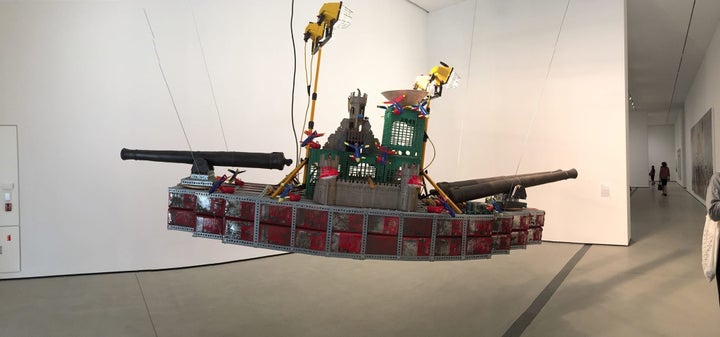 The festivities continue. The space is massive, filled with natural light, giving the works on view plenty of room to breathe. Most artists are delegated their own personal territories; at most you can you spot around two artists' work in a single glance. Roaming the museum feels more participating in a reverent celebration of contemporary art's MVPs than a challenging dialogue attempting to stir up the status quo. 
But. For those who are often bored by museums or overwhelmed by the New York-style halls packed with visual stimulus, The Broad offers an accessible and extremely enjoyable alternative. It's that luxurious feeling of hopping in a car instead of cramming yourself into the subway. There's Koons, there's Basquiat, there's Warhol and Hirst. There's Baldessari and Ruscha and Opie and Kruger. Sherman, Walker, Twombly, Ligon, Dumas, Rauschenberg, Beuys, Saville, Anatsui, Kelley and Kelley.
Ambling through the sunlit halls feels like walking through the party of your dreams, where everyone you know is there and looking remarkably fabulous. (I guess that artworks, and not just people, glow more in California than New York.) Will you meet, however, the dark and handsome stranger who may end up being the love of your life? Probably not.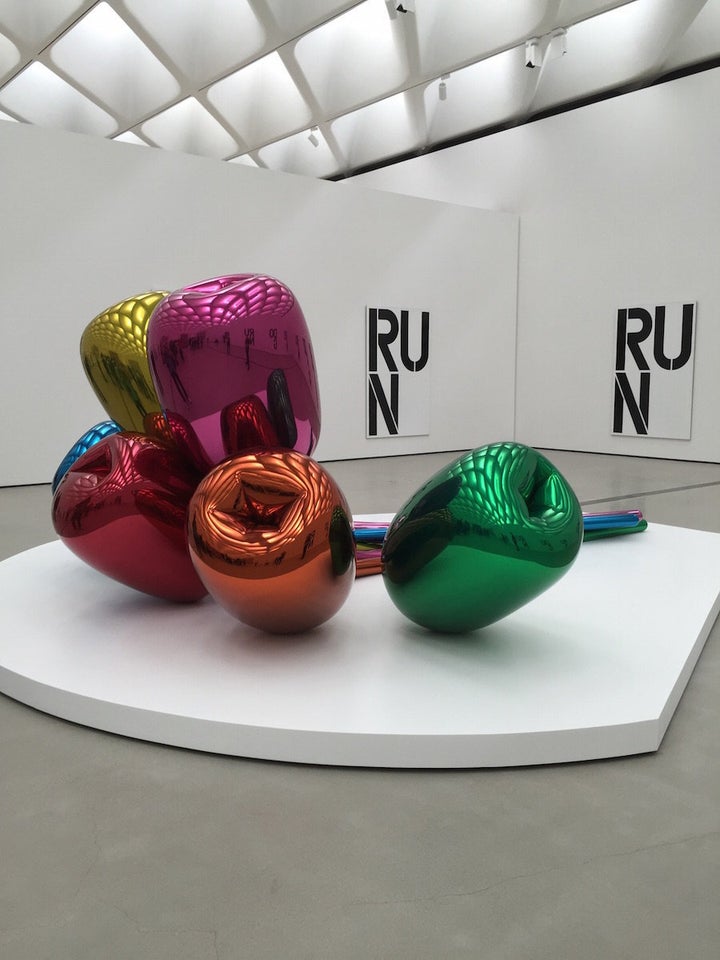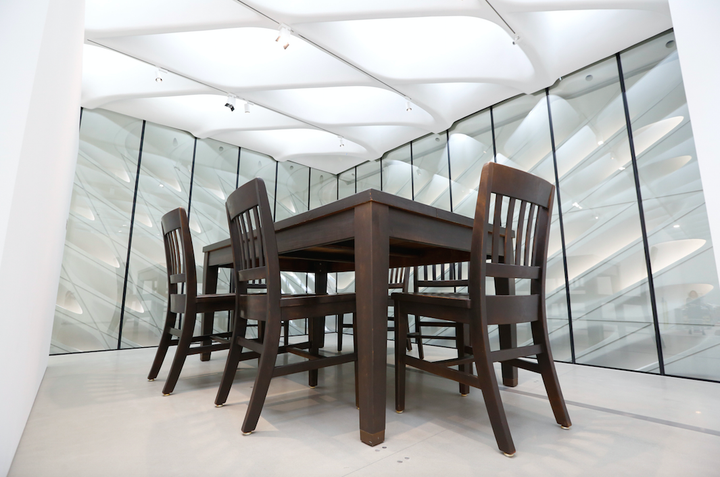 The Broad is the second major art reveal of the summer, coming on the heels of Banksy's self-described "bemusement park," Dismaland. The British street artist's dystopian pop-up is filled with grouchy commentary on consumerism, entertainment, tourism and capitalism, with works including a dead disney princess, a boat pond filled with remote-controlled migrants, and an oversized concrete toilet paper roll.
Located in Somerset, England, Dismaland is the bleak foil to The Broad's sunny disposition. While Banksy condemns wealth and power, The Broad is an ode to its potential benefits, namely philanthropy, with Eli Broad as one of the key figures in LA's cultural renaissance. 
The Broad is the art world equivalent of "Now! That's What I Call Music" -- and I mean that in the best way possible. It's a tiny bit tone-deaf -- Robert Longo's untitled photograph of policemen in Ferguson is one of the few works to raise contemporary critiques that tap into the pulse of the current moment -- but nonetheless, it's a strong and digestible compendium of contemporary art, allowing the much beloved artworks to sprawl out and soak up the sun. 
The new Whitney Museum of American Art in New York certainly does a better job at including lesser known and marginalized artists, as well as emerging contemporaries. But few museums can compete with the visceral impact of encountering an entire room of Kara Walker's stark monochromatic silhouettes or Ellsworth Kelly's jagged color fields. The power of the space is almost hypnotic. Turns out $140 million can yield quite the edifice. 
In their introductory remarks, both Eli Broad and Mayor Eric Garcetti mentioned the museum's mission to increase cultural tourism to Los Angeles and bolster the still relatively bare downtown area. A free museum packed with classics is sure to do just that.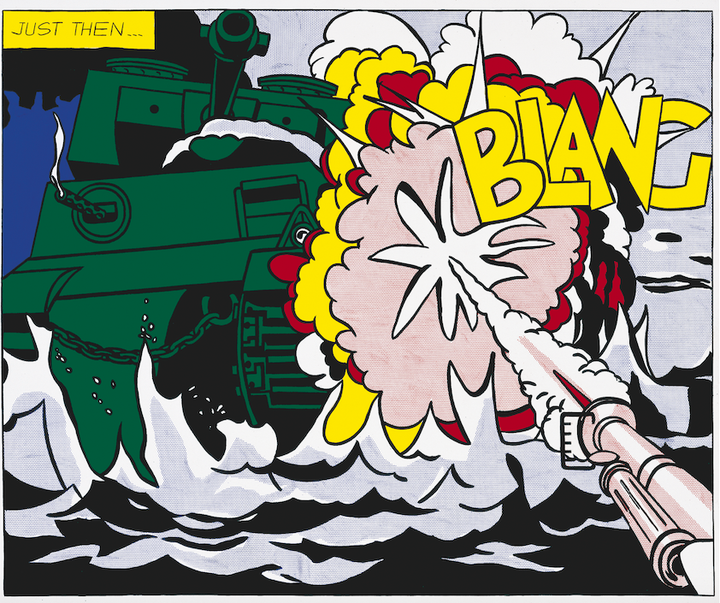 PHOTO GALLERY
Art History's Most Erotic Artworks
REAL LIFE. REAL NEWS. REAL VOICES.
Help us tell more of the stories that matter from voices that too often remain unheard.