It's unusual for stars or directors to have over two shows a season -- even two is quite an accomplishment. One of the reasons director Scott Ellis recieved so much press this fall was that he had three entries in the Broadway season. Designers on the other hand frequently have a handful of shows. This season, for example, Scott Pask has five. David Rockwell is one of those to have three shows this season -- the revivals of You Can't Take It With You, Side Show and On The Twentieth Century (two of which were directed by Ellis).
A three-time Tony nominee also known for his work on restaurants, Rockwell made his Broadway debut in 2000 with the revival of The Rocky Horror Show. (My two favorite sets of his are still that one and Hairspray.) The Rockwell Group has also been selected by Second Stage Theatre to make renovations and updates to their new Broadway home, the Helen Hayes, a project Rockwell says is still in its "early stage."
All three of his projects this year are contenders for a Tony nomination. With Side Show he was part of a production that departed substantially from the original production, and the original set wasn't that well known anyway. However many people have specific ideas about the look of You Can't Take It With You and On The Twentieth Century -- we all can picture the house in the former and the train in the latter. (In fact, I can also picture John Lee Beatty's set for Twentieth Century, the play on which the musical is based, in that same theater, the American Airlines.) Yet Rockwell got good reviews for his work on both, the first featuring a single set, and the second featuring numerous sets and backdrops. The show drop itself for On The Twentieth Century, which greets the audience as it enters, is pretty elaborate. The song "She's a Nut" alone, the show's big number about Mary Louise Wilson's character, has more set pieces than are included in the entirety of some shows.
On the eve of the nominations, I emailed with Rockwell about some of his work this season.
You have three Broadway shows this season. Can you describe your sets for each in 5 words or less?
On the Twentieth Century: Streamline Moderne/exuberant Art Deco.
Side Show: Creepy carny meets film noir.
You Can't Take It With You: Brownstone chock-a-block with tchotchkes.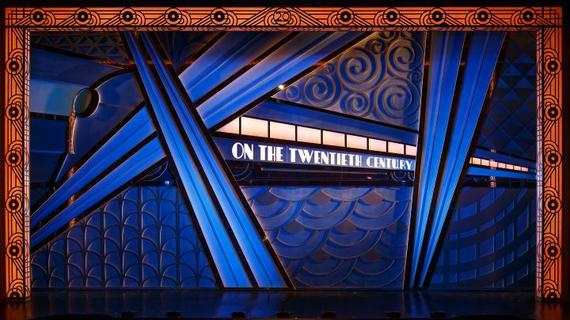 You Can't Take It With You has one set, but both Side Show and On the Twentieth Century have many moving pieces. How long did it take you to design and build each?
Each show had a different timeframe. We conceived and built the set for You Can't Take It With You in four months, whereas we had more than a year to design Side Show and On the Twentieth Century. However, for all three productions we deeply immersed ourselves in research and tweaked the sets up until opening night.

With Side Show the world was in a way wide open to you, but theatergoers might have some definite ideas about what the house in You Can't Take It With You looks like or On The Twentieth Century's train. Do you approach those projects differently?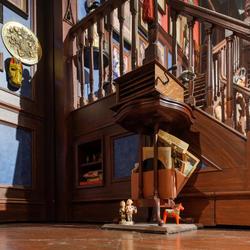 All three of our shows this season were revivals, but regardless of whether a show is a revival or a completely new production, I like to seek out new and different challenges. As a designer, it's exciting to delve into unfamiliar subjects or genres. Each presents an opportunity to discover new techniques, materials and collaborations. This, of course, always involves risk. But it also allows us to constantly evolve, change, and push the boundaries of our design practice.
I've done three shows with Scott Ellis and he and I both agree that while we both respect tradition and must remain true to the original intent of the plays, we must also think of these revivals as new works that audiences are seeing for the first time.
And, of course it was a little intimidating to follow the footsteps of Robin Wagner, who designed the sets for the original 1978 production of On the Twentieth Century. He's a brilliant designer.
Which one set piece this season took you the longest to conceive?
The train pieces for On the Twentieth Century. Most of the story, of course, takes place within the confines of the train. We had to create an opulent train interior that allowed for as much variety of playing areas and freedom of movement as possible. Not only do the trains rotate and track up and downstage, but they move transversely across the stage as well. It was very important that the train, although sumptuously imposing, be able to completely vanish for the flashback and fantasy production numbers. Designing set pieces that supported the slapstick choreography and chaos in "She's a Nut" was particularly challenging, but the experience of collaborating the show's community of artists to make it work was a real joy.

People have their own take on awards. What would having your work nominated come Tuesday mean to you?

Fiddler on the Roof was my first Broadway show and then and there I fell in love with the great Boris Aronson's stage designs. Boris Aronson remains a hero of mine, so if I were to be nominated in the same category that had paid tribute to him - and so many of my other heroes - it would be very humbling to say the least.

What is your favorite set you've done for the Great White Way?
It's nearly impossible to pick a favorite as every show is uniquely different, but The Normal Heart holds a very special place in my heart. It combined a powerful play with an extraordinary cast and director to tell the story of a dark moment in recent history when we lost so many talented people and loved ones, including my brother Rick.

Photos courtesy of The Rockwell Group.