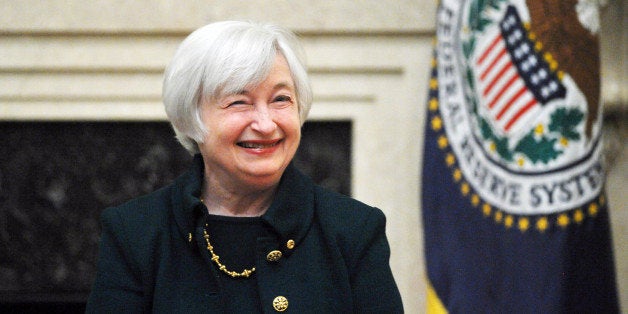 On February 1, Janet Yellen made "Her Story" when she became the Chair of the Federal Reserve Bank, the first female to hold that position. Many firsts for women in the financial services industry preceded Yellen's appointment. We're going to follow the money trail and learn about these accomplished and business-savvy women.
Let's start with banking. In 1903, social activist Maggie Lena Walker established herself as a banker. She founded and owned the first U.S. bank owned by an African-American; thus the first bank owned by an African-American female. The St. Luke Penny Savings Bank was located in Richmond, Virginia and had a branch in Hampton, Virginia. It was very meaningful to me, when I was researching Walker for the book Her Story: A Timeline of the Women Who Changed America , to discover that my mother had banked with a successor bank (Consolidated Bank and Trust through that Hampton, Virginia branch) to the one that Walker had established over 100 years before.
Once you have some money, financial columnists and advisors can help you decide what you should do with it. Financial columnist Sylvia Porter wrote for the New York Post for many years under the byline S.F. Porter, as it was not acceptable for women to write columns providing financial advice. Her column was titled "S.F. Porter Says". She was able to change her byline to reflect her actual name (and gender) in 1942. Porter specialized in making financial concepts understandable to the general public. She also wrote many successful books to teach investment and money principles. Her 1975 book, Sylvia Porter's Money Book: How to Earn It, Spend It, Save It, Invest It, Borrow It and Use It to Better Your Life, sold over a million copies.
One way to invest your money is to buy stocks through one of the stock exchanges. In 1956, Josephine Perfect Bay became the first woman to head a member firm of the New York Stock Exchange. Bay served as President of A.M. Kidder and Company, a brokerage firm. She was also a director of American Export Lines and later chairman of the board and CEO. American Export Lines was a shipping company for both cargo and passengers. Her significant legacy is The Bay and Paul Foundations, which today grants funds for pre-collegiate school improvement.
Now we turn from the first woman to head a member firm to the first woman who owned a seat. Muriel Siebert was that first woman -- her seat was on the New York Stock Exchange (1967). A National Women's Hall of Fame inductee, Siebert said, "Know the more that you succeed, the more you will be challenged. Many think that the biggest battle I had to fight was to buy my seat on the New York Stock Exchange. Yes, that was a battle, but that only got me into the game."
Siebert was the sole woman with a seat for almost 10 years. She donated money to help other women start businesses in the financial services and cautioned that women still had many battles to fight in the industry. In addition, she fought for equal access to the clubs in New York City where much business got done and which openly discriminated against women.
The financial services industry is indelibly intertwined with the country's economic condition. Inducted into the National Women's Hall of Fame in 2013, economist Anna Jacobson Schwartz collaborated with Milton Friedman on many landmark books. Although Friedman received the Nobel Prize, he was reputed to have said that Schwartz did all of the work and he got all of the recognition. Schwartz earned her Ph.D. at age 48 and continued to work in the field of economics until she was in her 90s. She had a large body of work on her own, was highly regarded as a staunch monetarist, and served as the Executive Director of the United States Gold Commission. Although the Nobel Prize in economics eluded Schwartz, she helped pave the way for Elinor Ostrom to become the first woman to receive that award in 2009.
Congratulations to Janet Yellen on this meaningful appointment. Let us acknowledge the many women on whose shoulders Yellen stands.
Popular in the Community