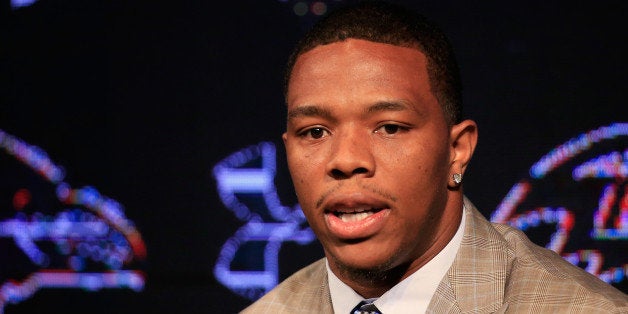 Honestly, what the hell is going on in the NFL? As Andrew Hill discusses today in the Financial Times, Ray Rice is merely the latest scandal in an organization plagued with racism, bullying, homophobia and misogyny. As Hill points out, Robert Gulliver, the NFL's chief human resources officer, is charged with the task of educating its "young, talented, highly paid stars that what may seem a gilded extension of the playground they have always dominated is equivalent to any office or factory."
Well, duh. Of course this is likely to be a difficult task when Gulliver himself describes football as "special and important." Or when NFL Commissioner Roger Goodell -- who made a staggering $44 million dollars last year (I know, unbelievable, but actually true) -- suspended Rice for exactly two games after Rice was charged with felony assault against his fiancée, Janay Palmer, last year, and captured on film dragging her unconscious body out of an elevator. Of course, Goodell has an excuse for the leniency of this penalty; he apparently had not seen the surveillance video that TMZ leaked yesterday, showing Rice punching Palmer in the face. Twice.
As Sally Jenkins points out in the Washington Post, the likelihood of this being true is approximately zero. The NFL works with Homeland Security and the Drug Enforcement Agency and has it own team of highly equipped private investigators and security. What are the chances that they could not get hold of a tape from an Atlantic City casino elevator? C'mon. Even I know that casinos tape everything. Strangely, a league spokesman did not respond to questions about whether any of the myriad investigators employed by the NFL had previously seen the video.
If possible, this makes an already devastatingly damaging incident even worse for the NFL, because it strongly suggests a cover-up. And as even a quick survey of our political landscape makes evident, Americans hate cover-ups. From Watergate to Benghazi, politicians have often been judged less for what they did than hid.
Now ask yourself, shouldn't we at least hold the NFL to the standards of our politicians?
I mean, really. We are not talking a high bar here.
Seen in this light, Keith Olderman's call for Goodell to resign makes sense. After all, someone should be held accountable for not just the crime, but also the cover-up. And though he acknowledged, "I didn't get it right the first time," once the TMZ tape emerged, presumably he is being paid $44 million dollars a year to get it right.
Or as ex-Washington Redskins' Sage Rosenfels tweeted: "Roger Goodell made $44 Million last year to make really difficult decisions. This was an easy one."
Goodell could learn a lesson from Harry Truman, who said, "The buck stops here."
Related
Popular in the Community