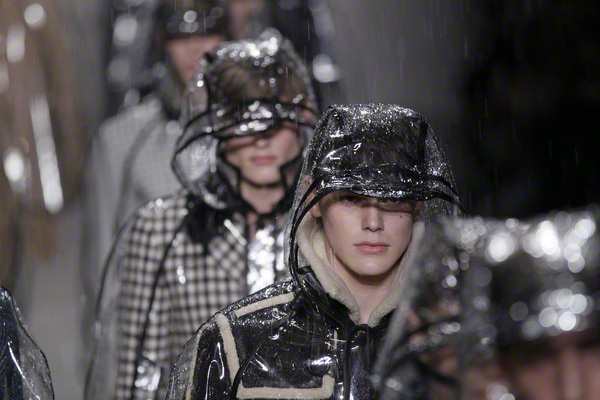 Rain poured from mechanical spouts above the podium, splashing the bloggers, the editors, and the celebrities in the front row of the Burberry Prorsum show. Transparent rain slickers protected the model's matching Burberry trenches. Perhaps this was Christopher Bailey's allegory for Burberry's unique ability to weather the global financial crisis that left veterans Lacroix and Yohji Yamamoto in financial ruin.
Yet, financial meltdowns sometimes provide unique opportunities for reinvention. In the early stages of the crisis in November 2008, Burberry's stock price was £175. By January 2010, the share price had risen to £1,116. Is it Emma Watson, a la Hermoine Granger, bewitching consumers through her advertising campaign? Probably not. The real reasons for Burberry's success are complicated but can serve as a guide for both luxury brands and young designers trying to survive in the competitive retail sector.
Step 1: Rejuvenation of the Brand Image
From 2000 to 2004, Burberry's image was hijacked by what the Financial Times called a "sub-culture prone to drinking and anti-social behavior." Slate called them a group of "tough guys, skanks, soccer hooligans, lower-class unsophicates, and cheesy celebrities". The Chavs, as they are known in England, began wearing Burberry plaid as a sort of Droog uniform to signify their status. Given their reputation, it was not long before they became victims of sartorial profiling.
The denouement of the Chav takeover came when Daniella Westbrook, one of the high priestesses of the Chav religion, was photographed in a tartan ensemble complete with a tartan baby stroller (or "pram" since we're talking about the Brits).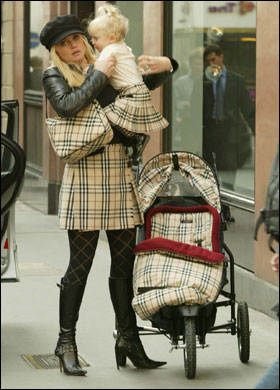 Needless to say, Burberry became the classic example of prole-drift, a term coined by Paul Fussell to describe when products of culture become associated with the working class or sub-culture of a society. This proved financially expedient in the short term as sales for products with the tartan design flew off the shelves, but it could not be sustained as the print became too closely associated with the subculture.
In 2004 the brand responded by scaling back the tartan on the outside of apparel, while still allowing the iconic print to mark the lining. Then in 2005, the Buberry Prorsum collection saw an abrupt shift. The previous season was inspired by the singer and drug addict Marianne Faithfull and by Christopher Bailey's home in Yorkshire. In 2005, the collection seemed closer to weekend attire for Balmoral than for Yorkshire. In the years since, Christopher Bailey has continued to produce heritage with an edge for the historic house.
Step 2: Supply Chain
In 2006, Angela Ahrendts joined Burberry as CEO and began transforming the business as drastically as Bailey was changing the image. Currently, Burberry may be more poised than any other brand to compete with fast fashion retailers. Their secret weapon lies in their responsive supply chain.
For a luxury brand like Burberry, a streamlined infrastructure is vital for sourcing raw materials and finished goods, maintaining wholesale accounts, and merchandising Burberry distribution outlets. In 2006, Burberry began a full-scale makeover of its supply chain management systems, the fruits of which investors are just now able to see.
The costs associated with such a system were extremely high because of the complexity of the Burberry supply chain. Burberry spent £21.6 million in 2009 on the installation of the system. As of now, approximately 90% of Burberry's stores are converted to the new SAP systems.
In 2009, Burberry deployed its new SAP system in the United States. A retailer's dream is to decrease inventory levels, and Burberry was able to do so by an astonishing 36% as a result of this new system. The company could now monitor and predict what items to merchandise. Imram Ahmed notes that this system allows Burberry "to react rapidly to sales trends and capitalize on bestsellers."
Step 3: China
Burberry has taken big risks by opening stores in emerging luxury markets like Serbia, Egypt, and Israel, but the most rewarding market has not surprisingly been China. Burberry has operated in the country since the early 1990s through a partnership with franchiser Kwok Hang Holdings, but the brand added 13 new stores in China last year alone, bringing the total number of stores in the mainland to fifty.
In 2010, the brand bought back the license from its business partner for 70 million pounds in order to create a consistent global brand image. The China strategy was the last major effort to rein in the global Burberry licenses.
Shareholders overwhelmingly approval of the China strategy, which put Burberry in a position to take hold of the rapidly expanding Chinese luxury market. A Mintel report recently stated, "despite unemployment and extreme poverty, China's young, affluent consumers have enjoyed a fast rate of growth over the past five years, making it the fourth largest [luxury market] in the world." Burberry's rival Prada saw a 75% increase in turnover in China in 2010 alone. By many accounts, China is set to become the largest luxury market in the next few years, giving Burberry a strategic advantage over its competitors who have had less time to establish their brand image in a place that is rapidly becoming saturated with luxury names.
Step 4: Innovative Retail Strategy
Burberry is relying less than ever before on its wholesale accounts by shifting to a retail-led growth model and utilizing creative retail schemes. Burberry chose to buck the trend of showcasing specific collections in certain stores, instead featuring all lines in each of its retail locations. Additionally, the existing stores in its portfolio have been upgraded and remodeled to achieve consistency across locations.
While most luxury houses were reluctant to imperil their brand image by moving online, Burberry focused heavily on e-commerce development. This strategy has proven extremely successful. Online sales for Burberry rose 60% last year and are likely to continue increasing as more consumers shop online. Even in the brick and mortar locations, shoppers have access to tablets to purchase clothes to be delivered later.
For the spring 2011 collection, the brand partnered with Verizon Communications to create a retail theater in its stores. Shoppers in 25 outlets worldwide were able to order items straight off the runway as the show was being broadcast live during London fashion week. Items were delivered within seven weeks.
While many luxury companies rely on one 'it bag' to make up the bulk of revenue, Burberry offers an array of popular items and also recently introduced a cosmetics line. Because of this variety, the company has not had to resort to a diffusion line like many other luxury companies. While companies are fighting fast fashion by going down market, Burberry has had massive success with the Prorsum line. Established in 1998, this line was meant to bring a youthful flair to the historic brand while maintaining luxury prices and quality.
Burberry's bottom line has also been bolstered as one of the fastest growing segments in retail in part due to its focus on menswear. Men's clothing is an afterthought for most brands, but Burberry places equal emphasis on both men's and women's ready to wear. Burberry's grip on e-commerce, strong product lines, and focus on menswear will surely amount to huge profits in the coming years.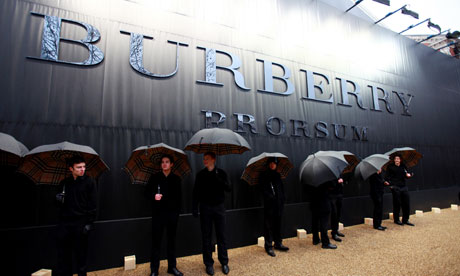 Step 5: Social Media
Just last year, Tom Ford created a frenzy when he closed off his fashion show to only the most select coterie of editors. Burberry is doing the exact opposite as it strives towards "democratic luxury positioning". For its Fall 2011 show, the brand live streamed the event on the iconic Piccadilly Circus mega-screen as well as to 150 countries around the world.
Burberry is the brand that is most "liked" on Facebook with over 2 million fans. Burberry's "Art of the Trench website capitalizes on the craze for street fashion by portraying highly stylized ways common Burberry consumers wear their trenches. This site inspired rival Hermes to create a similar site focusing on their iconic scarves.
The focus on the consumer does not stop there. Burberry recently introduced a bespoke line for the classic trench. Now customers can choose the detailing of their coat and make it as edgy or as classic as they want. This emphasis on "customer knows best" is in line with Buberry's focus on "democratizing luxury".
Instead of forcing styles on consumers, Burberry is giving them the power to reinvent the classic trench. This shows a huge confidence in the sophistication and awareness of the luxury customer. Consumers no longer buy idly as they are given reign make crucial design decisions. For those who want a one of a kind piece, the bespoke line offers unique pieces that others do not have access to. For those who want to share their design with friends, the bespoke line creates a new sales force of consumers-cum-designers.
Despite Burberry's historic roots, the brand refuses to be tied down by the heavy burdens that tradition can sometimes impose. Burberry has evolved even faster than many other younger brands and as a result has maintained a loyal customer base as well as growth in the double digits.
Burberry's embrace of the Internet goes farther than e-commerce. The real value that the company has gained from the Internet is a close connection with its customer as social media has allowed the brand to reach millions of followers. Instantaneous feedback from these followers allows the brand to outpace its competition in crafting strategy.
It's not immediately apparent how to draw the lines between a major brand like Burberry and emerging fashion designers. Up and comers don't have massive supply chains and they definitely do not have enough volume for their image to be hijacked by a subculture. Nevertheless, connecting with consumers, expanding into new emerging markets, and brand consistency are important for designers at any stage of development.
Related