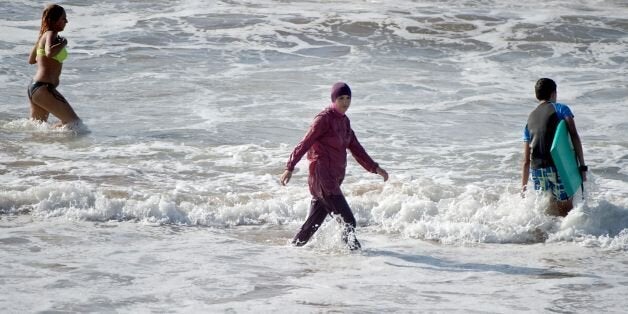 This year's debates are materializing in very poor form. The burkini debate has brought widespread rage to the surface, as a segment of our society continues to blame the "foreigners," or the Muslims, for all their problems.
Politicians in the highest positions, and their supporters, are aligning themselves with a rhetoric of exclusion and suspicion, without trying to raise the level of the debate. They are satisfied with discussing the effects, without ever debating the causes.
Islam has become a tool to gain applause at meetings and likes on social media. Ideas are reduced to 140 characters; Twitter has become a platform for full-fledged debate.
I've said it more than once: To have a rational discussion about Islam in today's world seems impossible. People don't want to hear it.
The burkini debate is the latest piece of evidence; public debate is reduced to a rudimentary level, and shortcuts and generalizations work to spread confusion and stir hate.
In France, it is the state that is secular -- not the citizens or the bathing suits. The burkini is not prohibited by law. There are instances in which they may be banned for sanitary reasons in public pools, for example, or by municipal decrees if mayors deem them threatening to public order on the beaches.
What this burkini debate reveals about the state of French society is terrifying. It points to the perversion of our values.
It is worth reminding those who associate the burkini with the wahhabism of Saudi Arabia or with salafism that the full-body swimsuit was invented in 2004 by an Australian of Lebanese origin, Aheda Zanetti.
Let's take a look at the discourse of hate that surrounds this burkini debate.
Even if we stopped debating the burkini, we would find another way to talk about the core issue -- compatibility with secularism. We would perhaps reopen the debate on the hijab.
All discussions are legitimate in a democracy, but that doesn't mean that all of them are well-founded. And when political elites resort to shortcuts and generalizations, everyone becomes defensive, thereby excluding substantive debate.
As Jean Gabin says in the film "Un singe en hiver" (A Monkey in Winter), "Things lead to things, thingamajigs create thingamajigs, nothing is random."
The debate over the burkini becomes entangled in various other issues, including secularism, terrorism, Saudi Arabia, human rights, and French foreign policy.
Therefore, the debate over full-body swimsuits may start to revolve around human rights and our relationship with Gulf monarchies. This would be legitimate for those who consider the hijab to be a tool for the enslavement of women. However, the burkini may be seen as way for women to express themselves.
The debate over selling arms to non-democratic countries is legitimate, but it seems that the petro-monarchies of the Gulf are always blamed for all of society's ills.
The debate continues to regress, with hyperbole and polemics, and no one takes the time to truly reflect on the key issues.
In this climate of extreme tension, who will revive our values? Who will state, loud and proud, that French Muslims have their rightful place in France?
What this burkini debate reveals about the state of French society is terrifying. It points to the perversion of our values. There is widespread intolerance, fueled by fear. The media is more concerned with arousing people's emotions than disseminating information. If you bring up the law, you are immediately deemed an Islamist-collaborator financed by the Saudi lobby. If you oppose the burkini, you are called Islamophobic and racist.
Where is the public debate? Will any of the presidential candidates draw attention to the voice of reason? In this climate of extreme tension, who will revive our values? Who will state, loud and proud, that French Muslims have their rightful place in France, and that their rights are as guaranteed as those of any other citizen?
As the authorities continue to interfere in Muslim institutions, who will remind the public of the 1905 law on the Separation of the Churches and State? Who will remind the public that only a small percentage of mosques in France receive foreign funding, and that the there is oversight over all the transactions that take place on national soil?
Why must we entertain fantasies on the subject? After the horrible attacks in Nice and the monstrous assassination of Father Hamel, why must we connect the foreign funding of places of Muslim worship to terrorism?
It seems that Islam is being targeted by the highest levels of government as part of the fight against terrorism, in effect reinforcing the most extreme theories.
I don't understand this incessant desire to reinforce things that divide us, and not things that bring us together.
We can only win this war by defending and transmitting our ideals. It's obvious that we must confront terrorism, and we must keep in mind that many radicalized youth were born in France.
Marginalized youth are driven to Daesh -- who must be watching with delight as we debate the burkini.
Daesh recruiters may even be using this debate to attract followers. "You see, this country isn't yours, your women are stigmatized, their modesty is not respected, the law is never in favor of Muslims, join us," they could say.
I am appalled by the violence I see on social networks, and by the absence of reasonable voices. In the midst of this terrible summer, why can't we reflect on the heroes who liberated us from the Nazis -- who belonged to all faiths?
Why can't we reflect on the image we're projecting to our children and the outside world?
We have, with the Senatorial Project on the Organization and Functioning of Islam, published a report which clearly shows, and without prejudice, that Islam in France is compatible with our body of law and with the law of 1905. This serious, pedagogical, work was deemed to be useful for everyone to better understand the complexities of the situation and to find technical solutions so that our fellow citizens of Muslim faith can be able to worship with dignity.
But it seems that no one is interested in serious discussion. People are riding the wave of fear, which serves a mediocre political campaign.
In a personal capacity, I deplore this climate that suppresses reason in favor of emotion. I understand the fear, the compassion, and the chain reactions, but it seems that political leaders are currently either fanning the flames or worse, staying silent.
The law must be applied everywhere. Hate speech should be treated with zero tolerance. The only way we can regain serenity is if we revert to our republican values: Liberty, equality, fraternity and secularism.
Personally, I am very pessimistic about the upcoming months and elections.
This post first appeared on HuffPost France. It has been translated into English and edited for clarity.
Popular in the Community