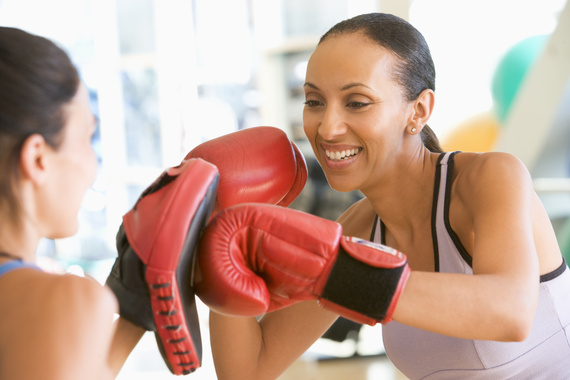 Ok first of all before you say anything, I absolutely do not condone whatever Mayweather has done in his past or his personal life as it pertains to his relationships or his finances. However (in my long slow voice), I did read an article about him that I was super impressed with while out and about last week.
The article dated back to a time in his life close to 10 years ago. It explained how he gave up an 8 million dollar purse (who does that?) AND paid $750,000 to his promoter to get out of his contract (who does that either?). Although his career was lucrative, he was ready to own and manage it himself. That move changed the game of his entire career. He insanely gave up 8 million dollars 10 years ago that afforded him the opportunity to fight for hundreds of millions plus some 10 years later.
And I'm SURE that the desire in his heart sounded CRAZY! And as crazy as it sounded, I'm sure he had such a strong conviction about it that he knew he had to follow through with it despite the odds!
I don't know about you but I would love 8 million dollars right about now. I would consider my own self crazy if I turned down a deal like that. However, unlike most, Mayweather saw the bigger picture for his dream and his career. I'm sure in that season of his career as he came closer to making his decision and even made the bigger announcement Mayweather:
Wrestled with whether or not he was doing the right thing
Wondered would it work
Received a lot of backlash for taking a risk that many wouldn't dare to take
Sometimes felt alone as others probably could not catch the vision of his decisions -- you see no one had ever done this before in the boxing industry -- there was no blueprint, there was no one to guide him and affirm that yes this would work
Whether you like boxing or Mayweather is irrelevant. How many of you have ever felt like that when you were ready to take on a risk but not quite sure?
I know I have. I've even been feeling it more and more recently. Not that I have an 8 million dollar purse on the line, but I do feel that it's time for me to do something different and stop playing it safe.
The thing that I'm good is leadership development, growing teams, and growing leaders. It's the place where everyone tells me that I should stay. It's the place that everyone says it's where the money is. One of my favorite corporate messages is to help women leaders, "Own their Seat at the Table"! However, I've come to learn over the time that most people don't even want to be in the seat that they're in. It's a means to an end. How motivating is that? Helping others to grow in positions that a percentage of them don't even want to be in.
So just like the bullets above, I've wrestled, I've wondered if this would work, but like Mayweather, I have to take a risk to see if my most passionate desire, the biggest risk I've ever taken, and the biggest calling I've answered would even work.
To inspire, spark change, and stand in the gap for women to get out of the box and pursue a new beginning that allows them to build the life, career, and business they want.
To help leaders just like you move from your career to your calling. I know because I was there and my heart ached everyday living an ordinary life.
What is the thing that you feel compelled to do? And are you willing to do it even if it sounds a little bit crazy, gets misunderstood, and you have to stand alone in your decision?
Your biggest payoff may not be everyone's favorite choice!

REAL LIFE. REAL NEWS. REAL VOICES.
Help us tell more of the stories that matter from voices that too often remain unheard.