We had the pleasure of sitting down with medical entrepreneur Dr. Aisha Baron. Featured on Lifetime's Atlanta Plastic, Dr. Aisha Baron is a Board Certified Plastic and Reconstructive Surgeon and is one of the few recognized African-American female plastic surgeons in the United States.
Dr. Baron specializes in cosmetic surgery and body contouring has a special interest in educating women in breast reconstruction options for those undergone stages of breast cancer. As a cancer survivor herself, she personally relates physically and emotionally to the experiences her patients face. Dr. Baron's expertise and passion motivated her to open the doors to her own practice to make patients feel as comfortable and beautiful as possible.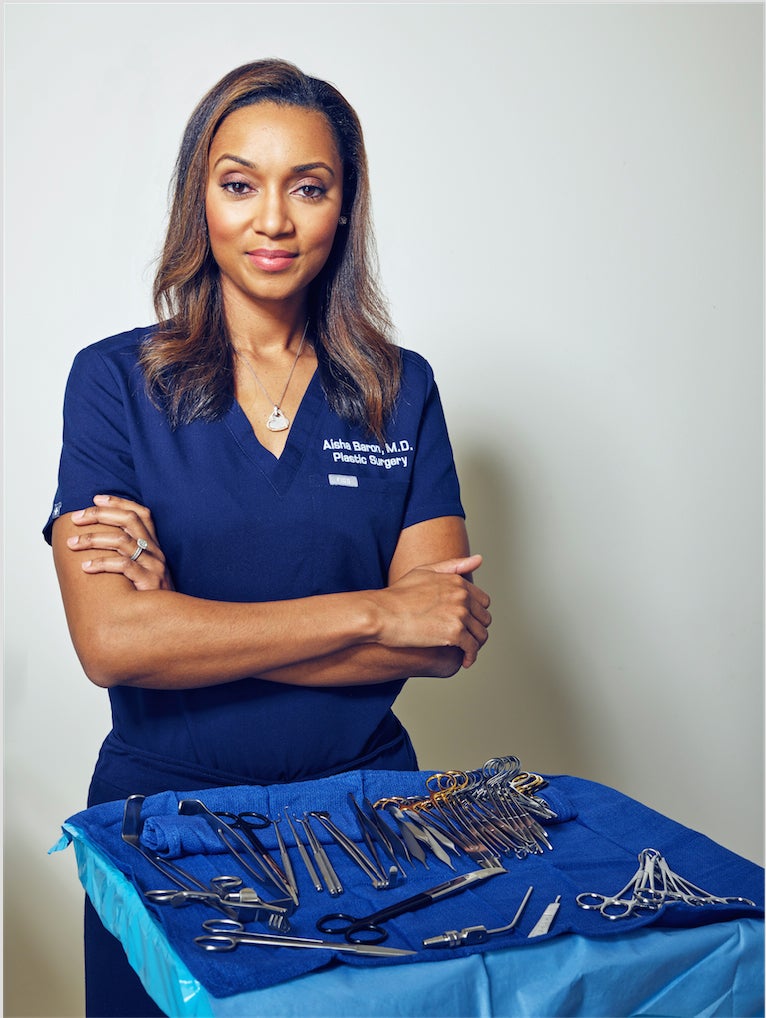 Q: How did you get the name Breast N Body Doc?
A: I got the name BreastNBodyDoc from performing a lot of breast and body contouring procedures. I am able to do many things in the field of plastic surgery, but my practice overwhelming requires me to utilize my expertise in breast and body procedures. I perform breast augmentations with implants, Breast reductions, breast lifts and also a lot of breast reconstruction surgeries for breast cancer patients. As far as the body is concerned, I perform liposuction, tummy tucks, skin removal after massive weight loss, fat transfers and Brazilian Butt Lifts, brachioplasty and thigh lifts.
Q: Tell our readers more about your skills and specialities
A: I completed a rigorous training program at Baylor College of medicine, so I'm especially skilled in all aspects of plastic surgery. I focus my talents in a few areas. Breast reconstruction is one which sometimes requires microsurgical technique to transplant tissue from one area of the body to the breast (ex. DIEP flap). I also can reconstruct breasts with implants and fat. I consider myself a specialist in the Mommy Makeover as well. A Mommy Makeover consists of some type of breast surgery paired with a body contouring surgery (all the areas potentially damaged from having children). I often perform breast lifts paired with tummy tucks or liposuction with a breast augmentation. I also provide facial rejuvenation with Botox, fillers, eye lifts and facelifts.
Q: Was it hard beginning your private practice, with a focus on plastic and reconstructive surgery?
A: It wasn't hard at all to start with a focus on plastic and reconstructive surgery because it's what I was trained to do. When I entered practice, the economy was still recovering for the recession, so it was important that I built a strong foundation in reconstruction procedures just in case cosmetic procedures were slow.
Q: What differentiates your practice?
A:I am one of the very few Black plastic surgeons that is a woman. I feel that I am able to relate intimately with all of my patients when it comes to evaluating body image and the pressures that women have regarding beauty standards. I have two children and one on the way so I am also very in touch with the changes that a woman's body goes through after childbirth and the insecurities she may feel afterwards. I have breasts, I have stretch marks, I know what it's like to not feel confident about an area of your body. I help my patients sort through their feelings regarding their bodies and self-esteem and help them make an educated and ethical decision to have surgery or not.
I also can relate to the women who have had a cancer diagnosis. I am a 9 year Lymphoma survivor. I underwent chemotherapy treatment, multiple tests, appointments, and the stressors of having a threat to your health. I care for a lot of breast cancer patients by performing breast reconstruction after lumpectomy or mastectomy, and many appreciate that I can relate somewhat to their experience.
Q: What are items that must be considered before opening a private practice?
A:You definitely have to consider if you have the financial stability to start a new business. You need to be able to sustain your personal life with the income or lack their of that is coming in during your transition. Having a good accountant and/or attorney will help to get your practice established early (Needing LLC, S corp, etc). Consider your demographic, who will you be marketing your business to and are you in the best location to reach them? Before opening a private practice a physician also needs to decide if they are going to take insurance and make the steps necessary to get established with insurance companies.
Q: Can you share with us, the thought process behind your office design?
A:I wanted an office that was comfortable and didn't have the clinical feel of a doctors office. I also needed a floor plan that flowed and made it easy to move patients around the office. I incorporated a minor procedure room so that I can do small procedures and touch up operations in the office without the patient incurring the cost or inconvenience of going to the operating room. I also have a photo room connected to my main exam room so that patients don't have to walk across the hall to the photo room for pictures.
Q: When considering the best doctor for your plastic surgery or reconstruction needs, what should you look for and how do you know who to trust?
A: One should always seek out a board certified plastic and reconstructive surgeon for their surgical needs. You should look at the surgeon's before and after photos to get an idea if they can provide the look that you want. Definitely go in for an in person consultation to make sure that your personality and the surgeon's personality are in sync and that you feel comfortable with her/him. Ask plenty of questions regarding your prospective procedure, which should be answered with patience and concern. You should go with your gut on who to trust. If you have to see a couple surgeons for consultation to give you peace of mind and make your decision, it will be worth it in the long run.
Q:What is your experience being an African American women in this field? And do you have advice for others looking to follow in your footsteps?
A: As an African-American woman in this field, I am a significant minority. My father always told me that due to my demographics, I have to work twice as hard to be considered equal and achieve success. I was fortunate to be trained at institutions that were extremely supportive of me and my education. I feel that at times I had to grind and really create my own opportunities, when they may have been readily presented to others. I often tell medical students that securing a plastic surgery residency position is hard work (mainly because it is one of the most competitive positions) and they have to do research, volunteer, go on away rotations and apply to a lot of programs to ensure that their dream comes to fruition.
For more information on Dr. Baron and her practice visit www.BreastBodyBeauty.com or her office at 2550 Windy Hill Rd. Suite 312 Marietta, Ga
REAL LIFE. REAL NEWS. REAL VOICES.
Help us tell more of the stories that matter from voices that too often remain unheard.
This post was published on the now-closed HuffPost Contributor platform. Contributors control their own work and posted freely to our site. If you need to flag this entry as abusive,
send us an email
.