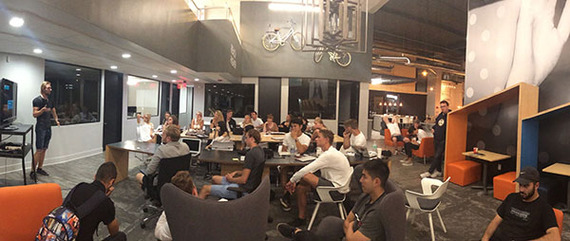 Apple was as big a wake up call to the design world, as Sputnik was to the field of space exploration in the last century. No more "business as usual."
Overnight, everyone from corporations and governments to educational institutions and NGOs scrambled to catch up with the more design-centric organizations such as Apple, Nike, BMW and IKEA.
A favored way to ramp up was hiring consultancies like IDEO, Frog or DesignworksUSA to develop one's design strategy. Today, a better approach is to systematically build design and innovation capabilities into the fabric of one's organizational culture.
Denmark has a long tradition of leveraging design into its business culture and Steffen Herskind, a management consultant representing Niels Brock in Copenhagen, shared that it begins with changing the paradigm of how design contributes to innovation and the success of new ventures.
Niels Brock is a one hundred and thirty year old Danish business institution that later spun off the world-renowned Copenhagen Business School. They are now leveraging the Nordic Model of education and Danish Design by revolutionizing the education of business at Niels Brock CIBU, their campus in San Diego, California. As the 'mother-ship' of this new world enterprise, Niels Brock sees this as an investment in the future of design driven business research and education.
Niels Brock California International Business University is located in downtown San Diego's Italian Quarter and shares space with Downtown Works, which is a dynamic co-working space. This means students, educators, researchers and entrepreneurs rub shoulders daily - ensuring that both one's business education and business needs are fully aligned.
This business university is redefining business education and application by applying a combination of knowledge, experience transfer and acquisition, along with new hires, partnerships and collaboration with entrepreneurs. They also offer cutting edge design science research at their Design Driven Venture Lab.
As the new Dean of Academic Affairs, Dr. Søren Ingomar Petersen is responsible for developing and implementing the university's cutting edge strategic - building capabilities within Design, Innovation, New Entrepreneurial Ventures and Big Data Analytics.
There will be many opportunities for implementing design and innovation in all aspects of Niels Brock's education and research; however, changing business education is a concerted team effort - not the job of a lone gunman. Thus, the effort is spread across institutions, is cross-functional and relies on broad crowdsourcing.
The driving vision is the development of a revolutionary Inspirational Design Thinking method. Business has already embraced established Design Thinking, however that process has obvious limitations. Whenever a process relies on upfront user research, it is doomed to foster only incremental innovation, for as Henry Ford once said, "If I had asked people what they wanted, they would have said faster horses."
Inspirational Design Thinking addresses this limitation by augmenting the established Design Thinking process and by exploring "Big Questions" to establish strong "Whys" behind any new business venture. One way of determining these strong "Whys" is to focus on the meaningful values in our lives, such as love, courage and accomplishment.
While this may sound like just so many lofty concepts, Dr. Petersen has ensured that these methods are sound through extensive research and working with professors from Stanford, Copenhagen Business School, Art Center College of Design, Kookmin University and leaders at Applied Design Science and the INDEX Award. Using Applied Design Science also provides the necessary design and risk assessment methods to confirm that significant improvements are actually being achieved.
Brian Hawkins, Dean of Student Affairs at Niels Brock CIBU and a serial entrepreneur, said that today's millennial demands a multi-disciplinary educational experience with the necessary support for moving innovative ideas into practical reality. He noted that Niels Brock CIBU has created a 'second nest' for today's learners and tomorrow's entrepreneurs, providing a fertile field where students can test, perfect, and launch new entrepreneurial ventures. This is precisely where the Inspirational Design Thinking method become a unique competitive advantage.
As the computer scientist Alan Curtis Kay has said, "The best way to predict the future is to invent it!" it would appear that just a couple of miles north of the Mexican border, in San Diego, Niels Brock CIBU is taking business research and education to the next level.
Calling all HuffPost superfans!
Sign up for membership to become a founding member and help shape HuffPost's next chapter