Gavin Keilly's GBK Productions is a multi-level company that specializes in helping non-profits and businesses grow to the next level. It does so with its several divisions including public relations, marketing, event planning and its most well known division, the gift lounges.
GBK does several of these loungers - also referred to as gifting suites - throughout the year, tied to such events as the Academy Awards, Golden Globes and Emmys, or charity events for Lamda Legal, the Grammy Museum and City of Hope among others.
Keilly, a former financial advisor at Centaurus Financial, sat down with The Huffington Post's Zorianna Kit in his West Hollywood offices to explain the misnomer surrounding gift lounges, how they work and why they can be an effective marketing tool for businesses.
Q: What's the business model behind a gift lounge, which is essentially an area where vendors with products hand out their wares to celebrities, who collect goods from all the companies present and then pose for a desired photo?
KEILLY: At the end of the day, it's about creating the win win win win. Meaning, the vendor wins because they're getting photos taken with a celebrity which they can use for marketing or send those photos to the media to get exposure. The celebrity wins because they're getting great items. The charities win because for every event that we do, we give back 20 percent to charity. Plus, those charities get the opportunity to meet celebrities, meet press, educate them about the work that they're doing. And of course we win because we're making a living doing this and making a difference in people's lives.

Q: How do you make money?
KEILLY: GBK charges the sponsors anywhere between $5000 to $40,000 to participate in the event where they get anywhere between a three foot table to a 12-foot space (to showcase their product). GBK gives 20 percent of our profits (from the table fees) to the various different charities that are on site. Our average sponsor is a "platinum" sponsor who spends $7,500. Ninety percent of our clients pay $7,500 or less.
Q: How does a business justify a $40,000 fee?
KEILLY: A perfect example of this is RevitaLash, who did over 50 events with us (over a period of five years). One year in particular, they invested $50,000 with us. They did a study for us where they got a 2.1 million ROI (Return On Investment) and that was simply based upon the amount of free press that they received (from the events). That's what's it's about at the end of the day - figuring out a way to calculate how much you're paying and how much you're getting in return.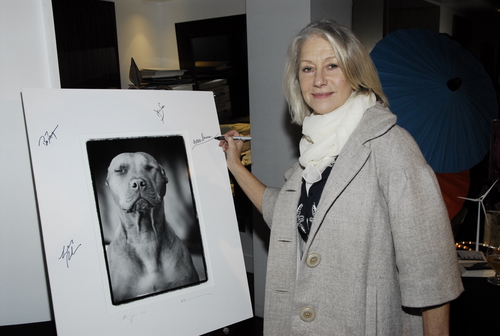 Helen Mirren at a GBK pre-Oscar gift lounge signing a poster for The Humane Society
Q: You have another client who appears to be embarking on a similar business path with GBK?
KEILLY: Sparkling Hill Resort (in British Columbia, Canada). They were originally a platinum sponsorship and they got tremendous results. They went up to "presenter" for the MTV Movie awards, which means your name is on the press wall (which celebrities are photographed against). They were our title sponsor in Cannes and will be that again for the Emmys coming up. When you're a title sponsor, it's "GBK and Sparking Hill Resort Presents....." So they're mentioned in all of GBK's press. An average event will get 100 different write-ups if not more.
Q: So this is all worth it for them?
KEILLY: Sometimes it can be less expensive to get your name in print in the media going through one of these gift lounges than it is to place an ad. If you think about it, it's a lot more organic. People are more apt to read an article or see a photo of a celebrity holding up your product than look at an ad you spent ten times the amount.
Q: But if they are a multiple investor with you, and they see the same celebrity over and over, why would they want to continue gifting them?
KEILLY: If a celebrity comes again and sees that same client, they're like, 'Oh my God, I love your product! I use it every day!' Well now you can use that as a quote, put it on your website or submit to press, or Facebook.
Q: What's the biggest misconception about gifting suites?
KEILLY: The biggest misconception is that fact that the rich get richer. The reality is at the end of the day, the venders - our clients - get so much more out of it than the celebrity ever could. The vendor gets 60, 70 photos with a celebrity they can use in their social media. They can potentially use them at their trade shows or submit to press. And more importantly, they can educate these celebrities about their product and hopefully those celebrities are seen using their product, which can increase their business dramatically.

Q: Does that ever happen?
KEILLY: Samuel L. Jackson came to the George Lopez celebrity golf tournament one year. We gave him a really cool Bullets For Peace necklace. The next day he was wearing it on The Tonight Show.
Another great example is Adult Chocolate Milk. We (had a suite) backstage at the BET awards and (rapper) Ginuwine was really impressed with it and then wrote a song about Adult Chocolate Milk. Then he ended up being the Adult Chocolate Milk spokesperson and was on billboards. So it's a great opportunity for clients to meet someone. Patti Stanger, for example, was booked to endorse Sensa Weight Loss when she met them at our gift lounge.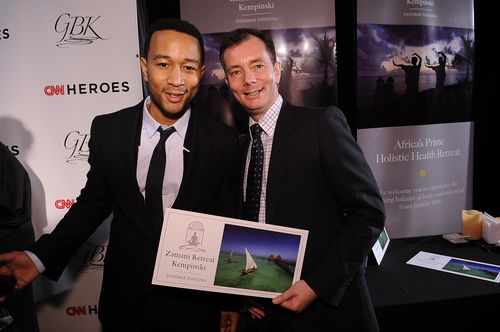 John Legend backstage at CNN Heroes Thank You Lounge receiving a trip to Africa
Q: GBK's other division is the non-profit sector that produces charity events from George Lopez' annual celebrity golf tournaments to boxer Sugar Ray Leonard's celebrity boxing charity event. Do all of them have a gifting suite?
KEILLY: No. We do everything from helping them create a board, to helping them find a venue, lighting, sound. But we also allow that charity to be on site at one of our gift lounges.

Q: Any success stories for the charities with celebrities?
KEILLY: The charities might ask a celebrity to lend their name to be on their board, or present an award at an upcoming gala. The Humane Society was at one of our events. One month later, 10 of the celebrities that attended our event ended up presenting awards at their gala. We had a client that had bracelets for a cause, and they ended up raising over $900,000 for the military just from being in our gift lounge and getting celebrities involved.

Q: How much money do you think you've raised so for charities?
KEILLY: In the last three years, GBK has donated over $2 million in products, services and cash to over 20 different charities.

Q: What is the criteria for a vendor to be in a GBK gift lounge?
KEILLY: They have to give something of $100 value or more. They can't gift a water bottle. If it's a water company that wants to be in our gift lounge, they'll have to give a year's supply of water to the celebrity. Because to make a celebrity pose with something that's one dollar in value is just wrong. It isn't a win win. We want to make sure the celebrity feels comfortable about taking that photo.
Tic Tac, for example, gifting one pack would not be something that's of great substance. But we had them not only give a year's supply of Tic Tacs, but also a $100 donation to Cancer Care in the name of every celebrity that came. They presented a check for $100,000 to Cancer Care and in turn, (Modern Family actor) Eric Stonestreet came and presented that check.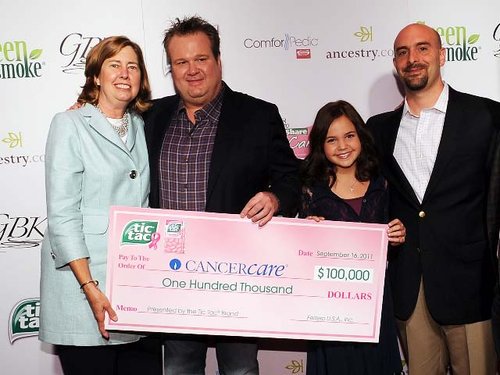 Eric Stonestreet presenting check at a GBK Pre-Emmy gift lounge for $100,000 to Cancer Cares
Q: Besides the price point, what else is a deciding factor to be in your gift lounge?
KEILLY: We like to always have a product in each category. We don't like to have any competition - two blow dryers, two skin care companies. Because at the end of the day, it's not as valuable to the vendor to get that photo. Second of all, if the celebrity asks what the difference is between them, the companies are going to end up having to trash the other in some way shape or form.
We make sure we always have at least two or three trips and a fantastic watch. But the gift doesn't have to be valued at $1000 or more in order to be great. It's being cognizant of what celebrities are going to like or be appreciative of. Maybe it's a new piece of workout equipment, a cool bracelet or hat they can design themselves. At an average event I will turn down probably 500 different vendors because they're just not the caliber that we want for our gift lounge.
Q: What's the return rate with the vendors?
KEILLY: I'm very proud to say that over 50% of our clients will do an event more than once with us. Not all of them will do eight or nine a year like ReviaLash, but they'll do more than one.
Q: There are many suites out there. How are you different?
KEILLY: I pay for all the talent handlers to walk the celebrities around, versus having volunteers. When you pay them, they're accountable. If you let the celebrity walk around on their own, they will pick and chose where they go. I make an effort to make sure that the celebrity gets to every single sponsor. We purposely put certain sponsors in certain rooms and create a path where some of the (more high end vendors) are all the way at the end.
Also, I pay a lot more photographers. An average GBK event will have 10 photographers. We're incredibly meticulous about making sure all the sponsors get every single photo.
Q: What is your favorite aspect of the gifting suites?
KEILLY: My favorite aspect is the ability to watch businesses grow, watching the owners or CEOs get excited that celebrities love their product. Probably 50% of our clients have been in business for anywhere between one to four years. The other 50% are well known names. But 50% of them no one's ever heard of , so it's really fun for me to see these business grow and make relationships with certain celebrities, to see those celebs become spokespeople or get involved in the products or causes.
PHOTO GALLERY
Celeb visitors to past GBK gift lounges
Calling all HuffPost superfans!
Sign up for membership to become a founding member and help shape HuffPost's next chapter