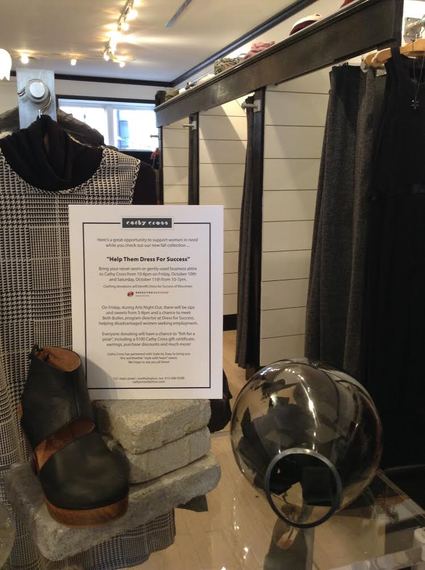 Have you ever wondered what our world would be like if charitable giving was a part of every business model? I know I have. While it's a given that any philanthropist wants to have wealth trickle back to society in a way that has the most impact by tackling the world's biggest problems and funding the most likely solutions the question that remains is where to begin. For me, the answer is a rather obvious one. We must begin with the premise that every life is of equal value. There in lies the starting point.
A truth that is as simple as it is complicated as the needs are, seemingly endless.
One day, as I sipped on a Latté and perused my morning paper, I read that Americans spend over 250 billion dollars annually on Fashion. Yup, I said billion. Needless to say, it got me thinking about how I could help redirect some of that cash flow back into society's most desperate sectors by empowering and encouraging the consumer to give back, thus enabling our economy to feed itself. From the experience I had drawn over a decade of working in the fashion industry in merchandising, marketing, luxury publishing and styling, I was well aware of the impact that technology already had on products, services, and retailers and I knew I wanted to use that same technology as a catalyst to create positive and lasting change. This is when Style by Zoey was born.
At Style by Zoey I am always striving to achieve a balance between my business of high end consumerism and giving back through not only doing makeovers for deserving women, but also creating products with a purpose and introducing companies to charities to create what I call "style with heart" collaborations.
Recently, during a conversation with Cathy the owner of Cathy Cross, an upscale trendy boutique, I mentioned my idea of having a clothing drive for the women at Dress for Success, a charity I volunteer for that promotes the economic independence of disadvantaged women by providing professional attire, a network of support and the career development tools for women to thrive in work and in life by helping them to foster the self-confidence and resiliency needed to realize their greatest potential.
Luckily for me, Cathy has a heart as big as her closet and with a simple nod of her head, the Dress for Success "Style with Heart" night was born.
Each guest of the event brought in their new and used business attire and enjoyed an evening shopping Cathy Cross's latest Fall collections as they enjoyed sips and sweets and entered to win prices. The best part? That evening, the women who attended not only expanded their wardrobes but also those of the women at Dress for Success.
Now that's what I call style with heart.
To learn more about how to get involved with "the business of giving" and my "style with heart" collaborations, please visit my website Style by Zoey Together, I'm certain we can transform the role of consumerism in our society and allow for wealth to trickle back into the system of production all while satisfying our need for the occasional covet-worthy indulgence.
REAL LIFE. REAL NEWS. REAL VOICES.
Help us tell more of the stories that matter from voices that too often remain unheard.