Over two years ago, the music business began a series of major layoffs at virtually every label to stop the hemorrhaging of money as music chains like Tower Records and various "brick and mortar" storefronts disappeared from the marketplace. As Wal-Mart, Target and Best Buy scaled back purchasing new releases and back catalog, Amazon and similar online stores became the easiest fulfillment houses, with iTunes emerging as the champion of downloads.
With the growth of alternative purchasing possibilities and the proliferation of direct-to-consumer websites, the music business' bottom line apparently has stabilized with a label or two still struggling to eliminate their almost insurmountable debts. In essence, what is emerging is a new music business, leaner and, sadly, meaner but more profitable as less risky decisions and commitments are being made. They have been forced into creating alternative revenue streams, resulting in the ominous 360 deal that surrenders everything creative and marketable to the record label which absolutely is unacceptable for many artists.
However, it seems that new opportunities and a new attitude is rising from the chaos. The music business' misfortunes have forced artists of all kinds to take control of their own careers and realistically evaluate what it is they truly want out of their calling. If it's a goal such as superstardom and the stereotypical rock or pop fantasy, then their American Idolic dreams might be best realized with a major label whose promotional machine could achieve this. Maybe. But if one's goal is for financial and creative success--plus stability and profitability in his or her creative field--other smart models and mindsets are becoming available.
In the first of what hopefully will be an informative, continuing series on how the creative community can not only survive but thrive as it helps to rewrite the rules on marketing music, Panos Panay's company Sonicbids--a multi-service website for independent bands and artists--will be at the center of this interview with its owner and a few extremely satisfied clients.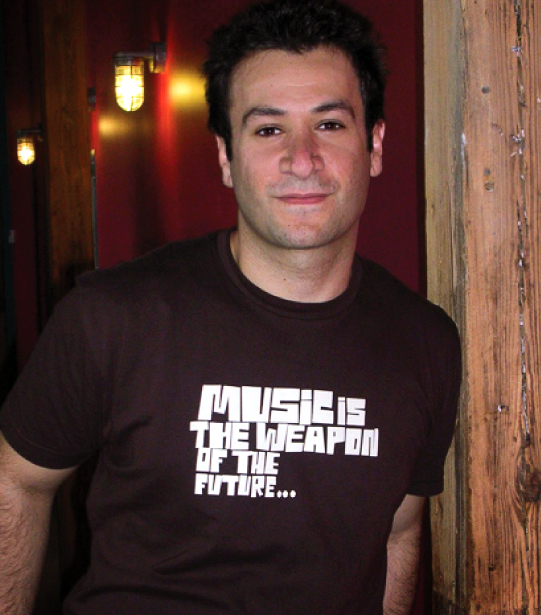 Q: How is starting and running a band like running a business?
Panos Panay: With both a business and a band, you start with a vision and a blank canvas. To make the vision a reality and to fill that canvas with a picture that everyone sees, you need a team of people to believe in your vision, and then you need to go out there and get fans/customers to buy into your creation. You start with no resources and no money and everyone thinks you're crazy for doing it. And usually your girlfriend breaks up with you because she's tired of playing second fiddle to your obsession.
Q: You've referred to "the artistic middle class" online, what is that?
PP: It's a class of artists that's completely redefining the way the music business works and the way that music is experienced and discovered. They consider themselves entrepreneurs, not just artists who create art for art's sake. They don't wait around for someone to come and do things for them; they make things happen for themselves. They play by their own rules, not the rules of the mass market, and they use social media and the internet as the primary means of connecting with their audience. They use tools like Facebook,Twitter and Sonicbids to create their own army of superfans and interact with their fans in the collaborative way of the internet, not in the monologue of the broadcast era. They understand that the new music business is about a mass of niches, not a mass market. 


Q: What individual tools are in the DIY artist's toolkit, and how are they using them?
PP: If you look at the four things that a major label used to do for artists--besides funding them (more on this later)--they primarily helped artists record music; distribute it; market it; and then leverage it through a network of professional connections like a publisher and a booking agent. The internet has made it possible for artists to gain access to these services for a fraction of the cost: they use tools like Apple's Garageband to record music on their laptops; sites like CDBaby and Tunecore to distribute their music to stores like iTunes and Rhapsody; Facebook, Twiiter and MySpace to market themselves to large audiences; and sites like Sonicbids to get bookings and license their music. 


Q: Lately, the discussion has turned a bit negative when it comes to recorded music, as in is there any value to it anymore?
PP: Is there value? Yes, recorded music is invaluable from an emotional standpoint. Will people be willing to pay money for it? No. Look at the internet browser. In 1995 it used to cost $50 by mail. Then Microsoft offered it free as a bundle of something else. Can you point to one person who is willing to pay $50 to download a browser? 


Q: So, where are independent bands making most of their money these days?
PP: Live music, merchandising, licensing music, performance royalties and sponsorship. We just helped match several thousand artists with over $4 million in unclaimed performance royalties through a relationship with SoundExchange. How cool is that?
Q: With record labels cutting promotional money and staffs to the bone and not as willing to take risks, who are the new patrons of the arts?
PP: We have seen many, many consumer brands, like Diesel and Gap and JanSport step in and create programs for independent artists that promote and sponsor them. Last year, about $2 billion was spent by these consumer brands to sponsor all kinds of music-related initiatives. We've seen a shift of those dollars to the artistic middle class instead of the top-tier artists. Why? Because the relationships that these artists have with their fans are intimate and meaningful and organic. They essentially are buying permission to reach these consumers through the artists, but at a fraction of the cost. Again, it's a mass of niches, not mass market.
Q: How does an independent artist go about partnering with a consumer brand?
PP: Two ways--either by licensing music through a music supervisor that works with an ad agency that represents them, or by joining a group of artists that are attractive to a consumer brand as a group that reaches a very large group of consumers for the reasons mentioned above. Platforms like Sonicbids are great for that.
Q: Which countries have the best programs in place to help entrepreneurial artists?
PP: Clearly the US has the best and most advanced artistic middle class scene. Entrepreneurialism is part of the American social fabric. That's why I migrated to this country. But other countries are realizing that this is a fast shifting movement and they are catching up. Europe and Australia and very actively involved in helping their artists reach new audiences.
Q: What success has Sonicbids' approach had in the way independent talent is booked?
PP: We've leveled the playing field. Just this week, there is an artist from Iceland that's touring China for two weeks, that booked the tour using Sonicbids. In June, there will be over 60 indie bands playing Summerfest in Milwaukee, the world's largest festival, who got booked by using our platform. If you take any of the 42,000 Delta flights in the US this month, you can hear music from awesome independent artists in special all-indie channel programmed by using Sonicbids. That would have never happened a decade ago. In 2009 we had more than 71,000 gigs that were booked using the site--that's three times more gigs than what Live Nation, the world's largest promoter booked. It's just as easy today for an artist from Boise to have access to the same types of opportunities as an artist from Berlin, or Boston or Brisbane or Bahrain. Plus, I am sure we've saved a tiny part of the ozone layer too...that is, no physical press kits required.
Q: What is your company doing to directly support these entrepreneurial artists?
PP: Because we started losing track ourselves, we actually set up a special area on the site where we outline all these programs which we are increasing every day, http://www.sonicbids.com/supportsindiemusic is the url. Last year, we spent more than $500,000 directly sponsoring bands to travel and to play on stages at festivals around the world. We've distributed more than $3 million to music promoters from all over the planet for the purpose of creating special slots allocated to independent music and encourage them to use these funds to pay these artists. We work hard every day to convince people that have grown up in the broadcast/mass market era paradigm that independent music--not a term that I love by the way--belongs on their stages, video games, toys, bookshops, coffee shops, college festivals, podcasts, TV shows, magazines, clubs, restaurants, house concerts, retail stores, marketing campaigns, etc. Our mission is to empower this new class of artists by helping them connect with all these promoters and bookers and programmers. That's what we are passionate for, that's what we wake up every morning looking forward to.
**********************************************************************************************
To get artists' perspectives regarding Sonicbids and beyond, the following questions were put to Natalie Gelman, Sebastian Keefe from Family Of The Year, Kotadama, and Noush Skaugen. (Warning, they're all true believers.):
Q: These days, in addition to writing and performing, what other skills does an
 independent artist need to have in order to be successful?
Natalie Gelman: I think more than ever it's about the humanity behind the music and artistry. People want to connect to you and be moved not only by your music and live show, but just by who you are. That's why Twitter, blogging, responding personally to emails, and hanging out with your fans after shows is so important. Besides connecting with your fans, you should reach out to other artists. Some of my best opportunities have come from other artists who were fans of my music. Not to mention that you can support each other and know what each other is going through. The specific skill is being a people person.
One of the best ways to move forward is to realize it's about them, not you. I try to listen, ask questions and see how I can help someone by thinking: "How can I make their job easier?" That goes for your fans, a music supervisor, a writer...anyone involved in your career. If you help someone they will remember your support and come when you need them to.
It's important to be organized, disciplined and able to prioritize. There are so many things you need to keep up with as an independent artist. However, I don't think the skills are as important as being determined. If you want to make a living as an artist and are 100% determined to do it, you will find a way.

Sebastian Keefe: It is very important to think of your band in the context of building a small business. Once your recordings and
live show are in place, the next step is to get yourself organized and set some goals. Nothing too far fetched to begin with, but this creates structure, and in turn, leads to accomplishment which then turns into momentum.
Kotadama: Self-belief in what you're doing and why you're doing it...a positive attitude and much perseverance. Thinking outside of the square. If you are told that this is the only way to get there--as we were by a music director of a major radio network here--question it, and investigate other avenues.
In our case, we decided with the help of Sonicbids, to send our songs overseas and put it out there. Also, don't accept second best for your efforts. We went to several recording studios initially to record our songs, but came away dissatisfied with the results. Expensive lessons. Others thought they sounded good, but we still were not happy. This became our next major challenge and we taught ourselves how to record, produce and master our songs to our satisfaction.
Kotadama: Self-belief in what you're doing and why you're doing it; a positive attitude and much perseverance; thinking outside of the square. If you are told that this is the only way to get there--as we were by a music director of a major radio network here--question it and investigate other avenues. In our case, we decided, with the help of Sonicbids, to send our songs overseas and put it out there.
Also, don't accept second best for your efforts. We went to several recording studios initially to record our songs, but came away dissatisfied with the results. Others thought they sounded good, but we still were not happy. This became our next major challenge and we taught ourselves how to record, produce and master our songs to our satisfaction.
Noush Skaugen: The market today is very different from what it was 10 years ago, even a few years ago. No longer can you just be an artist, soley focusing on writing and performing, but one who must also have a business and entrepreneurial mind with the willingness to work long hours and give much of your life to your dream. Organizational skills are a must. It is a balancing act between ensuring one dedicates the time needed on constantly challenging your musical skill set, rehearsing and writing abilities while personally chatting with your fans regularly via the social networks, nourishing the most important aspect without whom an artists would not have a career; booking and managing the logistics of tour and local show productions; promoting releases and shows; coordinating your team and making sure they are all on the same page with regular meetings.
Essentially, what has happened is that the manager and the artist are performing much of what the record labels would have traditionally handled in the past. Now an artist such as myself, currently managing myself, all these functions fall on our shoulders. I believe it is necessary therefore to find the right specialized team players to support oneself. In some ways, it is a great thing because you are in control of your own destiny, and by out sourcing roles and projects to a specialized professional, you can get great results. One example of this is team member Frank Jonen, who advised me to start using Twitter before most of the music world caught on. This has been hugely helpful in my career. The issue, as always as an independent artist, is funding, therefore, we must be creative and find people who truly believe in us, who are passionate about music and, in particular, the music the act writes/performs. One must also put the business cap on and look for investors, presenting them with a coherent plan. In a way, it's going back to the roots of how the great bands first started, making it all about music, and it lets the truly passionate and hard working artists run the marathon.
Q: What tools do you use to help you accomplish everything beyond songwriting?

NG: Here are some things I used that save me time:

www.Sonicbids.com - They let me know what opportunities are out there and clearly lay them out so I can decide quickly if its something I should apply to or not. The uniformity of both profiles for artists and gig listings makes it really simple to submit and start communicating with a festival, show or contest. Plus it's a very transparent process. You can see if/when/what they listened to by checking your stats and who they ended up going with if you weren't selected. It's so important to use stats and information on what's working in any business to help you improve.

www.Bandzoogle.com - My website, email, newsletter, and hosting is done by them. They have an easy to use and good-looking website design system that lets you update your own website. I also love their stat system which has lead me to realize I was getting lots of hits from specific parts of the country and other parts of the world.

www.ArtistData.org--I post new shows here and they post the show on all my websites for me. They also have a feature that submits the show to local press.

SK: We use a variety of social networks to stay in touch with our fans, mainly Facebook and Twitter. There are many ways to use the Internet these days. For example, we use Justin.tv to stream live video, and Indaba music to collaborate though cyber space. We also like to keep things personal and close to the heart. We record and produce our own music, use artwork made by our families, we'll even send you a personal postcard from the road.
K: Pro Tools for recording, being innovative with our existing computer storage, and getting anything else we can, including secondhand unwanted sound gear that we can pull to pieces and use. We also have various online sites for researching plug-ins and social sites that we try to utilize for expansion of our fan base. The most significant site for our marketing and exposure so far has been Sonicbids. Without them, we would not have had the opportunities that we have experienced so far.
NS: My Mac laptop and my Blackberry. I feel like they are attached to me via an intravenous drip. Sometimes I have to cut this off completely to give myself a break and keep my sanity. Technology is running our lives, so I try and tread the tightrope to make sure I keep a balance.
Q: Is music your primary source of income?

NG: Yes. Specifically, playing live is probably 90% of my income at the moment. I'm working on another CD now, so I expect that number to shift when that is released. Playing live includes touring different markets that do pay artists to perform, and street performing. I also used to do a lot more live shows online and plan on doing more of that again soon. My live shows are where most of my CD and merch sales are too.

SK: It is. We all live together, eat together and play together. We have quite a simple routine, which doesn't require much more than a roof over our heads, a few bottles of wine, and our studio/practice space.
K: Currently, it is part of our income. At the moment, I also trade in the stock market. But ideally, I am aiming to have it as my prime income.
NS: Music is now starting to be my primary income, especially from my songwriting. Placements in TV shows, movies and commercials is currently one of the primary sources of my income. That should be a goal of every indie artist, to combine forces with a great sync agency.
Selling music and merch from my own website and also on tour keeps the engine running. This includes handmade, besoke tees that have been designed with my stylist Ella Pearce Heath. I am also starting to film and produce my own shows with Ian Harding from Crispy Dog Productions that will be available from my site.
I am now exploring other ideas, including developing my own fashion line with a great friend of mine and L.A. fashion designer, LAVUK, and also brand partnerships.
Q: What are the challenges of being an entrepreneurial artist?

NG: When you are the one holding yourself accountable it's also easy to let things slide and not be disciplined. I occasionally get jealous of my friends that work 9-5 jobs because they can leave work at work. What I do is really a part of who I am, so I am always working. I have a long list of things that need to get done too, so going out to hang out at a party with them isn't always an option.

SK: Being innovative. It's tough to catch people's attention these days. It feels as though fans have a shorter attention span, and you have to be able to seize the moment when an opportunity arises. Offering something a little different than the next band is both important and challenging. For example, we're in the middle of creating a tiered subscription system via our website, in which fans can become "members" of our family. Different pledges assure different perks. Anything from a signed CD to a private show, and a night on the town with the band will be available too.

K: Getting exposure and having people that matter, taking notice of your songs. You need to persevere and convince people that it is worth their time to listen to you. It is hard to compete with the major labels. They have huge marketing campaigns and budgets, which make it much harder to get exposure and get your songs airplay when its pay for play. For every ten approaches you may make, you might be successful only once, but that once could mean everything! In May 2009, KISS-FM NY gave our single some airplay. To everyone's surprise, simply by request, it became and stayed at number one at the station in June and July. Everyone was wondering who was Kotadama!
NS: To ensure one spends enough time off the computer and phone, dedicating your attention 100% to music. It can consume you, but as long as you're aware of that, you can switch it off, but it requires discipline.
Q: What are the benefits?

NG: As hard as it is to be your own boss it is a blessing. As a "baby" artist, you are still figuring out who you are and what your message is. By doing it yourself, you have lots of opportunities to make mistakes, have real experiences, and figure things out faster. It's important to realize how much work goes into making a career. Then you'll appreciate your team when you have one.
There are no boundaries as an entrepreneurial artist but the ones you place on yourself. You don't have to follow the rules that a label does to recoup its investment. You have a lot more freedom in the music you release, when you go on tour, what sort of opportunities you take, etc.

SK: The freedom. Being in control of your own career. Sleeping in.
K: Having the opportunity to create what you want, however you want, without being dictated to by a label's idea of image or style. It allows you to retain complete control and individuality in a musical sense.
NS: You are in control of your destiny, most of the profits come back to you. It's kind of like being a little speedboat in comparison to a big cruise ship. As the market changes, one can move and adjust rapidly, and also innovate. It is a very challenging experience, and I believe very self-fulfilling. Also, you know that any mistakes along the way, one can only blame oneself--we are only human and that's also part of the journey.
Q: Have you ever worked with a consumer brand or is it something you would consider?

NG: I work with a great clothing company called Alpine Stars (www.alpinestars.com), wearing their new women's line when I perform. I think we are going to see more and more emerging bands working with companies. Its no longer seen as selling out, but actually, more of a level of success for artists. For brands, it's a great way to get in front of new customers who care but aren't paying attention to traditional advertising anymore. I definitely want to do more of it in the future.

SK: Yes, we've worked with a few. It's a vital piece of the puzzle. Large label advances and other traditional chunks of change are scarce these days. Brands are a band's best friend.
K: It would depend entirely on what the brand was and what it represented. We think there's a fine balance between keeping your values/beliefs and doing what you have to do to get exposure. If sacrificing a little helps you in your goals, then you have to weigh-up the costs.
NS: I have worked with consumer brands in the past, and am in talks with a few at the moment. Yes, I believe, as long as it is the right partnership where you have common beliefs and common ground with the brand, then it can be really great for both parties. For me, it should be a brand I would personally use and feel 100% comfortable combining forces with. I love organic foods and brands, so I am currently looking at those opportunities.
Q: What gigs have you booked using Sonicbids?

NG: Through Sonicbids, I have performed at festivals, placed in songwriting contests getting helpful feedback, booked shows in new regions, and booked showcases at the NACA conferences which helped me book dozens more shows. It's been incredibly helpful to let me know what's available for me to apply for and submit my music to, and what to step-up when I don't get selected.

SK: Sonicbids has been a great resource. We booked a show last fall opening for Ben Folds with the Boston Pops, as well as playing their party at this past SXSW. We're a huge fan of the work they do.
K: To be honest, there are too many to name them all. At present, there's something like a 150 gigs booked on our sonic bids EPK, and we have several international publishing houses waiting for the final release of Dichotomy.
Our highlights for the last year include:
*Reaching the number one spot at KISS FM, NY in June/July 2009
*Showcasing our album in Osaka, Japan in September 2009
*Being invited to perform at the closing ceremony at the BAM festival, Barcelona, September, 2009
*Being invited to perform at The Charlotte Music Awards Night, Carolina, November, 2009
*Having our single nominated for the Hollywood Music and Media awards, November, 2009
*Being invited to perform at the Viper Room, LA and subsequently have a tour organized for us in LA and New York by these professionals.
*Winning the Festival4stars International Singer/Song Writing Competition and being flown over to UK.
*Forming a partnership with LA producer David Kershenbaum
NS: Sonicbids for me personally has been amazing. So many opportunities that would not have been available to independent artists in the past due to the innate closed circle created by major labels for their artists. Suddenly, we're a click away. I started booking high profile shows, and have met some people who have been invaluable to me and my career. It really does open doors which, in the past, were closed. I believe Sonicbids is an essential tool to an independent artist.
Q: Is a deal with a major label your ultimate goal?

NG: It's not my ultimate goal, but either a major label or great indie label (most likely under a major's wing) is part of my game plan. My ultimate goal is to be in the music business singing, writing songs, and performing for lots of people for as long as I can.
Right now, I am expanding my career and taking the next steps by slowly adding people to my team. I have a lawyer and a booking agent, and over the next few months, I will choose the rest of my team as I find the right people. It's so important to work with people you trust and to know they believe in you and are in it for the long haul.

SK: No, it's not a goal. Ideally, our band will continue to grow without major support. While it may not be a goal, we're always interested to hear what they have to say.
K: In the last few years, major labels have changed their roles and their terms would have to be looked at very carefully. We are very happy with our partnership with David, and ultimately, some sort of distribution deal with a major label would be ideal.
NS: There are still some areas that are extremely hard as an indie to reach, doors that are closed. I enjoy being independent having learned a lot about this industry and am still learning. Having said that, I personally have always seen myself as a global artist, so I would consider the right deal with a major label if the opportunity arose.
Q: What's your definition of success?

NG: There are different levels of success, and I'm happy where I am at right now being able to support myself and work at this full time. I feel the momentum building which feels great and might be my definition of success--expansion and momentum. When things feel stagnant, the phone hasn't rung all day or I don't have some gigs coming up, those are the times I don't feel so successful. I know that things like buying a house and supporting my family with my music are possible for me from what I'm doing now. I would love to have songs at the top of the charts and tour the world for a long, long time but it's possible to have lots of success without any of that stuff too.

SK: Sticking together and gaining fans one at a time. Collective achievement is sweet.
K: Success to us is an overrated word that other people use to measure your life. The ultimate kick out of making music is knowing that others may experience your music and just enjoy it or possibly take something positive from it. We are very strong believers in the power of words and the intentions behind them. We believe if we have inspired someone, made someone cry, or elicited an emotional response in some positive way, then we have succeeded. Knowing that you may have changed someone's life would be the ultimate reward for all this.
NS: Waking up in the morning loving life and what you do!
Q: If you could offer one piece of advice to someone who's thinking of going DIY, what would it be?

NG: My advice is just to not get too wrapped-up in all the DIY stuff, and if its draining you or taking away too much from writing songs and making your show better, then don't be afraid to let some of it go, ask for help or to accept help if its offered to you. Anyone else can do that stuff, but only you can be the artist people are going to come out to see. Also, keep expanding your network of friends that are making music and perusing their dreams. It's important to have that support when some people are telling you you're crazy for doing this. Learn to detach yourself from the results and appreciate when people are honest with you in this business. More than anything, just start doing it

SK: Focus on the music first, then everything else second.
K: Well, firstly, always follow your gut instinct and don't feel pressured to sign with anyone. There's no rush and there's certainly no such thing as an overnight success. It's very easy to get overwhelmed with what's available on promotional websites and electronic EPK sites. Sites such as Sonicbids are to be highly commended for DIY musicians. They have given us amazing opportunities, which have taken us on this journey. Lastly, you have to endure when it gets tough, and always remember why you're doing it.
NS: Be aware that it is a tricky, very time consuming route to go. But if you have the tenacity, vision, can't see yourself doing anything else and music is your life, then now is the time, more than ever, when you can have a career going DIY, and you will have an amazing experience like no other.
Natalie Gelman's "Never Had You" Video:
Family Of The Year's "Let's Be Honest" Video:
Kotadama's "See You Tonight" Video:
Noush Skaugen's Live Video:
PRESS RELEASES FOR YOU AND YOUR SPECIAL SOMEONE
:
COLUMBIA RECORDS TO RELEASE DVD/CD OF BARBRA STREISAND'S HISTORIC 2009 ONE NIGHT RETURN TO CABARET PERFORMANCE

One of the most celebrated concert performances of recent years, a one-time only event witnessed by little more than one hundred lottery-selected Barbra Streisand fans, will be made available on DVD and DVD/CD Combo Pack as well as Blu-Ray Disc by Columbia Records on May 4. The label has announced that release date for One Night Only - Barbra Streisand And Quartet At The Village Vanguard -September 26, 2009.

One Night Only covers the entire experience of Ms. Streisand's first cabaret performance in 48 years. The extraordinary event coincided with release of her Number One charting album Love Is The Answer last September which became the 51st Gold Record for the legendary singer who also has 30 Platinum. That top-of-the-charts launch for the leading album-selling female recording artist of all time (as noted by the RIAA) extended to five her record number of consecutive decades with a #1 charting. The new One Night Only CD will be a limited edition available only in the DVD/CD Combo Pack

Ms. Streisand topped the DVD charts for three weeks in 2009, reigning for that period at number one with her three disc Streisand The Concerts. Her two disc Director's Extended Edition of Yentl was one of the top motion picture DVD offerings of last year.

An absorbing dream-come-true you-are-there high definition audio-visual document of Streisand's first cabaret performance in 48 years, One Night Only - Barbra Streisand and Quartet at the Village Vanguard - September 26, 2009 immerses the home viewer in a tiny West Village nightclub, privy to the best sight lines and sound imaginable, to share an exclusive and intimate evening that prompted the New York Times to marvel, "Concerts by Ms. Streisand are rare, but the scale of Saturday's show was exceptional enough to briefly upend the natural social order of celebrity events.... Ms. Streisand was booked for one night at the Vanguard -- legal capacity 123, absurdly small for an artist who has sold over 71 million albums in the United States alone.... But outnumbering the boldface names were two busloads of ticket-lottery winners, ordinary fans from around the world. Some said they had never been able to afford a Streisand ticket before, but on this night they rubbed elbows with Oscar winners, The Secretary Of State and a former president...."

Songs on One Night Only - Barbra Streisand and Quartet at the Village Vanguard - September 26, 2009 include "Here's To Life," "In The Wee Small Hours of the Morning," "Gentle Rain," "Spring Can Really Hang You Up the Most," "If You Go Away (Ne Me Quitte Pas)," "Where Do You Start?," "Nobody's Heart (Belongs to Me), "Make Someone Happy," "My Funny Valentine," "Bewitched, Bothered and Bewildered," "Evergreen (Love Theme from A Star Is Born)," "Some Other Time," and "The Way We Were." The DVD and Blu-ray disc include as a bonus, a feature on the club and its legendary owner Lorraine Gordon.

One Night Only - Barbra Streisand and Quartet at the Village Vanguard - September 26, 2009 is Executive Produced by Barbra Streisand and Martin Erlichman.

Barbra Streisand's Village Vanguard performance was originally booked to celebrate the release of Love Is The Answer, the artist's album of jazz standards hearkening back to her musical roots in New York cabaret. Released the week of the Village Vanguard show, Love Is The Answer became her ninth #1 album on the Billboard 200 and her 51st RIAA gold album in the US.
MGMT SET COURSE FOR SPRING 2010 TOUR "CONGRATULATIONS" IN STORES APRIL 13

This Spring MGMT will set out on a tour of North America in support of their sophomore release Congratulations, in stores April 13, 2010. U.S. tour dates kick off with a pair of back to back, sold-out shows at San Francisco's legendary Fillmore on April 12 and 13. The band returns to Indio, CA on April 17 to deliver another memorable performance at the Coachella Valley Music and Arts Festival. Following their first festival debut of the year, the band will continue touring through out the summer, also performing at Bamboozle on May 2nd and Lollapalooza on August 8th (see below for full itinerary).

With the release of Congratulations, MGMT continue to evolve their visionary and groundbreaking style of music. Critics are cheering Congratulations for its sincerity and originality. Spin described the new music as "uncommonly, emotionally honest" while MOJO declared it "the post-punk Brit-psych masterpiece of the year...a reinvention so fully realized" in their 5 star review. MGMT will perform selections from Congratulations when they make their debut appearance on Saturday Night Live on April 24. MGMT also return to perform on The Late Show with David Letterman on May 11.

A video for the song "Flash Delirium" debuted this month giving fans a glimpse into the band's interpretation of the confusing state of the world in modern times. Directed by Andreas Nilsson (Fever Ray, Goldfrapp) the video features a surrealistic homecoming that goes awry in tempest of destruction and confusion. "Flash Delirium" can be seen at www.whoismgmt.com

Check out live tracks were recorded in Belgium at the March 26 club69 showcase for Studio Brussels: http://www.stubru.be/media/herbeleefmgmtinclub69

MGMT Spring 2010 tour:
April 12 San Francisco, CA The Fillmore
April 13 San Francisco, CA The Fillmore
April 17 Indio, CA Coachella
April 29 Toronto, ON The Mod Club Theatre
April 30 Durham, NH University of New Hamsphire
May 2 East Rutherford, NJ Meadowlands Sports Complex (Bamboozle)
May 28 San Luis Obispo, CA Avila Beach Bowl
May 29 Santa Cruz, CA Santa Cruz Civic Center
June 1 Portland, OR Crystal Ballroom
June 2 Portland, OR Crystal Ballroom
June 4 Salt Lake City, UT In The Venue
June 6 Austin, TX Stubb's Bar-B-Q
June 7 Houston, TX House of Blues
June 8 Dallas, TX House of Blues
June 11 Denver, CO Red Rocks
June 13 Kansas City, MO Uptown Theatre
June 14 Indianapolis, IN The Vogue
June 15 Columbus, OH LC Pavillion
June 16 Detroit, MI The Fillmore
June 18 Chicago, IL Riviera
June 20 Milwaukee, WI Riverside Theatre
August 8 Chicago, IL Lollapalooza
REAL LIFE. REAL NEWS. REAL VOICES.
Help us tell more of the stories that matter from voices that too often remain unheard.