Whenever I find myself in an awkward conversation with someone -- you know, the kind in which neither party has anything to say -- I turn to Miley Cyrus. The thing is, everyone has something to say about Miley.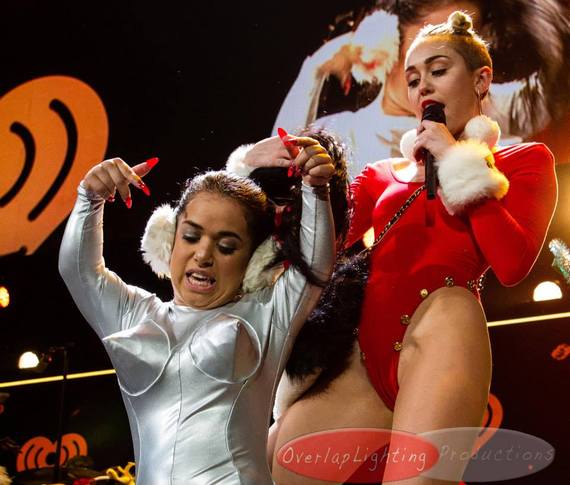 "With all that's happening in the world, can't we think of anything better to talk about?"
"How can anyone expose his/her daughter to such a negative influence?"
[I'm pretty sure we felt the same way about Madonna, and Elvis, and the Charleston]
"I just can't figure out what she's DOING!"
Love her or hate her, we are STILL talking about Miley Cyrus, and for a young pop star, that's a pretty big deal. If taken at face value, Miley looks to be an out-of-control, totally wild, promiscuous floozy, but I think she's just a smart businesswoman. Though I'm still checking my sources, I'm convinced that every makeout session, tongue out, high cut leotard, and every crazy tweet is part of a calculated plan to build her brand. I believe that America's trending wild child is a lot smarter than we give her credit for. It's the sort of smart that could keep Miley performing longer than her fellow former child stars, and will hopefully keep her from a premature residence in the reality show circuit (where B actors and celebrity families typically go to die).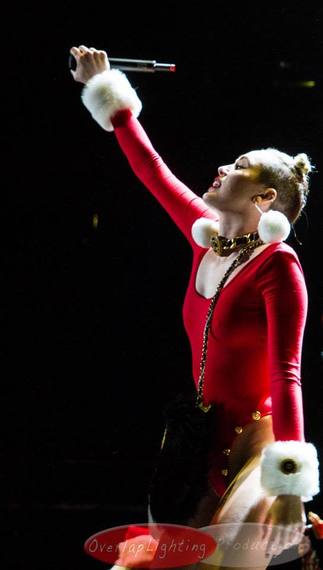 Disclosure: I'm a Miley Cyrus fan.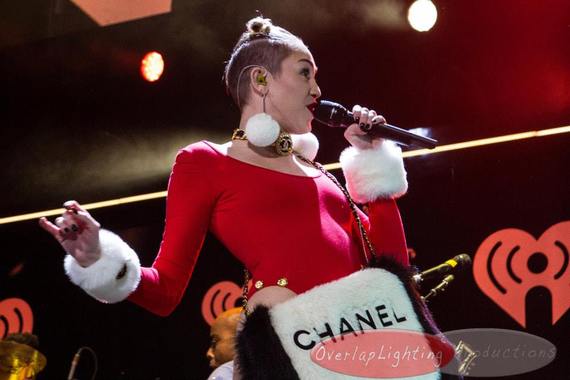 I was really disappointed when she wasn't on the bill at the Jingle Ball in Chicago, and when I found out we were both going to be in the vicinity of Tampa's Jingle Ball, I had to be there. I find her interesting, not offensive. I think this charade is actually a brilliant marketing campaign. Occasionally, when she strips away the twerk, the little people, the drunk Santa, and all the sexual overtones in her lyrics, you see a young girl who is really, really talented. Fifteen minutes of Miley came at the end of a very long evening of top 40 Jingle Ball-ers, and then the glitter guns went off, and as all the sparkly falling flecks came a big plug for the upcoming Bangerz tour this winter. She's either a smart girl, or has a smart agent. You pick. Either way, it's pretty brilliant.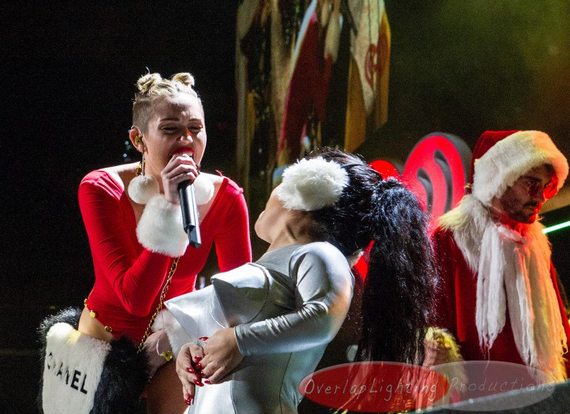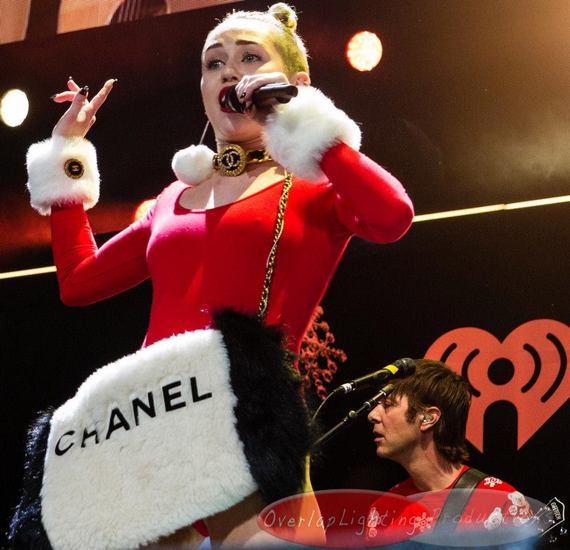 Photo credit: Julie E. Ballard / Overlaplighting Productions, used with permission
Note: The author has no financial or professional affiliation with Miley Cyrus or the Jingle Ball Tour.
Calling all HuffPost superfans!
Sign up for membership to become a founding member and help shape HuffPost's next chapter