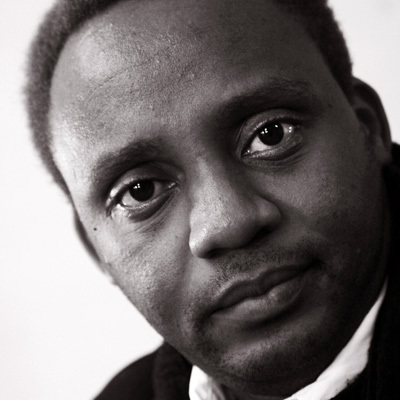 (Pictured above: The Kenyan writer and editor, Billy Kahora).
As a short story writer, there's nothing more gratifying to me than reading a gorgeously crafted piece of short fiction. The form's raison d'être is brevity and the best short story writers don't waste a word. Every detail counts. If the novel is a grand mansion with cavernous rooms, the short story is an exquisitely crafted dollhouse.
The Caine Prize for African Writing is ostensibly a short story award and one of the most prestigious short story prizes in the world, even though the award itself is not marketed as such (which it should be, because decent short story prizes, whether for African writers or writers from any other continent, are few and far between).
The Caine Prize in that regard creates a vital exposure for readers not only to a generation of African writers on the rise but also to a literary form that possesses a powerful artisan quality. Past winners of the award include the remarkable NoViolet Bulawayo, Binyavanga Wainaina, Brian Chikwava and Yvonne Adhiambo Awuor; writers who have through sheer collective ingenuity and skill propelled their powerful narratives from the confines of suffocating postcolonial discourse classes to the digital Afrosphere, where their work is dissected and devoured with the kind of relish and readership that would have made Dickens puke-green with envy.
In a telling roundtable interview with The Hollywood Reporter, Oprah Winfrey once remarked that it was next to impossible to market books with characters that had unusual names or backgrounds to the American public. This is a disingenuous, self-perpetuating myth because American readers are hungry for good, gripping fiction regardless of where it comes from. Consider the case of Bulawayo, who won the Caine Prize in 2011 and shortly afterwards released her critically and commercially successful novel, We Need New Names, whose mere existence acts as a brilliant riposte to Winfrey's claim. The same could be said of the gifted Taiye Selasi, whose novel, Ghana Must Go, was an ice-cool hit.
Every year, the Caine Prize releases an anthology of its shortlisted authors and this year is no different. The anthology, which is titled The Gonjon Pin And Other Stories, showcases some exquisite short stories. My favourite piece is Billy Kahora's The Gorilla's Apprentice, a moving existential exploration of a man's capacity to share kinship with a traumatized animal, whilst tackling the nightmare that was the Rwandan genocide. What makes Kahora's writing so appealing is the level of expressive humanity and straight-up quirkiness that ripples through his prose like raw silk.

Although the majority of the stories are beautifully executed, another favourite of mine was Diane Awerbuck's Phosphorescence, an intimate, poised piece that explores the relationship between a woman and her troubled granddaughter. It's a testament to Awerbuck's narrative skills that her story has the kind of gossamer yet tensile edge that recalls the best work of American writers like Maile Meloy or Julie Orringer.
The whole point of reading is to discover different ideas and cultures, different mental and psychological landscapes. I can go into detail about the culture and customs of Haiti thanks to Edwidge Danticat, or get deep into the history of the Dominican Republic thanks to Junot Diaz. We read fiction to catch glimpses of other ways of seeing, alternative modes of being; and for lovers of great fiction the Caine Prize anthology rewards its readers again and again in joyful and often surprising ways.
You can purchase The Caine Prize For African Writing 2014 (New Internationalist) here.
Related
Popular in the Community