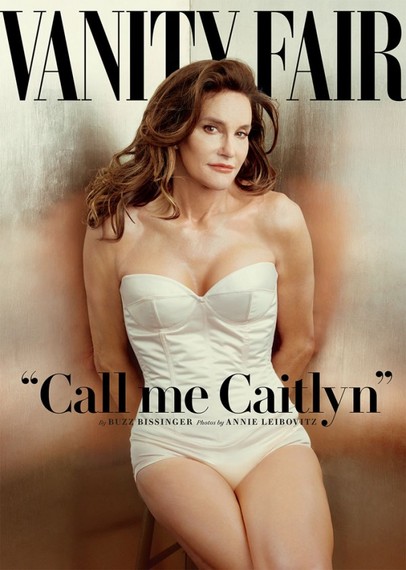 It was a one-time opportunity. A threshold moment. Never before had a transgender person been so widely recognized, presented on the cover of an internationally-known magazine for the purpose of coming out, or into their own. It was an opportunity to mirror every single transgender person who had tortuously and silently paved the way. It was a chance -- as not just a model, but a role model -- to reflect everyone on that path. And what happened is that the news and entertainment industry, with Ms. Jenner at the head of the pack, made this moment as much, or more, about vanity.
But then, who would have any problem with that? In finally throwing off the lie and being herself in her own skin, who could take issue with her being whoever she wanted to be? Given the milestone, the country (the blue-purple part of it, anyway), and certainly, the LGBT community, were already on their feet. I'm not sure of another instance, though, where so much came down to one photograph. And I, for one (maybe, the only one), think that the V in VF actually matters. Or, that there's something weird in the culture when the exhibition of vanity is so equated to empowerment. How exactly does the presentation of self as a fashion model and/or an object of desire bestow autonomy or individuality? If this is a true introduction to someone who has finally acquired her identity, what's with the Marilyn Monroe trope? Why the exceedingly outward gaze of allure and seduction versus an invitation to look inside. Ultimately, I'd expect to make her acquaintance through the portrait more than the anchor text. And what's with the shiny powdery background. Perhaps it's the gold that awaits?
Also, is it possibly the case -- Caitlyn crossing into the mainstream representing such a historic milestone -- that the transformation is that much about the equipment? Otherwise, I have trouble appreciating the objectification and the preoccupation with Caitlyn's body -- the gaze and the hair trying to hold their own with those boobs and the package. (Thank goodness for those older, sinewy and beautifully honest/honestly beautiful arms.) And then, are we even supposed to talk about the aesthetics of cream and the lingerie? And what about the fact the bustier (especially when you unleash your imagination on the top of that "Y") has almost a bunny vibe. Maybe it's an echo to the Hefner-esque times and consciousness she was stuck in so long?
Let's make no mistake. This is a celebration of identity and a victory for tolerance. It's also a symbolic victory in the transgender battle for respect and rightful expression. But just as much, it is also a Kardashian brand launch, the official kickoff to a commercial enterprise after a protracted soft opening. The fact they set this off on Monday morning and Caitlyn simultaneously launched her new Twitter feed; the fact they Leibovitzed it, they Diane Sawyered it; the fact the VF preview, actually, and all the media is so heavily promoting Caitlyn's upcoming reality show is all of a piece. (To their credit, Caitlyn's four "pre-Kardashian" kids sent a message about the gratuitousness by opting-out of the show.)
Going forward, I sincerely hope her significance is not just the consequence of her transformation, or her fame, or her marketing acumen, but Caitlyn actually serves as a staunch voice for the LGBT and transgender community. Because, after all, that's what mega-rich entrepreneurs and cultural celebrities do, right? Bill Gates is reforming the schools. Bill Clinton is saving Haiti. Bono and Angelina are saving Africa. Sheryl Sandberg is breaking down the glass ceiling. In this case, though, for as much as this image, and yesterday's media tsunami, ushered in a new era when it comes to identity, it gnaws at me that this photo, supposedly so self-evident, feels so generic.
Sign up here to receive the BagNews Visual Week in Re-View.
(photo: Annie Leibovitz / Exclusively for Vanity Fair. caption via the NYT: Caitlyn Jenner, formerly Bruce Jenner, in a photograph by Annie Leibovitz on the cover of July's Vanity Fair.)
Calling all HuffPost superfans!
Sign up for membership to become a founding member and help shape HuffPost's next chapter