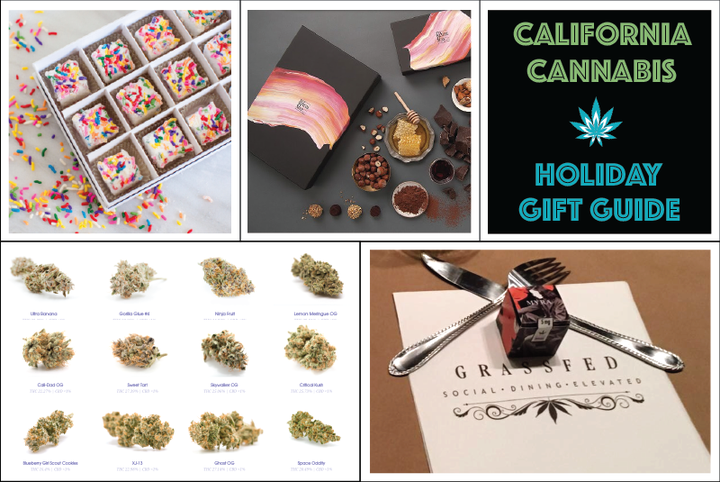 My friends and family know that when it comes to giving gifts, I'm big on buying things that have meaning and thought behind it. So this year, when thinking about what to get for my loved ones, I really wanted to flex my creative muscles.
Over the past few months I have had the opportunity to meet so many brilliant professionals in the cannabis space and experience some of the best products available in California. I'm a huge believer in only consuming and using high quality, consciously produced products which is why my cannabis based, holiday gift guide is comprised of the best of the best this industry has to offer!
Whether you are a novice or a frequent flyer, please enjoy the ride!

When you want to get Mellow
Gourmet cannabis marshmallows?? I mean come on, not only are they gorgeous but they taste heavenly! Imagine receiving these delightful treats as a gift from someone you love! With only 5MG of THC per square you can experience a low dosage, mellow vibe while giving your tastebuds a divine experience.
Each batch of Mellows is whipped, cut and gussied by hand, you can really feel the love behind these handcrafted treats! Enjoy a dreamy euphoric sensation with the infusion of premium, single-origin Red Congolese sativa.
Each box of Mellows contains 12 bite-size marshmallows with many gourmet flavors including: Birthday cake, Brown Butter Sage, Cookies and Cream, Strawberry Shortcake… are you dying?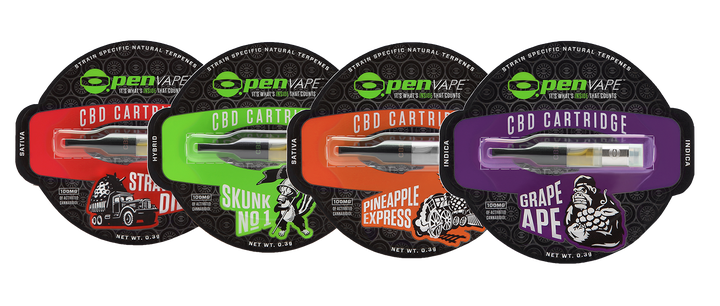 Something for Everyone
Free of THC, these CBD vape cartridges are perfect for anyone who wants the health benefits but not the high. Formulated and created by Open Vape, what I love about these pens is that they are strain specific, a unique feature when it comes to CBD. They add flavor profiles from the natural cannabis flavored terpenes which gives the plant their individual identity. Think about it like drinking your favorite tequila or scotch, once you feel connected to a brand you usually stay loyal right?
Well the same thing goes with cannabis, a lot of people like the taste, smell and feeling of specific strains. There are 4 flavor profiles; Grape Ape, Strawberry Diesel, Pineapple Express and Skunk No 1. If you are a newbie to cannabis these cartridges provide a sense of what it would be like if you were smoking it but in a much cleaner way. The true benefits are that you get the medicinal healing of CBD, in addition to a mild relaxation effect. If you don't know the benefits of CBD I highly suggest you Google it and start going down the rabbit hole!
CBD is legal and can be sold all over the U.S. I absolutely love this product and recommend it to anyone who wants the medicinal plant benefits without the THC!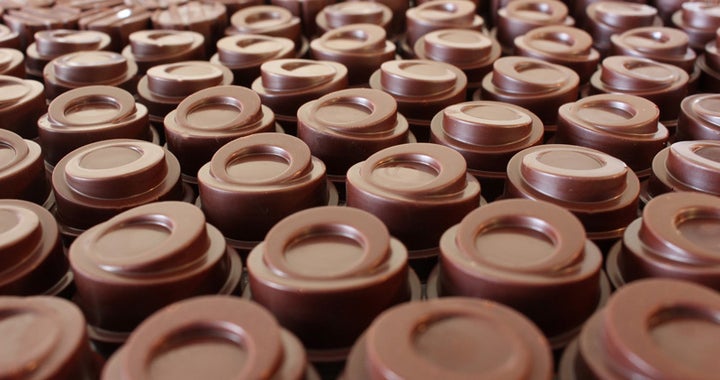 The chocolates that Elevate!
Surprise someone you love with To Whom It May - Cannabis Chocolates, they are definitely one of my favorite canna-chocolates on the market. I mean chocolate and cannabis?? Every woman rejoice! Open up your sensual senses with these gourmet bonbons.
The chocolates are hand-produced, single-origin 70% dark chocolate, free of any processed sugars, preservatives, emulsifiers, corn products, and dairy and soy free. Very important for someone like me who is conscious of quality ingredients in everything I eat!
Flavors are: Cherry Cayenne, Smoked Almond Butter Truffle, Hazelnut Brandy and Hazelnut Butter Truffle. They come in non-medicated (0mg), 2.5 mg., 5mg, 15mg, and 45mg.
Visit their website www.towhomitmaychocolates.com to purchase. They are running a 15% off deal for the holidays! They are divine, trust me I can't get enough.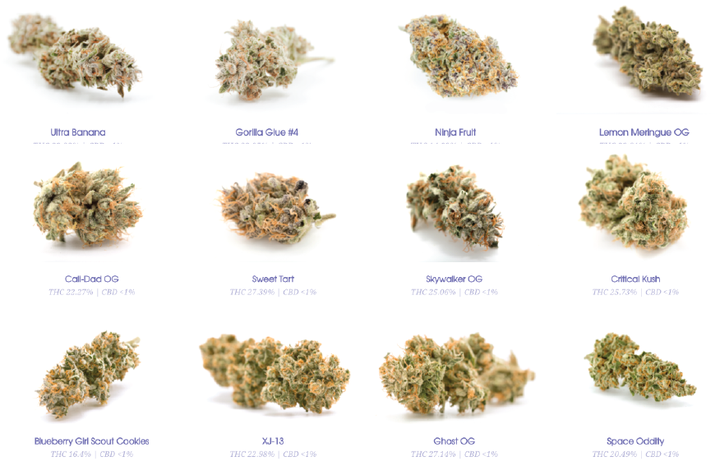 Let's get a little Dreamy…
We all have people in our lives who could use a little de-stressing from their hectic lifestyles, whether it be work overload or high demands in their personal lives. THC Design is one of my favorite brands cultivating what I believe, to be some of the purest and delicious bud on the market. It's hard for me to find a strain that I truly resonate with, after researching and learning about many of the common strains over the years, there are only a bud-full that give me the effects I desire.
My preference is to relax but feel awake and focused, stimulate my creativity and feel euphoric. So when I tried Space Oddity by THC Design I was elated! Literally. Space Oddity, is a hybrid of indica and sativa so you experience both a mentally and physically elevated feeling.
This medicinal dream helps alleviate symptoms associated with: pain relief, appetite stimulant, creativity boost, muscle relaxation and more! THC Design provides a wide selection of cannabis some of which include: Blueberry Girl Scout Cookies, Ultra Banana, Critical Kush and their best seller XJ-1. Utilizing the latest cutting-edge science and technology their goal is to provide safe medicine to all their patients!
Ask for THC Design at your local dispensary!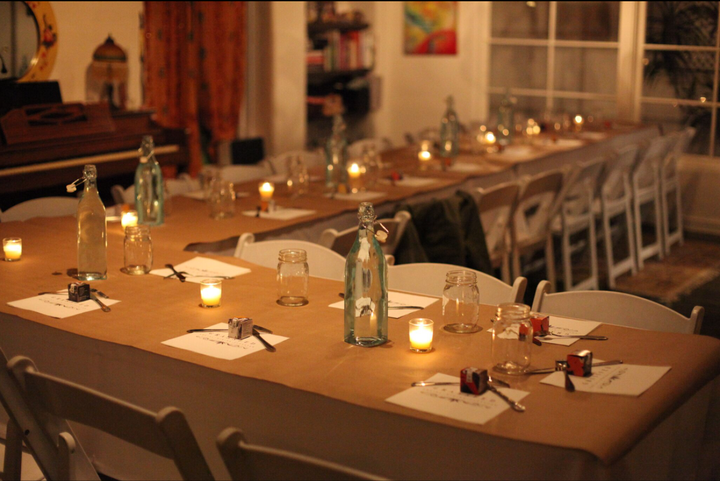 Blissed-out dining Experience!
22 of the coolest people you will meet, a famous gourmet chef, a charismatic host and lots and lots of cannabis. Sounds like a good night out? It's the best! I was fortunate to be invited to Grass Fed's first cannabis infused dinner party, hosted by Dan Braunstein and celebrity mediterranean chef Lee Knaz themed with the Beatles and held at a charming home in LA.
For the cannabis lovers like myself, who are not into bars and over the drink, these parties are a perfect way to get social! Every dish was beautifully presented and tasted celestial, infused with just the right amount of cannabis oil to build a gradual high as you continue to elevate. There was also an amazing vape bar that had the most delicious flower with a vaporizer that allowed you to taste the essence of the plant like I've never experienced before! Grass Fed perfectly marries food, cannabis and music. Each have their own unique ways of connecting people, so why not combine all 3 elements into one amazing experience!
The last two events were held on December 2nd and 3rd and both sold out! A Greek/Mediterranean menu consisted of: Mezze (10mg of THC) Greek Salad 2.0 (5mg of THC) Souvlaki "Sabich" (5 mg of THC + 5 mg of CBD) and for dessert Malabi (non medicated)
Don't miss out on their next dinner party as they sell out fast! They are still in the process of creating their website but if you want to get on their mailing list and get an exclusive invite to their next event please email Dan - info@grassfed.la
Related
Popular in the Community