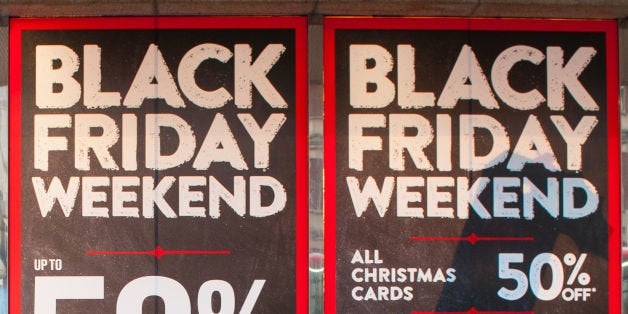 It was not long ago that Black Friday was a point in time-the day after Thanksgiving that was generally accepted as the official start of the holiday shopping season. Then massive trends swept through the retail industry and society at large that have changed Black Friday forever.
In the world of marketing, anything that had a recognizable name came to be seen as something that could become a brand. Black Friday as a brand shifted from a point in time to a concept.
The Internet swept the world, letting shoppers move from bricks to "bricks and clicks," giving rise to the term omni-channel marketing. And shoppers love it.
It has been fascinating for those of us who follow the large numbers associated with retailing to see how these trends, in just a few short decades, are fundamentally changing American's holiday shopping habits.
A lot about the holiday season is still comfortably familiar. Holiday music is back on the playlists at brick-and-mortar stores, and holiday decorations are up. Shoppers still focus on Black Friday, but not with the type of 6 a.m. line-up dread that marked the pinnacle of Black Friday as a point in time. Today, Black Friday the brand lets retailers compete for holiday sales over a much broader period of time. At first that meant opening earlier and then on Thanksgiving day. But as Internet shopping has come to be more fully accepted, Black Friday the brand has really taken off.
Retailers are showing great creativity in their Black Friday strategies. Fear of online shopping has evolved into full embrace of omni-channel retailing.
Some recent examples of this change come from REI and Macy's. REI announced within the last few weeks that their brick-and-mortar stores in the U.S. will be closed on Thanksgiving and on Black Friday. In contrast to this, Macy's announced that their stores will open at 6 p.m. on Thanksgiving. Thanksgiving and Black Friday ads and promotions are almost gleefully leaked by many retailers, incentivizing and enticing holiday shoppers. The message is clear. Everyone can get the Black Friday discounts that used to be available to the lucky few who were first in line in the wee hours of one day. (Black Friday sales can be held any time of the year!)
Every good brand, of course, has a brand extension. Say hello to Cyber Monday, this year officially on Monday, November 30. But as you can imagine, Cyber-Monday sales are available to all before and after the official date, thanks to the rise of omni-channel marketing.
Whatever a retailer's strategy, there is no denying how important Black Friday and the days surrounding it are to their success. (There are many stories about how Black Friday got its name. My own favorite is that it's the time when a retailer's accounts go from being in the "red" to being in the "black." According to a report from the International Council of Shopping Centers, ICSC, 87 percent of holiday shoppers will make their first holiday purchase by the end of Cyber Monday. In a nod to the importance of maximizing an omni-channel presence, ICSC, in their 2015 holiday survey, states that three out of four holiday shoppers are conducting research online prior to brick-and-mortar purchases.
The early ads and promotions triggered by Black Friday the brand are, indeed, shifting holiday shopping habits, causing the holiday shopping season to begin earlier than Black Friday. Results from the ICSC survey, show the share of holiday shopping in October has increased to 10.9 percent, up from 9.4 percent. Omni-channel retailing has enabled a wider audience to receive promotions through web and mobile communications. Looking at the chart below, there is a significant shift expected in the timing of holiday shopping this year. More consumers are starting to shop prior to the Black Friday (as compared to one year ago) and fewer shoppers target the days between Thanksgiving and Cyber Monday as a time to begin shopping.
Percent of Holiday Shoppers

Before Thanksgiving
Between Thanksgiving and Cyber Monday
60% (2014)
26% (2014)
66% (2015)
21% (2015)
Source:
The significance of Black Friday remains intact, but thanks to the emergence of Black Friday as a brand, coupled with early promotions and the Internet-driven growth of omni-channel methods, it has been dramatically changed. Whether it starts in October or on Black Friday, the holiday shopping season remains a vital time of year for retailers and they will continue to remain one-step ahead in order to capture--and grow-- those important holiday sales.
Calling all HuffPost superfans!
Sign up for membership to become a founding member and help shape HuffPost's next chapter