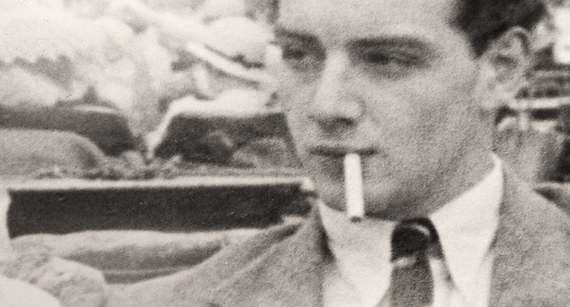 In November 1979, Anthony Blunt was exposed as the fourth member of the Cambridge Spy Ring after Kim Philby, Donald Maclean and Guy Burgess. I had just left school and was about to go to the very university where the four men had been recruited as undergraduates by the Russians. Almost every week there seemed to be new revelations in the newspapers of Cambridge spies, such as John Cairncross and Leo Long, until the Cambridge Ring quickly appeared to number more like fifty than five. Why had these privileged young men agreed to work for a country they hardly knew and a system which even then was known to be totalitarian? How had they been recruited? What damage had they done? Were there still un-discovered recruits?
So began a fascination with The Cambridge Spies which has lasted to this day. In 1984, while at Cambridge, I organized a symposium on the subject with Professor Christopher Andrew, Britain's leading historian on British Intelligence and one of my tutors. Other contributors included: Andrew Boyle, whose book The Climate of Treason had revealed Blunt's treachery; Robert Cecil, who was writing a book on his Cambridge contemporary and Foreign Office colleague Donald Maclean; Chapman Pincher the author of several books on the Cambridge Spy Ring and John Costello who was writing a biography of Anthony Blunt.
Costello asked me to help research his book so, at a time when I should I have been revising for my Finals, I was interviewing various distinguished elderly gentleman in retirement in the Home Counties. In 1984 the generation who had been at Cambridge in the thirties were in their mid-seventies and many were prepared to talk, especially to a Cambridge undergraduate. I wined and dined spies, such as Michael Straight, and those who had been involved in the investigations such as Arthur Martin from MI5 and Nicholas Elliott from MI6. I talked to the brothers of Guy Burgess and Donald Maclean and interviewed on tape contemporaries such as Noel Annan and Stuart Hampshire and Burgess's boyfriend Jack Hewit, who supplied his own unpublished account of their relationship.
Costello's book The Mask of Treachery was published in 1988. By then I was working in publishing and had just set up my own literary agency. My energies were concentrated on my career and two other interests—Edinburgh's literary history and the writer John Buchan. Between 1992 and 1996, I published a literary companion to Edinburgh, a biography of John Buchan, wrote introductions to Buchan's novels and edited various volumes of Buchan's short stories and poems. After that the demands of a busy agency and family life meant that my time was limited but in 1998 I returned to my initial interest and decided to write a book on Guy Burgess, to me the most appealing and enigmatic of the Cambridge spies and who had not yet had a biography. The quest for Stalin's Englishman had started.
It has been a long journey which over the last seventeen years has taken me from elderly all-male parties in Tangier to interviewing KGB generals in Moscow, from weeks spent in archives all over Britain and America to clashes with the FBI, CIA, Foreign Office and Cabinet Office as I campaigned to secure release of documents under Freedom of Information legislation.
An early breakthrough, after an advert in the Spectator, was to meet Peter Pollock who wrote in February 1998 'I certainly know and could tell you more about Guy Burgess than any one still alive, or probably even dead, excepting his mother or Anthony Blunt.' Pollock had been the love of Burgess's life. They had met in 1937 and been lovers and then close friends until Burgess's death in 1963. He had never spoken before. I jumped on a plane to Tangier where he and his partner of forty years, Paul Danquah—a former presenter of Play School—happily answered a series of questions including Burgess's sexual preference in a homosexual relationship.
Peter casually mentioned he had left some of Burgess's letters and drawings in my room. Many of the drawings turned out to be by a former lodger of theirs, Francis Bacon, and shortly afterwards found their way to the Tate, but the Burgess letters, even though undated and reliant on postmarks when envelopes had been kept, were fascinating humanising the spy and giving a strong sense of his circle of friends—many of them previously not connected with him, such as Michael Redgrave, Lucian Freud, Winston Churchill's niece Clarissa, Frederick Ashton,—and lovers such as the writer James Pope Hennessy.
Peter put me in touch with friends and family who all had their own take on Burgess; some liked him, others distrusted him but they all provided wonderful anecdotes which had never been told before including the suggestion he had wanted to marry the daughter of a Cabinet Minister. Burgess's nephews, traced separately, gave me family pictures and Burgess's last testament entrusted to Esther Whitfield Kim Philby's secretary whom Burgess had wanted to marry.
I identified Burgess's living school contemporaries from a copy of the 'Eton College List of Members' and the Old Etonian Association kindly forwarded letters. Over twenty, none of whom had ever talked about him before, replied. The Army & Navy Club did the same with the list I obtained of his term at Dartmouth Naval College and Trinity College for his Cambridge contemporaries. I advertised in staff magazines for retired BBC and Foreign Office staff and various people came forward. They in turn led me to other interviewees.
Submissions to my literary agency over the years yielded a few gems including the memoirs of a female diplomatic colleague, a woman who had claimed to see him in his final days in Britain and a man whom Burgess had tried to seduce on the boat to America in 1950. An inquiry to a former member of the Apostles, who had not met him at the Apostles but as a diplomat, yielded an amusing story about Burgess's visit to Cuba with the diplomat bag. A chance discussion at a dinner with one of Churchill's former secretaries revealed that Churchill had been alerted within 24 hours of their departure, contradicting the official version that no one knew until after the weekend they fled.
Sign up for more essays, interviews and excerpts from Thought Matters.
ThoughtMatters is a partnership between Macmillan Publishers and Huffington Post
There are several hundred books with a reference to Burgess—it's just a matter of looking at anyone who had contact with him and all provided new information even if just a few lines. Burgess's Cambridge contemporary, Alan Hodgkin, described a protest march at which Burgess wore his Old Etonian tie under his coat just in case there was trouble with the police. An obscure articles in Russia yielded an account of his work in Moscow by a former colleague. Apart from Tom Driberg's authorised biography published in 1956, as interesting for what it doesn't say as for what it does, there were also some accounts published in the 1950s and 1960s, often ignored, such as Cyril Connolly's The Missing Diplomats, which provided useful detail.
My principle was always, however, to also go back to the primary source material rather than rely on books. The Eton College Archives provided pictures of him in knee breeches at his last 4th June, as a prefect and in the 1st XI Football team together with details of his contributions to the debating society — useful for gauging his youthful political views—and keen interest in the Officer Training Corps.
In Tom Driberg's papers, I came across a reference to a young Cambridge graduate who had met Burgess in 1962. I Googled him and found him to be living in London. He told me a wonderful story about how Burgess had saved him from a show trial after being caught in a homosexual honey trap.
Some memoirs in the Imperial War Museum produced an account of a wartime football game—the two full backs were Philby and Burgess—and an account of Burgess producing private letters to him from Mountbatten and Anthony Eden.
A useful source was Burgess's mentor and lover Harold Nicolson who kept copious diaries, now at Balliol College, Oxford, and to whom Burgess wrote from Moscow—the letters are in Princeton. The papers of Andrew Boyle, author of the seminal The Climate of Treason, yielded interview material which had not been used before.
Often Burgess's name came up in other people's correspondence — Robin Maugham being told by Harold Nicolson of a serious fall that Burgess had sustained in a night club, accounts of holidays in the South of France and visiting Somerset Maugham in Anne Barnes's letters to Dadie Rylands. Private correspondence between two senior Foreign Office security officials giving their own accounts of the Burgess and Maclean flight, revealed a hitherto unknown British spy in the British Embassy in Washington.
Burgess's close friend Goronwy Rees wrote a very insightful study of Burgess, A Chapter of Accidents. I found the original script in the Welsh National archives in Aberystwyth. No one had looked at it since being deposited but it was full of wonderful material not in the published version, including confirmation that Burgess had seduced Donald Maclean at Cambridge. The family lent me a copy of a screenplay, Influence, which Rees had written based on his friendship with Burgess which felt very autobiographical and had fascinating nuggets such as a girlfriend in Washington whom Burgess had wanted to marry but which Philby, called Phillips in the book, had sabotaged.
I had spoken to Rees's sister-in-law Mary Hardy, who had known Burgess in the 1940s and 1950s, twenty years ago. Now armed with a complete script, I re-interviewed her—though in her nineties she had hardly changed—and she gave me fresh insights into Burgess's character and circle, including a model girlfriend called Elaine.
The FBI archive provided little confidential information but was a wonderful news cuttings service as they kept every published report on the case. This was supplemented by the British Newspaper Archive, now digitalised, which includes various regional papers — a Nottingham paper revealed Burgess' appearance for drunken driving in 1940, one from Dublin his 1949 court appearance on a similar charge.
The BBC maintain extensive files on staff and contributors to programs allowing one to chart Burgess's career at the Corporation between 1936 and 1944, his skills as a talks producer and how he leveraged his job to network and act as an agent of influence. The Foreign Office files at the National Archives proved very fruitful on his time in the Far East Department and showed the depth of his knowledge, his excellent drafting skills and that he interpreted but did not shape policy. Amazingly no one seemed to have looked at them before.
In the 1990s, there was a brief moment when Soviet Intelligence archives were opened and under careful supervision and for large sums of money some information on the Cambridge Spies made available in various books, most notably The Crown Jewels and Deadly Illusions. The Russian perspective was supplemented with the published memoirs of Burgess's Russian controller, Yuri Modin whom my Russian researcher then interviewed several times in Russia.
There were false starts. Many people wouldn't speak to me or when they did proved to be unhelpful. One lonely, elderly, gay actor, whom I understood to have had an affair with Burgess, only revealed in the midst of dinner that he had only come to Britain after 1951 and had never met him. A British intelligence officer insisted on meeting at a very expensive restaurant and then proceeded to extract much more information about the book from me than I managed to learn about Burgess from him.
Quite often, I realized my interviewees were not telling me all they knew. Steven Runciman, when interviewed in the 1990s, claimed he had hardly known Burgess. Twenty years later, I took on representation of his literary estate and found photo albums of holidays they had had together. Put in touch with Runciman's biographer, I discovered the two men had met almost every day when Burgess was at Cambridge and were probably lovers.
Given Burgess's reputation as a promiscuous homosexual and traitor, many close to him in his life subsequently distanced themselves. Letters were destroyed or certainly not made available. Burgess did keep letters in an old guitar case—for blackmail rather than sentimental purposes—but these disappeared into the MI5 archives after his disappearance in 1951. His letters to his mother were thrown into her grave but happily were copied by MI5 and are now in The National Archives.
Intelligence history has its particular challenges. By its nature, it is secret so records are not kept or, if so, rarely released. Those who work in intelligence sign confidentiality agreements which forbid them from talking about their work and even when allowed to are reluctant to discuss with outsiders. The researcher always has to be careful of what is said. Do they really know what happened? Like any debriefing, is one simply being told what one wants to hear? Is a disinformation game going on—a particular trait of the Russians.
In spite of the challenges, I managed to interview over a hundred people who knew Burgess and had never spoken before, to look at private papers no one else had consulted and under FOIA legislation force governments to open up secret archives. The result, I hope, does justice to a man often dismissed as a joke figure showing him to have been generous and also selfish, a brilliant man with a glittering career ahead who threw it , and all he loved about Britain, aside for a cause to end his life in a lonely tragic-comic exile in Russia. Guy Burgess was in many ways a patriot and very British and yet, I argue, he was the most important of the Cambridge Spies and to the end of his life remained a fascinating paradox—Stalin's Englishman.
Copyright © 2016 by Andrew Lownie
ANDREW LOWNIE is the author of Stalin's Englishman: Guy Burgess, the Cold War, and the Cambridge Spy Ring. He first became interested in the Cambridge Spy Ring when, as President of the Cambridge Union Society in 1984, he arranged an international seminar on the subject. After graduating from Cambridge University, where he won the Dunster Prize for History, Lownie went on to take a postgraduate degree in history at Edinburgh University. He is now a successful literary agent, and has written or edited seven books, including a biography of John Buchan. He was the London representative of the Washington-based National Intelligence Study Centre and was the British representative on the six-man planning committee for the International Spy Museum.
Read more at Thought Matters. Sign up for originals essays, interviews, and excerpts from some of the most influential minds of our age.
REAL LIFE. REAL NEWS. REAL VOICES.
Help us tell more of the stories that matter from voices that too often remain unheard.