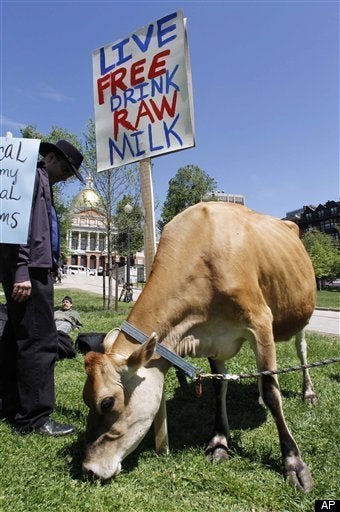 They're as playful as dogs and they also provide milk, and if you choose, meat. Backyard goats may not have reached the popularity of pet chickens, but they're gaining ground, even in cities. One goat-owning couple from Idaho argue goats are so fun and fruitful that they should be given a home at the White House.
The fight for urban goats
It's now legal to farm goats in cities like Chicago, Portland, or Detroit and campaigns are raging to change ordinances in places like Denver and Hillsboro, Oregon.
The Goat Justice League of Seattle ran a campaign to legalize backyard goats within city limits under the motto "I'm pro goat and I vote." League founder Jennie Grant argued, "why not let people with yards keep dairy goat does or wethers [castrated males]. They are not smelly. Their poop is a valuable fertilizer. They eat invasive plants and make delicious milk." Thanks to the groups' efforts, in 2007, the Seattle City Council voted to allow each household up to 3 goats under 100 pounds each.
In some cities like Berkeley, California, there are old laws still on the books that allow for urban goats. Homeowners Jim Montgomery and Mateo Rutherford decided to take advantage of a 1918 ordinance that allows for 2 female goats and kids.
Goats for the first family
The owners of Bellevue, Idaho's Cottonwood Ranch think that goats make such great pets they believe not only should every neighborhood have a backyard dairy, but that there should be one at the White House.
"We think Michelle's daughters would love to have baby goats," explains Lesley Moore. "That's our push is to take the baby goats to the White House and to introduce the daughters to baby goats," elaborates her husband Richard Barney while bottle feeding 3-week-old kids in their own backyard.
Barney and Moore's seven does produce about three gallons of milk daily. They sell or trade some of this raw milk (i.e. unpasteurized) and the rest they drink or make into cheese or yogurt.
It's not just these animals productivity that makes those at Cottonwood Ranch believe the first family should consider goats. They're also playful, eat the weeds and great hiking companions.
Barney thinks the Obama's pet Bo is not sufficient. "Never mind those dogs," he urges, "Let's have some goats, Mom."
Related videos from faircompanies:
Popular in the Community