I can't recall the last time I felt this much excitement about a State of the Union address.
President Obama's announcement of a cancer "Moonshot" - with Vice President Joe Biden at the controls - is sending positive shockwaves through the cancer community today. It is the right initiative, at the right time, with the right leader - and a test of our collective will to confront a disease that affects every American, directly or indirectly, over the course of our lifetimes.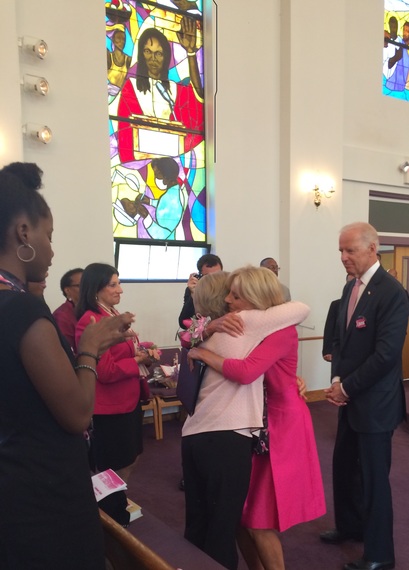 Vice President Joe Biden and Dr. Jill Biden greet a breast cancer patient at a Susan G. Komen-sponsored Washington, D.C., breast cancer program in 2014. Komen President and CEO Dr. Judy Salerno looks on (left).
The vice president and his wife, Dr. Jill Biden, who lost their son Beau to brain cancer last year, know all too well the enormous impact that cancer can have on the lives of families in this country. But the Bidens are not newcomers to cancer advocacy. We know them at Susan G. Komen as longtime passionate advocates for breast cancer research and health outreach, and especially for programs to provide access to quality cancer care for low-income, uninsured and medically underserved people.
The vice president's compassion is palpable and authentic, and will translate, we know, into meaningful programs that will give all people a fighting chance at surviving cancer.
We saw the vice president's hand in the record levels of cancer research funding approved by Congress last year. The 6.6 percent increase was the first significant hike in federal cancer research funding in more than a decade and a step toward reversing a backward slide in federal biomedical research investment in real-dollar terms. This is important, because only the U.S. government has the resources to undertake innovative, high-risk science. Without this research, our fight against cancer and other diseases will not only take longer, but could stagnate.
We agree with the vice president that cancer organizations and institutions have an obligation to advance the research by pooling our expertise and working together to bring the benefits of the science to patients as quickly as possible - especially those patients suffering from aggressive and metastatic forms of cancer. They need the benefit of clinical trials and advanced treatments that will prolong lives while we seek cures.
Many organizations are already sharing information and pooling programs, mindful of the urgency to reduce the intolerable social and economic costs of cancer, which were estimated in 2009 at $216 billion annually.
The human cost - of loved ones lost or suffering - cannot be estimated.
This is why the cancer community is willing, it is able, and it is more than ready to run this last mile in mankind's long journey against a cunning killer. The vice president has already begun reaching out to those who can make this difference.
And just as our society rallied to achieve a moon landing 50 years ago, we are also willing to do our part to, as the President so eloquently put it, "make America the country that cures cancer once and for all."
Calling all HuffPost superfans!
Sign up for membership to become a founding member and help shape HuffPost's next chapter