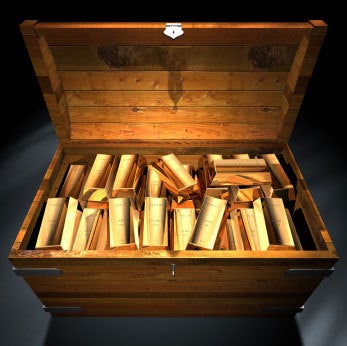 Your career has been marked with buckets of success, recognition, and an outstanding record of achievement. You've successfully advanced your way through the leadership channels at your company, from junior manager, to senior manager, to proud executive leader. Then one day, a recruiter reaches out to you because he/she has an opportunity that you would be a perfect match for at a Fortune 500 company. You're excited, but you hesitate because you haven't updated your resume in 15 years.
Applicant tracking system? Digital footprint? LinkedIn profile? Keyword matching? Core competencies?
What does all of this mean?
Enter 2017, the digital age, where innovation is expanding rapidly and you're grasping at straws on how to sell yourself.
Gone are the days where you could upload your resume through a job search portal and get a call immediately from the hiring manager. Now you need a personal brand, thought leadership, an active social media presence, and you need it faster than the job seeker who is sitting next to you.
Hiring a resume writer may seem like a far-fetched idea for many professionals. Certainly, if this is you, your thoughts have run the gamut of:
Why would I hire someone to write my resume when I should be selling myself?
If I can't write my own resume, how can I do the job?
That's a ridiculous amount of money to spend! No way!
No one can write my resume better than I can!
FACT: We hire various experts everyday – from mechanics, to hairstylists, to personal trainers, to even nutritionists. WHY? Because they are experts at their craft.
FACT: A professionally written resume gives you a 40% greater advantage of being seen. And, more than 60% of executives hire a trained resume writer today.
A trained resume writer is NO different than one of the aforementioned experts.
Imagine how frustrating it is to send out your resume day after day, week after week, or even month after month, and get ZERO responses all because your resume is not selling you the correct way. What if a trained expert could help you get the response rate you are looking for?
You see, having a well-written resume is not about your abilities as a professional, it's about getting the calls for the interviews and getting noticed by the RIGHT people and FAST. Sure, you can take an online course, read a few books, watch webinars on resume writing, but you will still be writing your resume from a very subjective standpoint rather than a fully objective one. Imagine how much shorter (not to mention less stressful) your job search can be when you have a trusted expert helping you! That's worth its weight in gold!
So, how do you find a legitimate and well-qualified resume writer? There are a series of questions which I recommend asking any resume writer during an initial consultation call or discovery session. I also recommend talking to 2-3 resume writers before deciding who is the right match for you!
Here are some helpful ideas and insight:
What is your overall background in writing and what led you to start a resume writing business? How long have you been doing this for?
A strong writing background is vital to resume writing success. After all, proper grammar, syntax, and communication skills lay the foundation for being able to communicate value on paper. Learning about the resume writer's academic credentials and own career trajectory can give you great insight into their background and what makes them well-suited to help you with your career path.
Subscribe to Must ReadsThe internet's best stories, and interviews with their authors.
How active are you in the industry? Are you published? Do you belong to The National Resume Writers' Association and other organizations (PARW, CTL, CDI)? Are you an active member? Do you attend annual conferences and summits to advance your knowledge and training?
Consider the certifications, level of writing expertise, and amount of comprehensive experience in total. Staying on top of industry standards is extraordinarily important for any professional, and resume writers are no different. A resume writer who attends conferences, summits, and other professional development seminars is committed to not just his/her career success, but yours as well. Consider if the writer is doing all he/she can to learn about new trends in the industry and share them with clients, colleagues, and others. Professional associations have annual conferences - find out when the last one transpired and ask if your writer attended the conference. Teleconferences are another way for writers to get involved and stay on top of their knowledge game.
Publications are extremely important. Consider if the writer partners with top career blogs, leading magazines, and social media avenues to share their innovative writings and ideas. Consider what the writer is doing to establish a strong presence in the industry through larger involvement on a national or international level. Expertise is garnered by advanced training and knowledge and a sharing of that knowledge.
Here are links to the leading resume writer and career industry organizations:
Do you have a staff of writers or do you do all of the work in-house?
Every resume business will have a different platform. Consider which ones suit your needs and don't be afraid to ask if there are others involved in crafting your resume. Many times, the benefits of hiring a firm with a team of writers is faster document turnaround. However, some job candidates prefer the one-on-one service with the resume expert who is also the business owner and therefore don't mind a longer wait period.
What resources can the writer provide to you to make an informed business decision?
A professionally written resume is one of the best investments you can make for your career, but also a hefty one. Pricing varies between resume writers greatly, depending on market competition, certifications, and years of writing expertise. Consider the resources available on the writer's website, and resources made available through organizations.
Look at samples, testimonials, and feedback.
Google your writer's name, learn about your writer, and don't be afraid to ask for resume samples and written testimonials outside of the writer's website.
Think about how much research we do before we buy a new tv, a new couch, or even a new mattress. We look at quality, value, and product. The same goes for hiring any expert. Do your homework.
Being a well-informed job seeker is important not just for you, but for your career future as well.
Support HuffPost
The Stakes Have Never Been Higher
Related
Popular in the Community