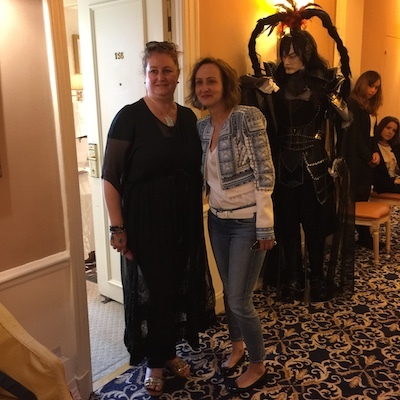 Usually visiting the DPA Gifting Lounge in Cannes is a treat and a welcomed oasis of treats and beautiful things to behold for this overstretched writer in need of some serious rest. But this year, Nathalie Dubois-Sissoko provided so much more than that. The woman is exceptional in every way and amazingly enough, when I visited her and spent a leisurely hour in her company, she was running two concurrent lounges. One here in Cannes and the other on the opposite side of the world, in Las Vegas, for the Billboard Music Awards. When her day ends on the Croisette, she retires to her suite in the Carlton hotel and begins the day in Vegas, via Skype. She makes my days seem like a vacation on the Riviera.
This year, Dubois-Sissoko celebrates ten years of DPA. For this special year, she upped the octane and decided that one event, during the most glamorous, media-covered festival in the world, just wasn't enough. And surrounded by beauty products, home enhancements and fashion, she created two lounges. Twice the fun, twice the celebrities but also twice the work.
I asked Dubois-Sissoko to disclose her ten mantras for her tenth anniversary, but alas, my recorder gave out that day and the recording has gone lost. What I remembered are five wonderful and inspiring quotes from a woman who never ceases to amaze me, personally and professionally.
Nathalie Dubois-Sissoko's Top Five Favorites from Cannes this Year:
The InterContinental Carlton Hotel -- "I love this place," admitted Dubois-Sissoko, "I keep coming back here and I love everything about it, the restaurants, the lobby, the rooms and the vibe." She continued, "the staff here know me and this year I made the choice to stay at the hotel, since I've got so much work with the Billboard lounge in Vegas." Dubois-Sissoko disclosed that her day ends when she falls asleep from exhaustion, around five p.m. Las Vegas time. You do the math on what that is here in Cannes...
Bees -- Yes, those bees. The Carlton has apiaries now, with honey-producing bees, which Dubois-Sissoko enjoys watching just outside the window of her suite. "I love everything that is pro the environment and this makes me feel like I'm staying in a hotel that feels the say way I do."
The weather in Cannes -- This year I'll admit we've been super lucky with the abundance of sunshine and warm temps. "It makes my job so much easier," admits Dubois-Sissoko, "because it's easier for celebrities to visit the suite, but also if I feel a bit tired after a long day, I can have a coffee on the terrace of the Carlton and voilà, I'm reinvigorated by the beautiful balmy weather."
The products in the DPA Lounge -- There are a lot of personal favorites for Dubois-Sissoko among her clients in Cannes and when I met her she was wearing jewelry by Arido and Dominique Denaive Paris, mixing it up with her usual French flair.
Mad Max and Tom Hardy -- While it's usually difficult for Dubois-Sissoko to get away to watch a film or two, this year she made it a point to attend the red carpet premiere of the much-anticipated Mad Max: Fury Road. Good thing too because the next day hottie Tom Hardy showed up at DPA and, in Dubois-Sissoko's words is, "super sweet and really really handsome, such a nice guy!" Personally, I've found it funny that people are calling the film "feminist propaganda." Really?! Well it's about time, after all the masculine propaganda...
Check out the slideshow below for all my favorites from the DPA Gifting Lounge in Cannes.
PHOTO GALLERY
DPA Gifting Lounge Cannes
Calling all HuffPost superfans!
Sign up for membership to become a founding member and help shape HuffPost's next chapter