The Festival de Cannes continues to be both astounding and demanding. While the meetings and human contact is unequaled for me -- it feels like a wonderfully inclusive high school reunion where I get to see all the people I adore, and none of the ones I can't stand -- running back and forth between the Carlton, the Grand Hotel and the Palais through the Croisette, dodging tourists eating their ice creams proves, at best, challenging. Alessandra Priante, the Cultural Attaché for the Italian Ministry of Foreign Affairs in the Gulf said it best when she stated, "Nina, blisters is the nickname of Cannes for ladies!" Blisters will definitely be one of the souvenirs I take home from this trip. Along with memories to last me a lifetime.
On Day Three of the festival, I got into a screening of Gett, the Trial of Viviane Amsalem by the skin of my teeth, that's how late I was. But running for the film, which is part of the Directors' Fortnight in Cannes, proved full of reward. Gett (the name of the document of divorce in Israel) by brother and sister filmmakers Ronit and Shlomi Elkabetz, is a beautifully shot, stunningly acted oeuvre, which sneaks in a daring commentary on Israeli society and Orthodox deviations when it comes to women's rights. While the Torah could be a teaching tool full of tolerance and wisdom, the Rabbinic laws, as in most fundamentalist variations on religions, have deviated from the books' original, well balanced views. So Viviane (played with seductive dignity and courage by Ronit Elkabetz), a character introduced along with husband Elisha (Simon Abkarian, who grows from unlikable to detestable in a stunning crescendo of talent) in previous films by the Elkabetz, is subjected to a court made up of three rabbinical judges. These three men see her claims of incompatibility as unfounded, and clearly, but not forthrightly, insufficient grounds for a divorce. For five years, lived along with the audience, Viviane is subjected to her husband's passive aggressive behavior, while the court and witnesses discredit her and her decision by chipping away at her being. Never too dramatically of course, but her freedom, her independence as a strong woman is attacked in ways that made me squirm in my seat.
Walking up the stairs of the Theatre Croisette inside the JW Marriott after the screening, I felt as if I was thankfully coming up for air, after having been submersed in feelings and beautifully cinematic anguish for nearly two hours.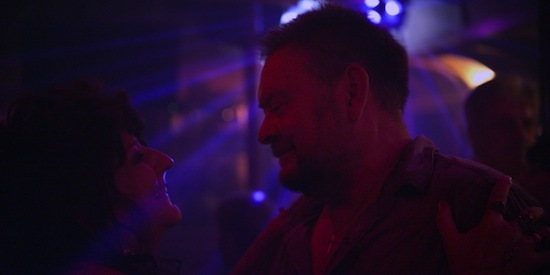 Mid-afternoon I got to interview the filmmakers of Party Girl on the Gray d'Albion beach. Claire Burger, Marie Amachoukeli and Samuel Theis were insightful and interesting, and represented their film, which is by the way based on the true adventures of Theis' mother Angélique Litzenburger. She's a dancing girl, a woman of the night, in her sixties, with a dilemma ahead. To marry or not to marry, to work or not to work, as her age is catching up with her but her spirit fights entrapment all the way. Adding to this docu-meets-drama scenario is the fact that all the Theis siblings also act their own roles in the film. When I asked the trio why direct altogether, their reply was that they've been making films together since film school. But I sensed a weak link among them, the reason why perhaps Party Girl felt wonderfully entertaining to watch, but didn't fill my dreams afterwards.
Then it was time for one of the events I always look forward to, the SANAD fund announcement party at the UAE pavilion. Time and time again, and I'll never get tired of saying or writing this, I feel the welcoming arms of the Gulf cinematic organizations envelop me, as they have supported my work and spread my message like no other. My love of cinema from the Gulf and film in the Emirates grows each time I attend one of these events, and this time, with their new grant projects disclosed, it is no exception. Plus the idea to create within the UAE Pavilion a single space for the film festivals in Dubai and Abu Dhabi, as well as for the film commissions in both emirates, has proven perfectly successful. A one-stop shop for all things wonderfully Emirati.
During the party, I met the man responsible for the hilarious "Man Rides Camel Through Burger King" video stunt. He's Hamad Al Amari, a comedian from Qatar, who works with the Doha Film Institute and is both funny and charming in person.
Oh, and then some lunatic tried to crawl under America Ferrera's skirt, on the red carpet, later that afternoon. But you can read all about it in another article, by a different writer...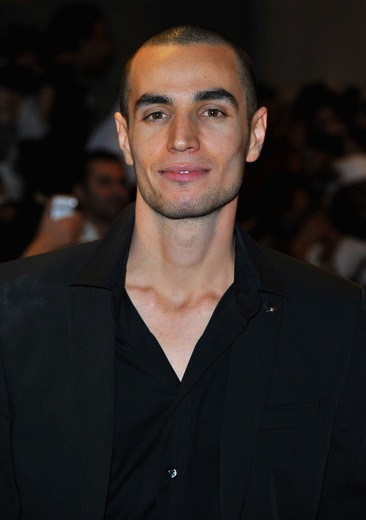 Day Four started with breakfast in the company of one of my favorite actors and all around cool man Adam Bakri, who played the lead in last year's Un Certain Regard jury prize winner Omar. Bakri comes from cinematic royalty, as both his father Mohamed Bakri and brother Saleh Bakri represent the very best Palestinian cinema has to offer. This year another brother, Ziad Bakri, stars in Self Made, a film part of the Semaine de la Critique sidebar in Cannes. But back to Adam, from the first moment he appeared on screen in Abu-Assad's masterpiece film, I knew he would be a superstar. And with an announcement slated for later in the day, my instincts proved right. But more on that news in a minute.
On my way to the Dubai International Film Festival luncheon at the Carlton -- yes work is hard but life, not so much, as I am surrounded by handsome movie stars and eating at world class hotels -- I noticed a handsome, stylishly dressed man walking towards me, with arms extended. "Me?" I asked, surprised that I could not place his face, while he was clearly offering a hug. "Yes, may I?" He asked. Complete strangers, we hugged, briefly, he smelled delicious and introduced himself as Louis. We said goodbye, went our separate ways, and I defied all warnings published that very day in the Hollywood Reporter which stated that the French hug to "destabilize" foreigners. I felt perfectly stable, quite proud of myself, and as an inveterate New Yorker, I checked my purse to make sure I had all my belongings. I did. They were.
While at the DIFF lunch, I had a chance to catch up with Egyptian filmmaker Mohamed Hefzy, who is responsible for a lot of my favorite films. From Rags & Tatters, to Microphone, to Villa 69, Hefzy is now part of the A to B film currently in production, which offers a buddy movie, road trip format across the Middle East. And lets not forget, Hefzy is also the director of the Ismailia International Film Festival which will take place in Egypt from the 3rd to the 8th of June. Filmmaker Jim Sheridan was also at the glamorous luncheon, and he's as humble as he is interesting. Not to mention, his love for Arab cinema is something to be admired. Deeply.
Later in the afternoon, it was time for yet another event, the FiGa/Br label launch party in the Cinema do Brasil pavilion. Co-founder Sandro Fiorin, and I can't say it enough, is the man I hold responsible for my love of Brazilian cinema and his hospitality at the party was warm and lovely. With a Caipirinha in hand and after enjoying some great conversations with the British (not Brazilian) filmmaker of Indian Summer (which has the best tagline in the festival "A Politically Incorrect Short Film"), I was content to call it a day, early enough to get home and await the big news.
So no need to hold our breaths any longer. Just announced at the Hôtel du Cap-Eden-Roc dinner hosted by mega-agent Charles Finch, Adam Bakri will star in a fantastic new project, a cinematic adaptation of Ali and Nino, a novel about the romance between a Muslim Azerbaijani boy and Christian Georgian girl in Baku during the First World War. With a screenplay by Christopher Hampton (of Atonement and Dangerous Liasons fame) and directed by Asif Kapadia (Senna), who is known for his deep characters living in unforgiving landscapes, this promises to be a gorgeous project. One that makes Bakri the next, great, Arab movie star!
Images courtesy of the Festival de Cannes, Adam Bakri photo by Gareth Cattermole/Getty Images for DIFF, used with permission
Related
Popular in the Community