The Festival de Cannes so far has been overwhelming, and overwhelmingly amazing. Everyone is here, and I mean everyone. But beyond the celebrities, the parties, the red carpets and the premieres, there are films, serious films, wonderful films, sublime filmmakers and incredible actors. And, if you're lucky and keep your eyes focused on people, instead of your phone (as most industry insiders seem to do as they walk straight into you) you can actually catch the very best the film world has to offer. Right on the Croisette.
The festival kicked off perfectly for me as I settled into my comfy seat inside the Palais on Wednesday morning, to watch the first Cannes screening of Olivier Dahan's Grace of Monaco, starring Nicole Kidman. I expected entertainment from the film and instead, got a lesson in what it means to be a woman, a strong woman. The kind of woman who, I'm convinced if alive today, would turn upside down the chaos of this world. If you wonder why the reviews for Grace were so unfavorable, just check out their bylines. Most, if not all critics are men. And how can a man accept that a woman is a better diplomat and can offer a more balanced view than all the men put together? You can find my mini "review" for Grace of Monaco on the Dubai International Film Festival blog, Cinemy.
If you think I'm making up the sexism in cinema, and of course as a result in film critique today, well, don't listen to me, rather to Cannes Jury President Jane Campion, who is also the only woman ever to have been awarded the Palme d'Or in the festival's 67-year history. Her full statement, which she made during the opening press conference for the jury, is a gem:
... There is some inherent sexism in the industry. Thierry Frémaux told us that us only seven percent, out of the 1,800 films submitted to the Cannes Film Festival, were directed by women. He was proud to say that we had 20 percent in all of the programs. Nevertheless, it feels very undemocratic, and women do notice. Time and time again we don't get our share of representation. Excuse me gentlemen, but the guys seem to eat all the cake. It's not that I resent the male filmmakers. I love all of them. But there is something that women are thinking of doing that we don't get to know enough about. It's always a surprise when a woman filmmaker does come about.
But enough depressing news. Personally, I've interviewed quite a few female filmmakers so far, and one of them, a truly insightful gem of inspiring quotes, is Tunisian filmmaker Kaouther Ben Hania. Her film Challat of Tunis was the opening selection for the ACID program, which plays as a sidebar to the main competitions. Supported by the Enjaaz fund of the Dubai International Film Festival, where the film also world premiered last December, Ben Hania's film is a wonderful mix of reality and reenactment, truth and fiction, the absurd and the mundane which all blend to show Tunisia's current environment. How far they've come since the revolution, but also how far they still have to travel on the road to gender equality and policies. All told through the examination of the urban legend of a man who slashed tightly dressed women's bottoms in 2003 Tunis.
The other sublime organization in the UAE which contributes to the growth of film from the region is the Abu Dhabi Film Festival. This year, both DIFF and ADFF, along with the Dubai Film & TV Commission and the Abu Dhabi Film Commission, are sharing a pavilion, and doubling the excitement. There is a "Best of Arabic Short Films by twofour54" section in the Short Film Corner where twofour54 creative lab will show five short films from UAE filmmakers, parties at the pavilion, but most importantly, great news.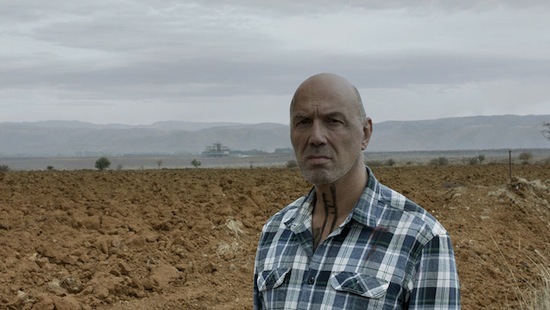 The latest, is the Abu Dhabi Film Festival announcement of the recipients for their next cycle of SANAD grants for Arab filmmakers. The list includes development grants to impressive projects like Money Babe, directed by Hiner Saleem (who was in Cannes last year, with My Sweet Pepper Land in the Un Certain Regard section) and Hedi, directed by Mohammed Ben Attia, and produced by Dora Bouchoucha. Post-production grants have been awarded to Cat, directed by Ibrahim El Batout; The Valley, directed by Ghassan Salhab; The Wanted 18, directed by Amer Shomali and Paul Cowan; Um Ghayeb, directed by Nadine Salib; and Pirates of Salé, directed by Merieme Addou and Rosa Rogers. For a full list, check out the ADFF website.
Mid-afternoon, I stopped by a local café, tucked away from the hustle and bustle, to catch up with Venice Days' Giorgio Gosetti, who is an endless source of inspiration. I regard his talk with Palestinian superstar Hiam Abbass during last year's Venice Film Festival as one of my favorite interviews ever. He brought out a side of Abbass seldom seen and made me love her work, and his mission at the auteurs' sidebar of Venice, even more.
Then it was time to indulge in some luxury findings at the DPA Gift Lounge inside the Carlton, run by the ever fabulous Nathalie Dubois-Sissoko. Among some of the must-haves this year are incredible Blacmèra dresses designed by Yuliana Candra in Italian silk hand-painted in Indonesia, fantastic slimming and firming cremes and concoctions by McCoy Ltd. from Japan, beautiful tuxedos and dress shirts from Indian company Aliph, and a dreamy headdress that I now realize I must have by French jewelry company Tand3m. Who needs a ballgown when you can wear this! More on the lounge, and a lovely interview with Dubois in the next days...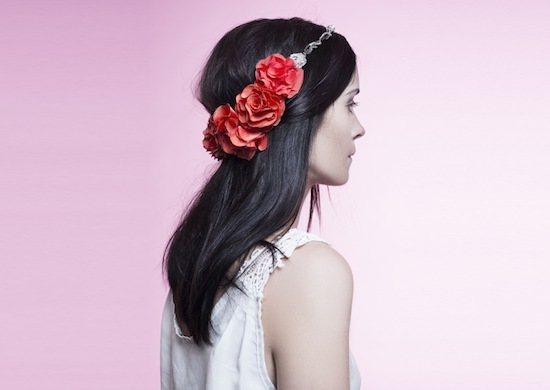 And finally, a film, Party Girl, the opening film for this year's Un Certain Regard. I enjoyed being back in the theater where, for me, the magic of Cannes started almost exactly a year ago, with my first viewing of Hany Abu-Assad's Omar. That experience, and I can't say it often enough, changed my life. From watching the film and its filmmakers go through hell, and come out winners in representing Palestine at the Oscars this year, to seeing it conquer country after country and heart after heart, Omar has been a cinema lover's dream come true.
While Party Girl wasn't as life-changing; after all, magic like that can come about only once, maybe twice in a lifetime, the story, the reality-meets-narrative premise of a 60-year-old dancing girl in a French-German border town finally deciding to settle down and get married, with all the consequences that may bring, was intriguing, and I believe I'll be thinking about the film for days, maybe weeks to come... It also has so much going on behind the scenes, the true-to-life heroine of the film, Anjelique Litzenburger's real life son Samuel Theis -- along with co-directors Marie Amachoukeli and Claire Burger -- directed the film, her real life children "act" in it, and that all makes it appealing on a whole other level. Where does reality end and fiction begin?
And that could also be the question for Cannes this year!
Related
Popular in the Community