Star Wars: Episode VII, directed by J.J. Abrams, is filming in Abu Dhabi! Okay, got that out before I would burst with excitement. Now I can finally relax, after a morning spent bubbling with anticipation, half-knowing the news but not yet sure I could talk about it. See, in my world, where I like to promote cinema from the Arab world, but also movies coming into the MENA region, this is huge. It means the UAE in general, and Abu Dhabi in particular, is fast becoming a world player in the big movies production arena. And that's wonderful news.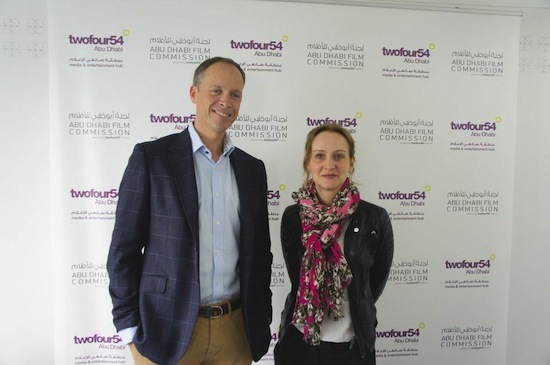 I sat down with twofour54 Intaj Executive Director Paul Baker (pictured above, with yours truly) bright and early this morning in the UAE Pavilion at the Festival de Cannes. He explained not only the current 30 percent production rebate offered in Abu Dhabi, which has helped attract some major productions to the Emirate lately, but also twofour54's mission of, in Baker's own words, culturally "inspiring the youth of the Gulf and help create a long-term sustainable production hub." As a result, both Hollywood and Bollywood have taken notice and now the media coverage on Star Wars alone will create a deafening buzz in the region. And around the world. I know of journalists who went sneaking around the desert to find out the exact location, and get some first, exclusive photos of the set and crew, which arrived in Abu Dhabi at the beginning of May.
The great thing about Abu Dhabi is that although the cinema industry there is relatively new, the Emirate possesses some of the best infrastructure and human resources ever. There is also the hospitality aspect, with hotels and airlines ready to receive with typical Emirati grace, and the collaboration of the government. In the case of recent Bollywood production Bang Bang, the entire Corniche, the central artery of Abu Dhabi, was shut down over a weekend to allow for the shooting of a scene. Just try and do that in NYC. Plus, as Baker so beautifully put it, "you can shoot a make-believe downtown Baghdad in the morning and retire to your posh hotel at night," since both heritage and luxury live side by side in Abu Dhabi. But enough gushing, on my part. It's no secret how I feel about the UAE, and for my own very selfish, very personal reasons, I am super happy about this latest announcement.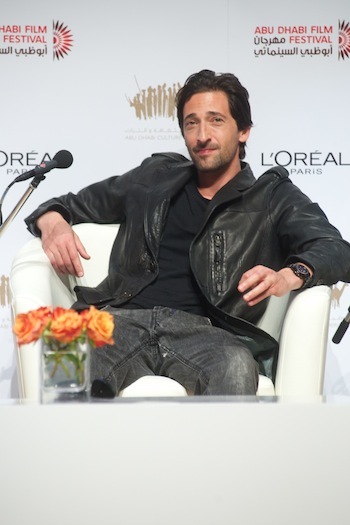 A couple of days ago, truly in Cannes-time it seems like years ago, I met Adrien Brody and director Lee Tamahori, who announced their latest project, a film based on Charles the Fifth titled Emperor. Although best known for his motto Plus Ultra, meaning "further beyond," I enjoyed finding in my research this quote about him: "Not greedy of territory," wrote Marcantonio Contarini in 1536, "but most greedy of peace and quiet." It explained perfectly the choice of Brody for the role. Yet both Tamahori, a wonderfully uncompromising man with an infectious interest in everything and everyone, and Brody, who looked divinely dashing in his Dolce and Gabbana camel-colored suit, assured me that this more subtle side of Charles' character would not be the focus of the film, rather a period of two years when he fought, conquered, loved and lived. Probably a better choice, much more exciting and cinematic.
Then it was time to watch a film. Imagine that, watching a film in Cannes? Unheard of... Anyway, joking aside, I watched These Final Hours by Zak Hilditch, which screened in the Directors' Fortnight. While the film started out violent, a bit too much for my usual taste, it delivered a message of humanity and hope, within its last-day-on-earth-what-would-you-do premise. The relationship between its two main protagonists, a little girl named Rose (Angourie Rice) -- who is looking for her father -- and James (Nathan Phillips) -- a man who appears all tough on the outside but is actually much more complex on the inside -- is a great example of what makes movies so magical for me. For the entire next day, I imagined what I would do on my last day on earth. I know I would probably want to spend it eating some delicious food, watching a film, with someone incredibly fascinating.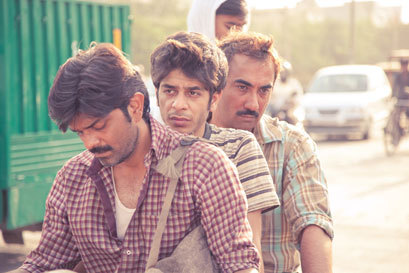 Which brings me seamlessly to my interview with actor Ranvir Shorey (first from right, in the photo). I've been a huge fan of his work ever since watching him in the strange, obscure No Smoking, by Anurag Kashyap. Shorey's character was sultry, dark, mysterious and very sexy. Turns out the actor is all that and more, but also really kind and down to earth. I love finding that and talent all tied into one! Shorey represents the best of world movies today, away from the labels of "Indian" or "Hindi" cinema. He stars as the older brother Vikram in Titli, a film at Cannes in Un Certain Regard, directed by Kanu Behl, and produced by Dibakar Banerjee and Yash Raj Films. Keeping up with the momentum created last year by The Lunchbox, and Kashyap's Ugly, alternative Indian cinema seems to be slated for another great year. And with it, hopefully also great actors like Shorey, who could bring to life so many wonderfully complex characters, in so many world genres.
So, here's to hoping that one day, soon, cinema may bring cultures together, and great actors, world directors and multi-lingual writers may work alongside each other to create masterpieces that can transcend borders and labels.
Top image courtesy of twofour54, Adrien Brody courtesy of the Abu Dhabi Film Festival and Titli, courtesy of the filmmakers, all used with permission
Related
Popular in the Community