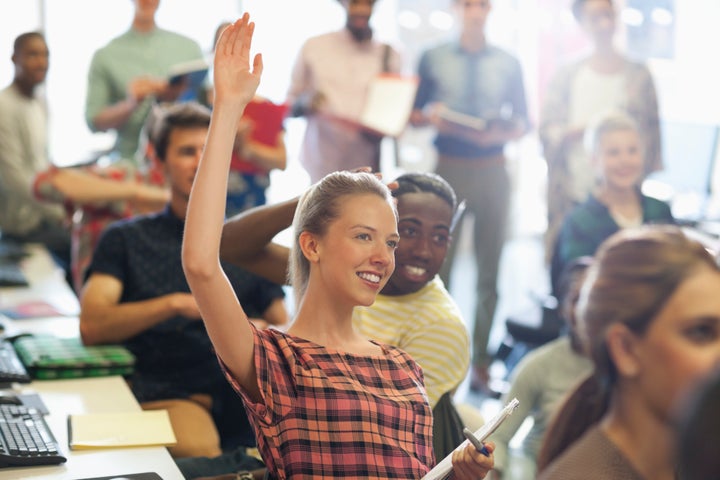 This piece, co-authored by Jeremy Monk, is the first in a series of articles co-written with students who took part in McGill University's Fall 2016 Capstone Seminar, "Lessons of Community and Compassion: Overcoming Social Isolation and Building Social Connectedness through Policy and Program Development." Our collaboration reflects a primary goal of the Seminar itself: To foster community-centered teaching and learning in the university classroom and beyond.
In the weeks ahead, millions of high school seniors will be accepting admission to colleges and universities—a significant step in the momentous passage from adolescence to adulthood. Going to university or college is a thrilling opportunity, achievement, and responsibility: a chance to meet new people, to acquire new and deeper knowledge, and to develop as a citizen of the world.
Yet, for many young people, the transition to campus life is also profoundly stressful. Many are leaving their hometown, family, and friends for the first time. They may feel lost in a new environment, uncertain of how to navigate. They may feel invisible in lecture halls with hundreds of other students. They may feel overwhelmed by the pressure of a competitive academic environment. They may feel isolated, anxious, and alone, with nowhere to turn for help.
The alarming result is reflected in reported struggles with loneliness and other mental health issues on campus. In Canada, 66 percent of university students said they felt "very lonely" in the last year. In the United States, the most recent National College Health Assessment found that 19 percent of students had felt "things were hopeless" within the past two weeks; 50.8 percent had felt overwhelmed; and 25.5 percent had felt very lonely.
Today's students are crying out for connection. To be seen, heard, and accepted.
We believe there's an obvious yet overlooked place for support: the university classroom.
What if professors were encouraged to create a community and build connectedness within the classroom itself? Creating community need not be separate from scholarship. In fact, we'd argue it's indispensable to it. Studies show that the bonds students enjoy with professors and peers have a significant impact on their happiness as well as their motivation. Students take greater interest in their work when professors make an effort to engage them in and out of the classroom.
It's intuitive, really. In many ways, it continues the philosophy of primary and secondary education, where student interaction with teachers and peers is seen as instrumental for learning. Why then, when students enter university, are the connected-learning environment and teacher-student interactions so frequently left by the wayside?
We believe this does a disservice—not just to students, but to professors as well.
After all, for many college and university professors, academia is a calling to teach. These incredibly dedicated educators and scholars are drawn to the profession not only by their passion for a particular subject, but also by their keen desire to engage with bright young minds.
You hear it in their voices. "Students are the best part," enthuses one professor in an article called "14 Things I Wish I Knew Before I Became a College Professor." Time and again, professors describe how rewarding it is to see their students grow, not just in a course or over the course of a college career, but into the future as well. William Deresiewicz, author of Excellent Sheep: The Miseducation of the American Elite and the Way to a Meaningful Life, notes, "Socrates remarks that the bond between a teacher and a student lasts a lifetime, even once the two have parted company." No surprise, then—to quote Deresiewicz again—that one of the most common things students say when describing their favorite professor is, that he or she "changed my life."
Students flourish when professors are not simply subject-matter experts, but caring, compassionate mentors and guides who are passionate about learning themselves.
Yet, too often, the modern university environment makes it hard for that care and compassion to blossom. Professors often have to juggle multiple obligations, from administrative duties to raising funds to cover their own research. New faculty members with a limited timeline to earn tenure must race against the clock to "publish or perish." And, it isn't easy to nurture a sense of community and individualized attention when you find yourself standing before a lecture hall packed with more than 1,000 students. Constraints like these make it challenging for professors to bring forward all of their many gifts as teachers.
We believe students and professors together can press for a better way. We met in a classroom at McGill University last fall, where Kim was teaching a seminar called "Lessons of Community and Compassion: Overcoming Social Isolation and Building Connectedness through Policy and Program Development," and Jeremy—an education researcher—was enrolled. Our classroom was characterized by a sense of community, connectedness, and mutual respect, where we were all engaged with each other, teaching, learning, and sharing together.
Kim set the tone from the first day of class, learning all her students' names and encouraging them to interact with her and with each other both personally and academically. As the semester progressed, the students eagerly reciprocated in a myriad of ways—taking the initiative to create a Facebook page to post and comment on material inspired by what we were learning in class; transforming Kim's well-attended office hours into animated hallway discussions; and collaborating with one another both inside and outside the classroom.
The relationships forged in our classroom are still bearing fruit—as this co-authored article shows! In the words of one student, reflecting back on the class at the end of the semester, "I think a lot of us down the road, when we look back on where we started, or if we're teaching a class, talking to a class, telling our story, this is going to be the place that we started, and where our ideas started to blossom, and where we really were given the chance to feel like we can make a difference and we are the leaders of change."
So let us strive to multiply the caring, compassionate, community-focused classrooms on campus. Our strong belief is that, if we do, we will magnify the learning within them, and beyond.
Related
Popular in the Community