In a dazzling and exciting affair, the annual Carl Sandburg Literary Awards Dinner took place on October 23rd at the University of Illinois at Chicago Forum Pavilion raising over 1.5 million dollars for the Chicago Public Library Foundation. The honorees this year were Isabel Allende (House of Spirits among more than 20 other works) for the Carl Sandburg Literary Award for Fiction, Michael Lewis (Moneyball, The Blind Side among others) for the Carl Sandburg Literary Award for Non-Fiction and Christine Sneed ( Little Known Facts) for the 21st Century Award.
Seventy-four acclaimed authors, some past recipients themselves, also attended the event, each the head of a table, enthralling the more than 750 guests during dinner. Director and author Steve James and author Alex Kotlowitz, author Donald Evans and Graphic Novelist Chris Ware were some of the many in attendance, all signing their books in between dinner courses.
During the cheese course, Commissioner of the Chicago Public Library, Brian Bannon, spoke about the many programs that the Chicago Public Library Foundation has helped to fund such as the Maker Lab, which launched this year and offers classes in 3D software, as well as 3D printing. 15,000 people used the lab in its first month. He also spoke about the one-on-one Internet tutoring that is available at the Chicago Public Library, which has the largest free Internet access in the city. Mayor Rahm Emanuel addressed the crowd about his challenge to kids to read all summer, promising to jump in the lake if they met his challenge. Over 70,000 children read and reported on over 2.1 million books, which will send the mayor into the lake this Winter!
The highlight of the evening was, without a doubt, the banter and interplay between authors Michael Lewis and Isabelle Allende and National Public Radio host Scott Simon. Lewis was welcomed to the stage with a heart-felt introduction from Chicago Cubs Chairman Tom Ricketts, and Allende was brought to the stage by Foundation Board Member, Marcy Carlin. The conversation began with some teasing about the Cubs' losing streak and Lewis commented that there seems to be no incentive for the team to win since the fans support and attend games regardless. Allende, who spoke with incredible grace and humor considering that English is not her first language, interjected that she could lend some "practical magic" to the situation.
Simon asked both authors what made them write. Lewis replied, "When I started to write, I liked how I felt. Books are a source of excitement and interest." Allende replied with a straight face, "My first choice was to be a bimbo. When I failed at that, I went into journalism. When I couldn't do journalism, I wrote novels."
Simon asked both how they wanted their work to be remembered. Allende again with great humor and timing replied, "Only men are occupied with posterity." She continued by adding that she hoped her readers picked up a sense of kindness from her books. Lewis responded that he likes, "the idea that my books would give someone pleasure. It is an understated quality." After the short conversation, hoards of guests lined up to have the authors sign copies of their books.
In a time when reading seems to be less of a priority for people, it was heartening to see so many willing to give money to the Chicago Library Foundation and celebrate the Chicago Public Library and Chicago authors. Perhaps 21st Century Award winner Christine Sneed said it best. "Libraries allow us to sneak books above our grade level... and allow us to cultivate our best character traits: curiosity, tolerance, and empathy."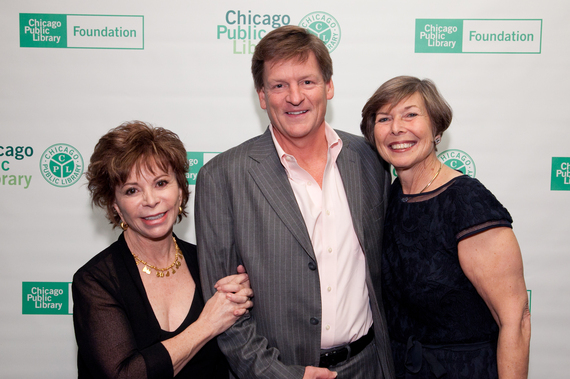 Honorees Isabel Allende, Michael Lewis and Rhona Frazin of the Chicago Public Library Foundation. Photo Courtesy of the Chicago Public Library Foundation
REAL LIFE. REAL NEWS. REAL VOICES.
Help us tell more of the stories that matter from voices that too often remain unheard.