Lauren, Sean and David Carpenter make up the Carpenter musical trio that plays Semi-Canonical Great Feud in their apartment's living room at The Plaza Hotel. The trio is popular for playing as well as selling Stradivarius violins. Their firm, Carpenter Fine Violins, is among the top boutique stringed instrument companies that cater to investors, collectors and musicians. The Carpenter Fine Violins company has been successful in selling French and Italian masterpieces such as Antonio Stradivari, Lorenzo Storioni, Giovanni Battista Guadagnini and Giuseppe Guarneri Del Ges.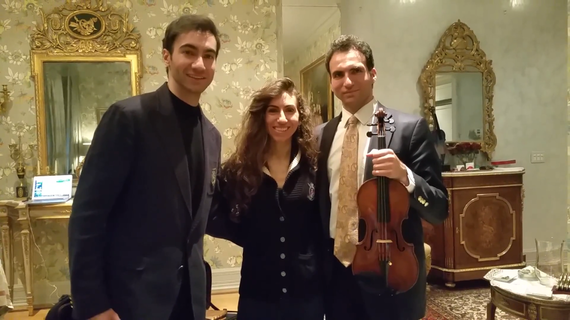 David, Lauren and Sean Carpenter of Carpenter Fine Violins LLC at The Plaza Hotel in New York

Growing Up
The Carpenter siblings grew up in Long Island's Great Neck area where they took Suzuki Method violin lessons when they were aged five. Neither of their parents had a musical career. Their dad, Dennis Carpenter, was a history teacher at Long Island University. As an immigrant from Iraq, their mum, Grace, taught new immigrants the English language. The parents later divorced and the Carpenters are indebted to their mother for raising them single-handedly. The Carpenters went to public schools. Grace used extracurricular activities such as competitive sports, English classes over weekends and Kumon math to augment their education. Her approach to sibling rivalry was to unify her children's interests rather than diversify them. According to Sean, the Carpenters did everything just like triplets. They practiced in different rooms but at similar times, a habit that resulted in the cacophonous evenings.

Enhancing Musical Abilities
David Carpenter, who is the youngest of the Carpenter trio, benefited most from his older siblings. Sean, who is the eldest in the trio, would shout to him from downstairs to help David learn how to play his instrument correctly, and Lauren, the second born, would counter the suggestion. Musical instruments that were bought for Sean would be passed on to Lauren and finally to David. During his early teenage years, David switched to playing the viola as they already had the instruments in place. The Carpenters enrolled for lessons at the Queensborough Community College. They later moved to Manhattan School of Music and held performances at a local synagogue. According to Joseph Rutkowski, the teacher who taught them music from mid-school through high school, the Carpenters played like artists by the time they got to 6th grade.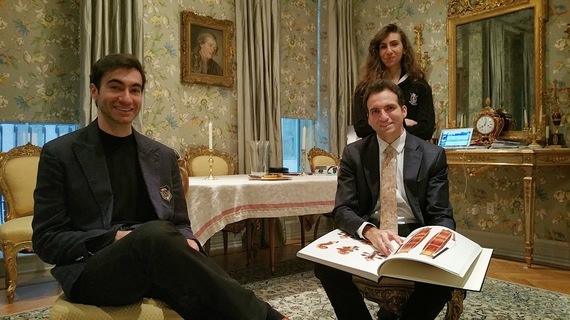 The Carpenter musical trio in their Manhattan residence

The Siblings' work at the Carpenter Fine Violins Company
The Carpenter siblings established their company, Carpenter Fine Violins, LLC in 2010. This company is largely a result of Sean Carpenter's goal to provide rare and exceptional stringed instruments to collectors, professional musicians and music enthusiasts. Sean, who is the oldest in the Carpenter trio, is the Chief Executive Officer of this company. He is also the Co-founder and Director of Salomé Chamber Orchestra, a not-for-profit outfit that the Carpenters run. His sister, Lauren is the Chief Operating Officer of the company. Lauren previously worked for Google for five years as a Senior Account Manager. She brings the skills and passion developed by the top internet company to Carpenter Fine Violins. David, who is the youngest among the Carpenter trio serves as its Chief Financial Officer. The Carpenters do not only sell Stradivarius violins through their company, they also lend them out with permission from owners. They offer to keep their clients fine stringed instruments under high security after closing deals.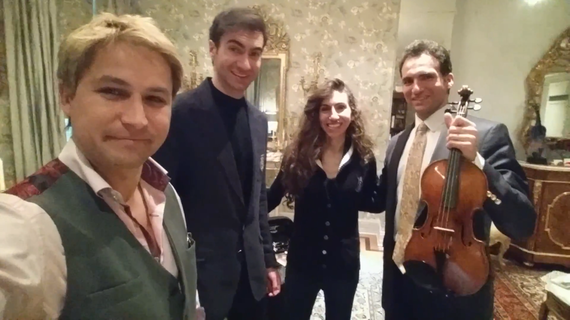 With the Carpenter siblings
The Carpenters' Passions
Each of the Carpenter siblings brings a set of unique passion to the trio that enhance their performances both in business and orchestra. Sean uses his expertise that spans over two decades to evaluate new acquisitions, consignments and sales on the basis of condition, provenance and sound. Lauren is an expert violinist while David brings in his business acumen and careful evaluation of instrumental dimension to the trio. From a young age, Sean developed a passion for fine instruments and adores the Stradivari violins. During his pre-college years, he had his bedroom plastered with posters of Stradivari violins. He has a passion for antique violins which he collects. Sean is also passionate about knowledge of fine stringed instrument markets. An article about his fundamental knowledge and philosophy about the market for fine stringed instruments was published on The Juilliard Journal. His sister Lauren is passionate about violins while David is passionate about stringed instruments and solo playing. As a trio, the Carpenters are passionate about community work and together they run the not-for-profit Salomé Chamber Orchestra. Through this outfit, they specialize in providing accessible classical music like Brahms and Vivaldi and stage performances for charities.
On 21st March, I met with this musical trio at The Plaza Hotel and we discussed the violin business.
REAL LIFE. REAL NEWS. REAL VOICES.
Help us tell more of the stories that matter from voices that too often remain unheard.