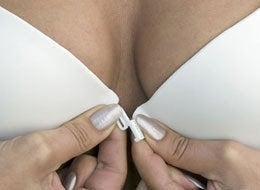 Co-written with Hannah Seligson
The 57 million dollar opening weekend for Sex and the City, the film, was just the beginning. Now, it appears, armies of young women across the country are shelling out another ten dollars twice, three, or even four times to see their hero prance about in couture wedding gowns, redecorate her upper east side apartment, and obsessobsessobsess about a less-than-impressive guy again. We hate to be the Debbie downers at the Carrie Bradshaw coup d'etat, but as two twenty-something New York writers , we feel it is our duty to make a little public service announcement: Carrie Bradshaw is killing your future career.
We know, we know, men have been writing about their lives for centuries and it's been called great literature. So why are we picking a bone with a fictional character that's made writer's block sexy? Because we can't turn a page, web or paper, without reading about a young woman over-sharing details about her love life.
And frankly, it's creating a scary Carrie Bradshaw ghetto for young women writers, a ghetto that places a high premium on appearances and how fast you can blog about your latest sexual escapades.
Carrie's spawn are everywhere, yet serious women writers remain terribly under-represented in most of the field. Ruth Davis Konigsberg documented on her site, womentk.com, that male writers dominate the "thought leader" magazines - The Atlantic, Harper's, The New York Times Magazine, The New Yorker, and Vanity Fair -- by a margin of three to one. Random House's Modern Library imprint list of the 100 best novels and non-fiction books lists eight women on the fiction list and 12 on the non-fiction list. Time magazines list does slightly better on its list of the 100 best novels from 1923 to the present with 12 women making the cut.
We're feeling the effects personally. Courtney pitches a story on immigrant women; the editors at a major magazine want a graphic expose on sex trafficking, hopefully first person. Hannah was told by a very prominent TV agent that if she wrote more about her love life, she'd have a better on-air career; never mind that her latest book is on workplace politics (and not the kind that involve tongue-kissing in the copy room).
A senior editor at a major publishing house said her desk is teeming with sexy proposals from young women anxious to become the next Carrie. "It a sad time to be a young woman writer," she says. With memoir the go-to form and sex the go-to filler, a young woman who wants to write hard-hitting sociological analysis can get in line behind Susan Faludi's five million other unfulfilled fans. If Courtney had a dollar for every time a book editor said, "This is such an important topic, but we just don't see a market for it," she could afford her own Fendi baguette.
While women today don't write under male names, as the Bronte sisters and George Eliot did, we wonder whether posing on Gawker in your underwear, a homage, perhaps, to Carrie's famous almost nude bus shot, really constitutes progress. And further, 8,000-word diaristic pieces in The New York Times Magazine that arc around details of your love life that even your best friends would have to force themselves to care about ("Exposed" by Emily Gould, May 25, 2008) and the constant recycling of storylines that involve finding a rich husband don't paint the picture of contemporary womanhood we were hoping for. The Carrie model is not going to get women writers recognized -- it's going to keep them in the stronghold of a lineage that doesn't produce many Pulitzers.
Here's the other insidious thing that the glam of the Gabbana often obscures. The Carrie-ing of this generation of writers is sending a retro message to media powerbrokers: if you give them a byline, even if you also ask them to literally or metaphorically expose themselves, they will come. The Carrie Bradshaw Effect keeps young writers like us -- women who want to write about politics, economics, and ethics -- constantly fighting editors' appeals that we stick to the Style section or focus on so-called "women's issues. To be sure, there is a Carrie Bradshaw doppelganger out there right now, whose true calling is penning her pining for elusive love. For her, Carrie's flitting life feels like just the right size. But for the rest of us young women writers, who want to investigate corporate malfeasance, report on music and culture, or opine about the future of our country, the shoe just doesn't fit.

Related
Popular in the Community