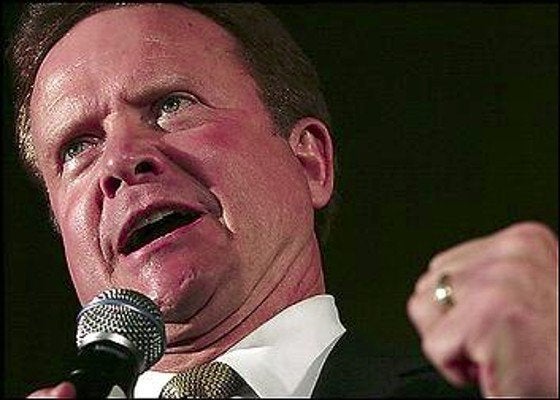 First off, many thanks to Matt for asking me to guest blog. Matt has long been one of my role models as a blogger and I'm honored that he invited me here. If you want to read more of my stuff, you can visit my own blog, The G Spot.
Now on to my first post here, which I warn you will be looonnnggg.
A number of people I greatly respect have been touting Virginia senator James Webb as Barack Obama's vice presidential pick. Indeed, more than a few of my liberal male friends seem positively smitten with the man.
But I say, enough with the mancrushes already! It's true that Webb, a Vietnam vet who's been decorated with with two Purple Hearts, two Bronze Stars, the Silver Star and the Navy Cross, is undeniably butch. But there are a number of reasons why he would be a terrible vice presidential pick.
Back in February, Ezra Klein made the case against Webb, and the reasons Ezra gave then still hold. For one thing, if President Obama wants to get anything done, he'll need a filibuster-proof majority in the senate. It would not be wise for him to choose a red state senator, because who knows if another Democrat could be elected to that seat? Also, as Ezra argued, the things that make Webb valuable as a "gadfly senator," such as his "brashness" and his "willingness to push the conversation forward," would be a bad match for the vice presidency, which would require him to "constantly watch his mouth" and not say anything that conflicts with the president's agenda.
Calling all HuffPost superfans!
Sign up for membership to become a founding member and help shape HuffPost's next chapter