If you think Americans aren't interested in anything that happened before the invention of Twitter, try asking this question the next time you're having dinner with friends: What should our schools teach about U.S. history?
I can almost guarantee a long, heated discussion -- because even people who aren't in the habit of reading history books, or can't remember what the Thirteenth Amendment did, feel that the teaching of history matters deeply. As a professional in the field, who directs the New-York Historical Society, I think that's a good thing, even though the conversation sometimes becomes contentious. We care about the history that's taught because we care about how we define ourselves as a nation.
That's why I have to ask a second question: Is there still a place in our schools for an American American history?
The question might seem odd -- unless you know, for example, that public school teachers in California are required to include Native American history, African American history, Mexican American history, Asian American history, LGBT history and persons with disabilities history, in their U.S. history curricula. Closer to home, I can recall what happened a decade ago when the City University of New York filled a new set of faculty positions in American history. (As a Vice Chancellor of the CUNY system, I had been instrumental in making those jobs available.) Most of the positions went to people who specialized in Asian American, African American, Latino American, Native American or American Women's history.
Many of these faculty members argued that the material traditionally taught in U.S. history courses would be irrelevant to CUNY students, who come from all over the world. What could George Washington possibly have to say, they asked, to students who are new Americans?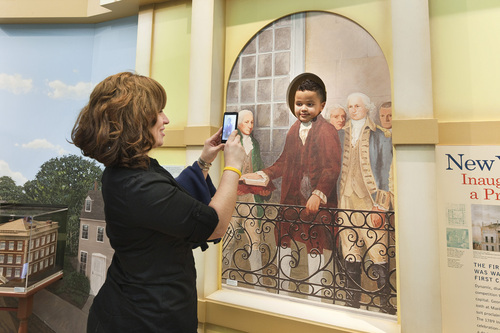 Re-enacting George Washington taking the presidential oath at the New-York Historical Society's DiMenna Children's History Museum (photo by Jon Wallen).

Now, I happen to have made my mark at New-York Historical with an exhibition about the earliest African Americans in the city. I have gone on since then to initiate a stream of exhibitions such as Nueva York and Chinese American, and I'm currently developing a major new center for women's history. Obviously, I believe that the teaching of American history should reflect the totality of the American experience.
But, I also believe that there is unity as well as diversity in American history. In fact, our ability to honor the individual strands in our past has everything to do with this unity. The laws and ideals that have made it possible, with many struggles, for different communities to win recognition and tell their stories are not inscribed in an African, Asian, Latino or LGBT Constitution, but in the American Constitution. It is American to be diverse.
Let me offer a couple of examples.
In 2005-07, New-York Historical presented a set of exhibitions on the history of slavery in New York. It's a subject that was rarely, if ever, taught in the standard history books when I was in school -- and yet, for almost 300 years, New Yorkers traded in slaves, distributed slaves, insured slave ships and profited from slave labor. In colonial times, enslaved people of African descent accounted for 20 percent of New York's population, and 40 percent of the city's households owned enslaved persons. Far from being an exclusively Southern institution, slavery was embedded in every part of the American fabric -- and so, too, as we showed, were the principles that would lead to abolition.
As Frederick Douglass declared: "All I ask of the American people is that they live up to the Constitution, adopt its principles, imbibe its spirit and enforce its provisions." This dauntless champion of African-American liberty, himself a former slave, saw America's founding documents as not just relevant, but indispensable to the fight for abolition. Metaphorically, at least, George Washington had everything to say to Frederick Douglass. How dare we think that he says nothing to the schoolchildren and new Americans of our own time?
My second example, drawn from New-York Historical's current exhibition on the history of Chinese in America, concerns Wong Kim Ark, a man born in San Francisco in 1873. In 1895, after going to China to visit his grandparents, Wong was denied re-entry into the United States on the grounds that he was the son of Chinese parents, and therefore an immigrant under the Chinese Exclusion Act, even though he had been born in the United States.
Wong appealed to the Supreme Court and won his case, establishing his right to U.S. citizenship under the provisions of the Fourteenth Amendment. Ever since then, thanks to Wong Kim Ark and his faith in the Constitution, every single person born in the United States is entitled to be called an American.
The case for teaching American American history has always been strong. But at a time when much of the world is in turmoil, that case is even more powerful. Many nations today are finding it difficult, if not impossible, to integrate different ethnic, religious and racial groups. That's why it's so important that our schools, colleges and museums should teach the unity of American history as well as the diversity. We must make sure that Americans honor their differences, but also know that they have a shared history -- a history that is the indispensable basis for an inclusive, tolerant society.
Popular in the Community