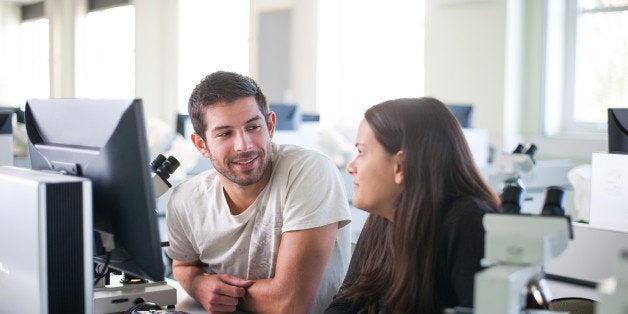 Robert Reich, the distinguished author and Secretary of Labor in the Clinton Administration, recently published an excellent piece on why a four-year college education isn't for everyone.
As the president of Ivy Tech in Indiana, the nation's largest singly accredited community college system, I couldn't agree more.
High school students around the country are now in a frenzy as they wait for acceptance letters from their college of choice. Many hope to get into prestigious institutions, believing that this will guarantee them a well-paying job upon graduation. To do this, they will accumulate an average of $24,000 in student loans. Those who go to big-name schools will likely owe a lot more.
We need to change our way of thinking about college education. As thousands of recent graduates have discovered, a four-year degree isn't an automatic gateway into the American middle class. Mr. Reich notes that last year the Federal Reserve Bank of New York found that 46 percent of recent college graduates ended up in jobs that didn't require a college degree.
As the former CEO of Delco Remy International, I know firsthand how important it is to have skilled workers. However, because parents continue to view working in a factory as not a viable career option for their children, we are now facing a skills gap in American manufacturing.
The Manufacturing Institute and Deloitte recently issued a report, "The Skills Gap in U.S. Manufacturing 2015 and Beyond," that indicates that the skills gap is widening.
In the next decade, manufacturing will require three and half million new workers as more than 2.7 million baby boomers retire and 700,000 jobs are created through economic expansion. But just 1.4 million of these jobs are expected to be filled, leaving two million good jobs open by the year 2025.
Manufacturing remains a vitally important sector of the economy, as each job creates 2.5 additional jobs for other goods and services, most of them local. The benefits are clear: "For every $1 invested in manufacturing, another $1.37 in additional value is created in other sectors," the Manufacturing Institute/Deloitte report states.
Thus, a new way of thinking about manufacturing jobs needs to get started in this country, and this new thinking must take root in our high schools. Unfortunately, many public high schools don't offer career and technical training that would prepare their graduates for manufacturing jobs. In addition, high school guidance counselors, looking to increase a school's college acceptance rate, don't offer help to a student who may be better suited for a career as a plumber or a welder.
Today, the resource for such training is often times the local community college, where tuition can be as low as $2,500, and much of it will be covered by Pell grants. The return on investment can be very impressive.
America should look to the the success of the German apprenticeship program, which offers a dual track of skills training and general education, and to enlightened manufacturers who know the value of a skilled and educated worker.
For example, at Cummins Inc., a global power leader in Indiana that designs, manufactures, sells and services diesel engines and related technology around the world, Ivy Tech has placed over 200 apprentices in various programs while at the same time preparing them in the classroom to receive The Manufacturing Skill Standards Council's Certified Production Technician certification.
This certification addresses the core technical competencies of highly skilled production workers in all sectors of manufacturing. The certificate can be obtained after a year of study and passing a national exam. It is recognized by manufacturers nation wide.
Community colleges have been in the forefront of designing curricula that train workers to benefit the manufacturers in their community. For example, at GE Aviation, Ivy Tech is developing programs to recruit and train employees for a plant scheduled to open in Lafayette. Not infrequently, a corporate decision to open a manufacturing plant in a particular city is contingent upon a partnership with a local community college.
It can't be emphasized enough that we need to change our thinking about manufacturing jobs. Students shouldn't feel that they have failed because they elect not to attend college, but instead opt to continue their education by getting a manufacturing certificate from a community college. These jobs offer good starting salaries at around $45,000 a year -- probably a lot more than a degreed barista is making -- as well as lifetime opportunities for advancement.
As Robert Reich so eloquently put it: "America clings to the conceit that four years of college are necessary for everyone, and looks down its nose at people who don't have college degrees. This has to stop. Young people need an alternative. That alternative should be a world-class system of vocational-technical education."
Related
Popular in the Community