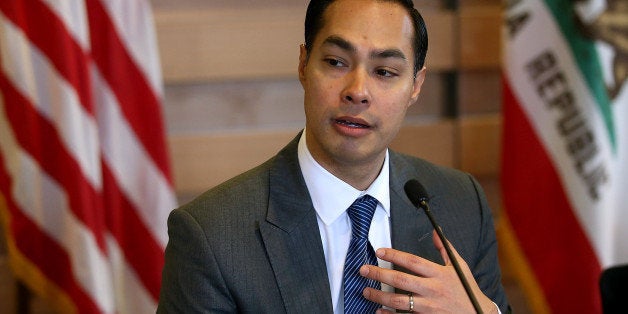 Just a few weeks from today, Hillary Clinton will be announcing her pick to be her running mate - and likely the next Vice President of the United States. We've heard a lot of names being floated around- great progressive warriors like Elizabeth Warren and Sherrod Brown, and strong, steady leaders like Tim Kaine. But one person, in my opinion, stands far and above the rest: the current U.S. Secretary of Housing and Urban Development, Julian Castro.
I first learned of Secretary Castro due to his Keynote Address at the 2012 Democratic National Convention. The then-Mayor of San Antonio, Texas was incredibly charismatic and inspiring. Even then there was a lot of speculation about whether or not he might end up on the Democratic ticket come 2016; he showed a lot of promise, not just due to his superb oratory skills but because of his remarkable life story and the accomplishments he had accrued in just a short amount of time.
I believe Julian Castro is the best choice to be America's next Vice President for several key reasons. First, because he comes from a background of adversity and understands in a very personal, visceral what it's like to grow up as a minority, particularly a minority that has, as of late, come under siege by the Republicans and their nominee, Donald Trump. That point of view is particularly relevant and important in this election.
Secondly, I believe he is the right choice because he understands the issues that urban communities are facing in this day in age. Not only did he deal with them as Mayor, but he has taken them on as Secretary of Housing and Urban Development, including the increasingly dire crisis when it comes to rent and affordable housing, which the LGBT community has felt in a particularly personal way. We need a Vice President who understands how dire the challenge of gentrification is and how urgently it needs to be addressed, and Secretary Castro has that first-hand knowledge and expertise.
Thirdly, he brings a youthful perspective to the table that many have derided as a weakness but that I believe is incredibly important to have in this election. At 41, Castro is significantly younger than either the Democratic or Republican nominee, and it's important to have someone in the mix who brings the younger generation to the table so that our voices can be heard. Some say he's too young and inexperienced, but as evidenced by Dick Cheney and Donald Rumsfeld during the Bush administration, political experience doesn't always equal good judgement or success. Julian has the life experience, judgment and integrity to be Vice President, and, God forbid, in the event of a tragedy, Commander in Chief.
Like I said, I believe there are several exceptional candidates on Hillary's shortlist. Any one of them would be a fantastic Vice President, but that's not the question here. The question right now is who has the ability to elevate the dialogue and bring a different point of view to the table, someone who represents diversity and inclusion, positivity and progress, a new generation of leadership that can move our nation forward into the future. The answer is Julian Castro, and that's why I hope he'll be standing next to President-elect Hillary Clinton on the inaugural platform in Washington on January 20th, 2017.
Calling all HuffPost superfans!
Sign up for membership to become a founding member and help shape HuffPost's next chapter