Ask any executive to reflect on her career, and surely she will mention The One -- the managr who inspired a meaningful and successful career through effective leadership. Some individuals approach the manager role with natural ease. Yet, good managers aren't just born; they become. How? Professional development, continuous learning and practice. Leaders who intentionally focus on becoming good managers and who align their approach with their evolving roles position themselves for success. This fact transcends sector and level.
Yet, professional development opportunities and investments in developing people are not created equal. A recent ProInspire survey of nonprofit managers revealed that, despite demand for professional development programs, such offerings are scarce and access is limited in the sector. Nine out of ten nonprofit managers indicated interest in leadership or managerial training, and believe that it will make them more effective in their roles, yet only half of them have received such training since assuming a role managing direct reports. What's more, only 39 percent of respondents said their organizations pay for leadership or managerial training. Compare this to the deeper resources invested in developing people in the private and government sectors, and the need for more robust professional development initiatives aimed at growing nonprofit leaders becomes clear.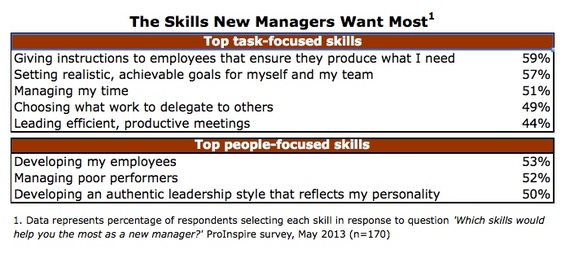 Social sector constraints, including limited resources and a culture that views investments in talent as "optional," leave nonprofit managers in charge of their own development. Part of our mission at ProInspire is to help early and mid-career leaders develop the skill sets to succeed in creating social impact. We've identified several key competencies for nonprofit managers, and ways in which new managers can efficiently and affordably nurture their professional development.
Key competencies fall under three focus areas and reflect the skills that new managers feel would have the most impact on their performance:
Managing Self: Develop emotional intelligence. Understand your strengths and weaknesses. Build your ability to connect with others.
Managing Others: Communicate early and often. Delegate effectively. Check in regularly. Be a coach for your team members.
Managing in the Organization: Manage up and across. Develop personal relationships. Embrace a problem solving mindset.
We have identified four ways you can strengthen these key competencies, either in yourself or in the managers who work for you:
3. Create your own learning circle. Identify peers in similar roles whose styles, ideas, and performance you respect. Meet regularly to discuss challenges and approaches. You can even use the books listed above to guide discussions.
Let's keep the conversation going about nonprofit professional development, and raise the standard of offering for our sector. After all, nothing catalyzes change like focus.
Related
Popular in the Community