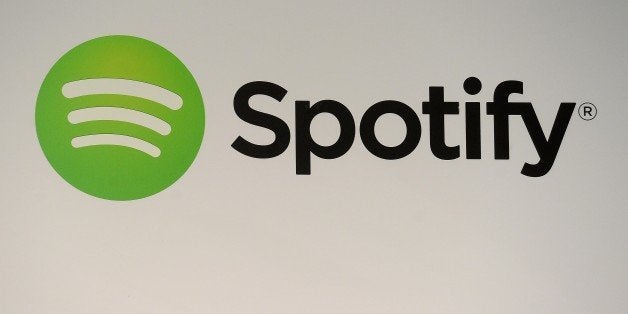 A much-admired record executive told me over lunch months ago that he hated what Spotify and other music streaming services were doing to the business. "We tell artists that it's their decision whether to offer their music through these services, but personally I don't like them," he groused, adding:
I don't want a collection of everything to draw my listening from. I want to curate my own collection, buy my own albums, listen to them one at a time, and have each one of them have a special place in my life. This everything-you-can eat mentality really reduces these albums to a kind pulp. And of course, none of the artists are being fairly compensated for streamed music, and I don't think they ever will.
A few weeks later I read an article by New Yorker critic Alex Ross that conveyed similar sentiments. You can read that article here:
As someone who was drawn into the music business by a love of "physical" albums, and who has amassed an embarrassingly huge collection of recordings, I was suspicious of Spotify and other similar streaming-music similar services from day one. I loved my CDs -- holding them in my hand, taking out and reading the liner notes, seeing them stacked neatly and in alphabetical order on my shelves. It was bad enough that some new albums were only being issued as downloads and that I couldn't buy them on CD even if I wanted to. Now I had to consider whether I wanted to pay money to listen to albums that I didn't actually own.
Well, it's been a few years now since I began paying for Spotify's premium service, and to my enormous surprise I think I've been converted. Sure, I still buy some CDs, and even more so, download albums that I think I'll want in my "permanent" collection. But most of my listening these days has been on Spotify. And, I've begun to understand why.
On the practical side of the equation are the obvious benefits, the number one being the limitless number of albums to choose from in every genre. With no need to purchase something you might not like, you are free to be curious and omnivorous. And you don't need ever-increasing amount of shelf space to accommodate your obsession. Not only have I run out of room for more CDs, but my computer hard drive and iCloud storage spaces are also already close to full. And who can forget the appeal and convenience of sending an unlimited supply of music wirelessly to your speakers from your bed or bathtub via smartphone?
For a classical music fanatic like me, streaming has allowed me to discover a treasure trove of new interpretations of both core and lesser-known works. I may love my Bernstein and Tennstedt and Abbado recordings of Mahler's symphonies, but thanks to Spotify, I have discovered that my earlier antipathy to Solti's seemingly over-driven Mahler was unfounded. I would have never purchased another set of Brahms Symphonies (really, do I need to own more than five sets?), but thanks to Spotify I experienced unalloyed pleasure getting to know Harnoncourt's cycle with the Berlin Philharmonic, as well as Chailly's more recent one with the Leipzig Gewandhaus. And there are rediscoveries, too: I had long ago given away my Hogwood recordings of the Beethoven Symphonies, but hearing them again on Spotify was an unexpectedly joyous experience.
Philosophically, I feel that Spotify has made me a more open-minded listener. No longer having to convince myself that my "fully owned" recording of Schumann's Second Symphony is "the best" or -- even worse -- the "definitive" version, I've increasingly found myself enjoying a wider variety of interpretations of it and countless other works. Streaming an album that I may or may not revisit in the future more closely resembles the feeling of attending a concert -- from a certain point of view, playing different recordings each time can turn each listening experience into a special event. With streaming, the emphasis can be on listening and not on owning -- and you don't have to defend your purchases by thinking they are better than the other ones you might have made.
Sure, the experience of searching for a particular recording or classical work can be exasperating; clearly the people who code the key info -- the so-called metadata -- never went to library school. And there are wonderful labels -- I won't name them here -- that choose to avoid Spotify and other streaming services altogether, keeping much essential music making "off the grid." And for some people, the sound quality is simply beneath acceptable (for me, a non-audiophile, that has never been an issue). Not to mention liner notes (What liner notes?)! But these have become minor quibbles for me.
Clearly the debate needs to continue on what kind of viable, sustainable, equitable-to-all system need be constructed to serve all interested parties when it comes to musicians connecting with their audiences. As for that elephant in the room, the issue of artists getting paid their due, I have a modest proposal that might suit several competing agendas. How about allowing people to play each song or album a discrete number of times -- let's say five times -- and after that charge the listener something approaching the price of a full download for the "permanent" rights to access that song or album in perpetuity? After all, if you love it, you should have to put a ring on it!
Popular in the Community