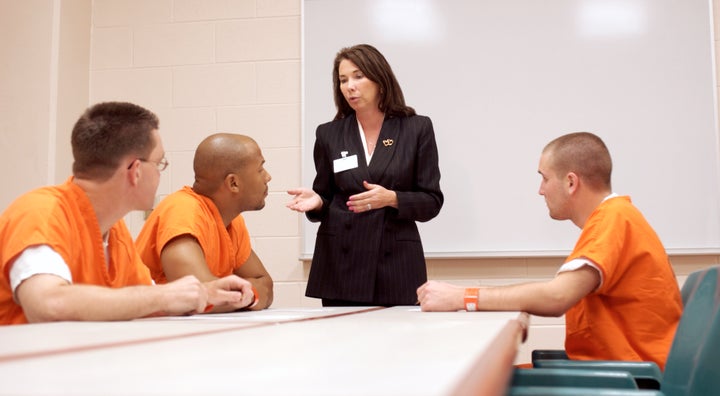 Patient-centered medical homes are revolutionizing the healthcare system, delivering coordinated, quality care to patients when they need it, in a culturally appropriate way they can understand. Given the documented advantages of patient-centered medical homes, it would make sense to apply the team-oriented principles to one of our most underserved populations: incarcerated individuals.
Right now, there are approximately 2,224,400 people behind bars in the United States and the overwhelming majority has complex medical needs. Incarcerated populations have disproportionately higher rates of infectious diseases—Hepatitis C, HIV—and chronic medical conditions such as hypertension, asthma, arthritis, and cervical cancer.
The prevalence of mental illness and substance abuse in our correctional system only compound the core health issues prisoners face. Studies show of the 17 percent of justice-involved individuals with serious mental illness, an estimated 72 percent had a co-occurring substance use disorder. Complex medical, behavioral, and substance abuse issues demand integrated care, but that's not the reality.
Healthcare at correctional facilities is disjointed at best. There are work silos, location barriers, and conflicting treatment plans to overcome en route to individualized care. Medical, mental health, and substance abuse teams often operate separate and independent of each other.
They focus on parts of the patient, rather than the whole. This lack of coordinated care is not only costly to the patient and taxpayer, but can lead to devastating results. A study of Washington state found that there is a statistically higher mortality rate in the first two weeks post release from state prison compared to residents of the same age, race and sex. Released inmates were 129 times more likely to die from a drug overdose than those in the community, and had an elevated risk for cardiovascular disease, homicide and suicide.
We invest more than $7.7 billion per year in the healthcare of inmates. It's more than worth our while to explore how patient-centered medical homes can potentially reduce the financial burden while improving quality of care.
Even though the healthcare obstacles in our jails and prisons are numerous and substantive, they should not deter us from exploring a patient-centered medical home model. Coordinating healthcare has proved challenging in other community based settings, but they've paved the way.
For example, The Substance Abuse and Mental Health Services Administration and the Health Resources and Services Administration jointly funded the Center for Integrated Health Solutions to "promote the development of integrated primary and behavioral health services to better address the needs of individuals with mental health and substance use conditions, whether seen in specialty care or primary care settings." Large initiatives have also been funded through the Center for Medicare and Medicaid Services Innovation Center's Transforming Clinical Practice Initiative. Both have produced patient-centered medical home models that provide a blueprint for correctional facilities.
Work on patient-centered medical homes indicate that there are key components of transforming the delivery of care. Namely, the development of practice transformation teams under the direction of engaged leadership are considered essential.
The current provider standard of care creates high stress work environments that undermine the delivery of a full range of integrated patient services that can lead to improved patient outcomes. Incorporating additional team members in the management of chronic illness and preventive care has been repeatedly shown to advance performance measures. Evidence also suggests that team-based care can help primary care productivity, enhance efficiency, and create a more satisfying workplace.
Successful teams have operated in various treatment settings, including community health centers, hospitals, Veterans Affairs medical centers, behavioral health clinics, and homeless clinics. They've come together to carefully orchestrate and implement the necessary components of patient-centered medical homes and establish realistic milestone timelines. There's reason to believe the same can be done at correctional facilities, though more research is needed in this area.
We've begun to see some movement toward embracing the patient-centered medical home model. Suggestions for how to implement coordinated care in a correctional setting are extensively outlined in "A Call for New Models of Care in Correctional Health" published in the National Commission of Correctional Health Care's magazine. The authors argue that changing the paradigm requires extensive change, but that the benefits of improved clinical outcomes and increased efficiency are worth those efforts.
Treating patients with complex co-morbidities in correctional facilities is challenging, and it's only getting more difficult. Prisons and jails are hosting an aging population: from 1995 to 2010, the total state and federal prisoners aged 55 years or older shot up 282 percent, while the number of all prisoners grew by 42 percent. With age comes an increased need for healthcare, and the current standard is not working.
It's time to address the healthcare redundancies, inefficiencies, and cost issues plaguing our prisons and jails, to recognize how sick our inmates truly are, to acknowledge how we are failing to adequately treat them during their incarceration and after release. Taking a look at transforming the delivery of care with patient-centered medical homes in our correctional facilities is a good place to start.
Popular in the Community